Nightlife: A4cade
Nostalgic arcade games, cocktails, and food at 21+ playground in Central Square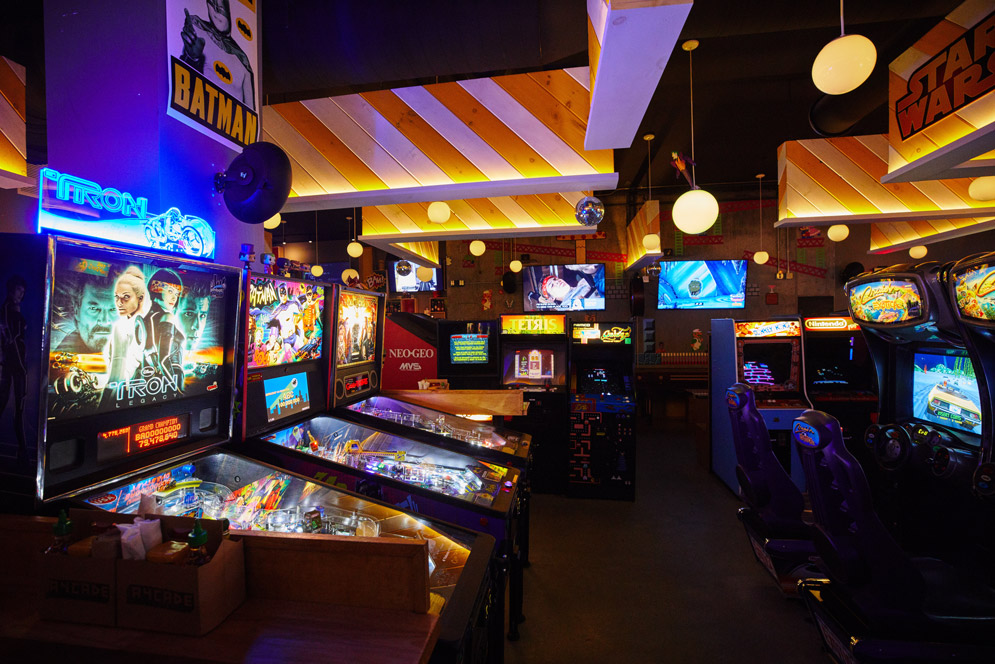 The 1990s are making a comeback. With the resurgence of slip dresses, overalls, and grunge, it was probably only a matter of time before old-school arcades began popping up.
When it arrived in Central Square 16 months ago, Area Four's A4cade (pronounced "arcade"), ushered in a new kind of entertainment: decidedly adult (21+ only) but also pointedly nostalgic, a fun, laid-back venue where guests can play arcade games while sipping a cocktail or gnoshing on a sandwich or burger, courtesy of Roxy's Grilled Cheese, which fronts the Cambridge hangout. Since there's no outside signage to indicate its presence, it can be a little tricky to find at first. But on weekend nights there's no missing the line of expectant gamers snaking out the door.
Customers step through the double doors at the back of Roxy's, then through an industrial freezer door, which deposits you in a game room tricked out with retro pinball machines and game cabinets. The dimly lit room is decorated with video game–themed decals, and 11 flat-screen TVs play movies from the 1990s and early 2000s, like Scream and Edward Scissorhands.
When we visited, we had a bite to eat before getting to the games. A4cade offers booths and high-topped tables for those preferring to sit, and stools along the two bars. A few small standing tables allow you to sip a cocktail while you wait your turn at a gaming cabinet.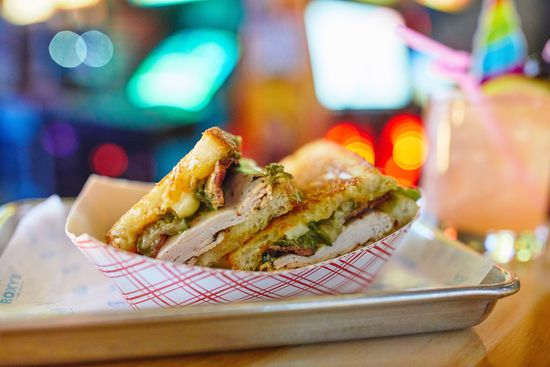 A4cade offers the same menu as any of Roxy's brick-and-mortar locations, with vegetarian and vegan options as well as gluten-free bread. If grilled cheese sandwiches aren't your thing, you can have burgers and hot dogs (vegetarian options available), along with sides like gluten-free fries and tots ($3.99 to $6.99; price varies by topping). You can order up a vanilla soft-serve ($3) or a frappe ($4.49) for dessert.
We opted for Roxy's Mighty Rib Melt ($8.49), the Muenster Club ($8.99), and a side of truffle tots ($3.99). The braised barbecue short ribs were the undisputed star of the rib melt (it also had fontina cheese and caramelized onion), but the Muenster Club, three cheeses, bacon, chipotle mayo, and creamy guacamole, was our favorite of the two. The bread on both was grilled to crispy perfection, but both could have benefited from more cheese.
We found the truffle tots too dry (we had expected deep-fried, greasy treats). The truffle oil gave the tots a strange taste. We suspect it's a better topping paired with fries.
A4cade is well known for its menu of specialty themed cocktails ($11 to $14) and here they don't disappoint. The elaborate drinks are named after video games and other pop culture references, like "Princess Peach's Downfall," named for the love interest in Nintendo's Mario franchise, "Worst. Drink. Ever." a nod to the trademark line belonging to The Simpsons Comic Book Guy, and "Falcon Punch," named for Captain Falcon's special move in Nintendo's Super Smash Bros. Order one of the tiki cocktails for two ($24 to $48): it arrives in a whimsical specialty drink vessel, which might include a plastic R2-D2, a faux shark's head, or another surprise. (Be sure not to walk out with it: if you do, you'll find $50 added to your tab.) Beer and wine are available as well.
Our waiter recommended the Rainbow Road cocktail ($11), a mix of gin, watermelon, and grapefruit liqueur. We tried the pale pink drink, topped with a lemon slice, which was sweet without being cloying and had a subtle gin taste. For fruity drink lovers, this is a great choice. Other standouts: Old Gal Sally ($14), Wild Turkey rye, cynar, and dolphin blanc, and the Mr. Snuffleupagus ($14), Suntory toki, toasted sesame oil, PX sherry, and cynar.
Now, about the arcade itself. All games require tokens, which can be purchased with cash or added to your tab. A silver pouch of 20 tokens costs $5; we bought 40 ($10) and made them last for over an hour of gaming. Most games require four tokens, but some (like Tetris) require only two.
A4cade has a mix of classic arcade cabinets and pinball tables. We tried old stalwarts like Ms. Pac-Man, Tetris, and Donkey Kong, as well as more recent releases like Mario Kart DX. The sounds of buzzing pinball machines filled the air as did the upbeat music that matched the nostalgic ambience. Expect to wait if you're looking to play one of the more popular games, like Hoop Fever or Mario Kart DX.
Those who don't like crowded rooms may want to visit A4cade on a weeknight, when it opens at 5 pm. Online reviewers note that the room can quickly become shoulder-to-shoulder tight, especially on weekends.
A4cade is fun nightlife spot for gamers and millennials looking for a nostalgic throwback. Between the 1990s decor, classic cabinets, good, tasty food, and creative cocktails, it's the ideal destination for a geeks' night out.
A4cade is at 292 Massachusetts Ave., Cambridge. The bar and arcade are open from 5 pm to 1:30 am Monday through Friday, noon to 1:30 am Saturday, and noon to midnight Sunday. Roxy's kitchen is open from 11 am to 11 pm Sunday to Thursday, 11 am to midnight Friday and Saturday. No reservations available. Take an MBTA Red Line train to Central Square and walk about seven minutes. Street parking only. The venue is 21+ only.
This is part of a series featuring Boston nightlife venues of interest to the BU community. If you have any suggestions for places we should feature, leave them in the Comment section below.
Madeleine O'Keefe can be reached at mokeefe@bu.edu.