Men's Ice Hockey Home Game Opener Tonight
Terriers launch season with new coach, old goal: winning the national championship
In any given year, the BU men's hockey team can expect to lose key players to the NHL. This year is no exception, with Olympian Jordan Greenway (CGS'17) going to the Minnesota Wild and 2018 NHL Entry Draft fourth overall selection Brady Tkachuk to the Ottawa Senators.
What was surprising was the departure of David Quinn (CAS'89), who announced in May that he was leaving BU after a five-year tenure as head coach to take a job with the pros: he's now head coach of the New York Rangers. The Terriers replaced Quinn with a familiar face: Albie O'Connell (CAS'99), chosen to step up from associate head coach to lead the team.
It's a new era for the program and the current team, which takes on fifth-ranked Providence College in the 2018 home opener tonight, Friday, October 26.
Asked what his goals are for his first season helming the team, O'Connell is direct: "We want to win the national champion."
So far, however, the season has not augured well for that aim. After starting ranked eighth in the country, the Terriers dropped the first three games and fell out of the polls. Losing two close games to number 11 Minnesota State came as a warning, but more troubling was last Saturday's 4-0 loss to Merrimack College to start Hockey East play. Still, the Terriers have reason to be optimistic: experience.
"I think the difference this year is that we have a core group of guys, for the first time that I've been here, that are probably going to be the top players in our lineup every night," says assistant cocaptain Chad Krys (CAS'20). "They're going to be our older players, and they're going to know what to expect."
Last season's team featured 17 underclassmen—9 freshmen and 8 sophomores (one a redshirt)—in a roster of 27. This year, the Terriers will be depending on the strength of their junior class players. Led by cocaptain Bobo Carpenter (CGS'17, COM'19), the upperclassmen have been responsible for 9 of BU's 16 points so far this season.
Last year the Terriers gained momentum at the right time, posting a 13-3-3 record from January 6 on, leading Quinn to refer to it as a "tale of two seasons." It's a feat they may have to repeat this year to stay in contention, but Krys says they hope to bump up that timetable. "There's not a lot of games in college, and the quicker you can mesh together and start to play your best hockey the better," he says. "I wouldn't mind seeing us start to win a few more games earlier in the season."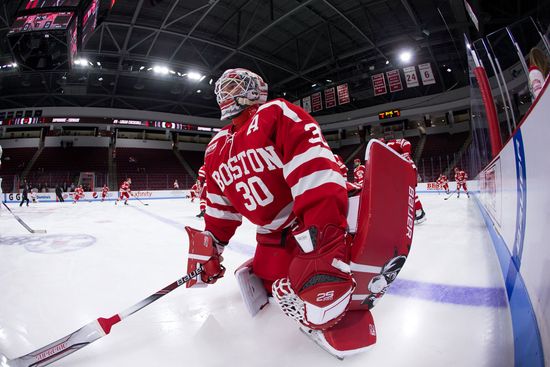 The players say the continuity afforded by O'Connell's appointment as head coach has been a plus in what could have been a tough transition. "My class especially and the older guys are very comfortable with Albie, and we know what he's about," Krys says. "So far, it's been really nice to have him as our new coach. It's made things really easy for us."
"The biggest thing is that the players trust him and trust what he's doing," adds cocaptain Dante Fabbro (CGS'18, COM'20). "He's been a pretty big piece to the puzzle so far, and we all expect that it'll be the same way throughout the whole year."
O'Connell is intent on building on the blueprint of BU's storied program. "It's a continuation of what the program's about," he says. "The identity of how we play—competitive and in-your-face style—on top of having some skills and talents, will hopefully win us games."
In addition to its experienced upperclassmen, this year's program has a talented group of underclassmen, with seven freshmen, highlighted by Joel Farabee (CGS'20) and Jake Wise (CGS'20), who were the 14th and 69th picks overall in the 2018 NHL Entry Draft, and seven sophomores, among them Hockey East All-Rookie Shane Bowers (CGS'19) and current scoring leader David Farrance (CGS'19), who have already played a pivotal role this season.
As the Terriers prepare to host Providence tonight, they'll be looking for signs of the turnaround they need. In their four matchups against the Friars last season, the Terriers held a narrow 2-1-1 edge after beating the number nine team, 2-0, to claim the Hockey East Championship.
The BU men's ice hockey team takes on Providence in the season's home opener tonight, Friday, October 26, at 7:30 pm at Agganis Arena, 925 Commonwealth Ave. Tickets are free for students with a sports pass, and begin at $25 for BU students, faculty, and staff without a sports pass. Tickets for the general public start at $30. All home games can be viewed live here. 
Jonathan Chang can be reached at jchang19@bu.edu; follow him on Twitter at @jonathanychang.