Marisa Moseley Named New Women's Basketball Coach
Alum was assistant coach at UConn for nine years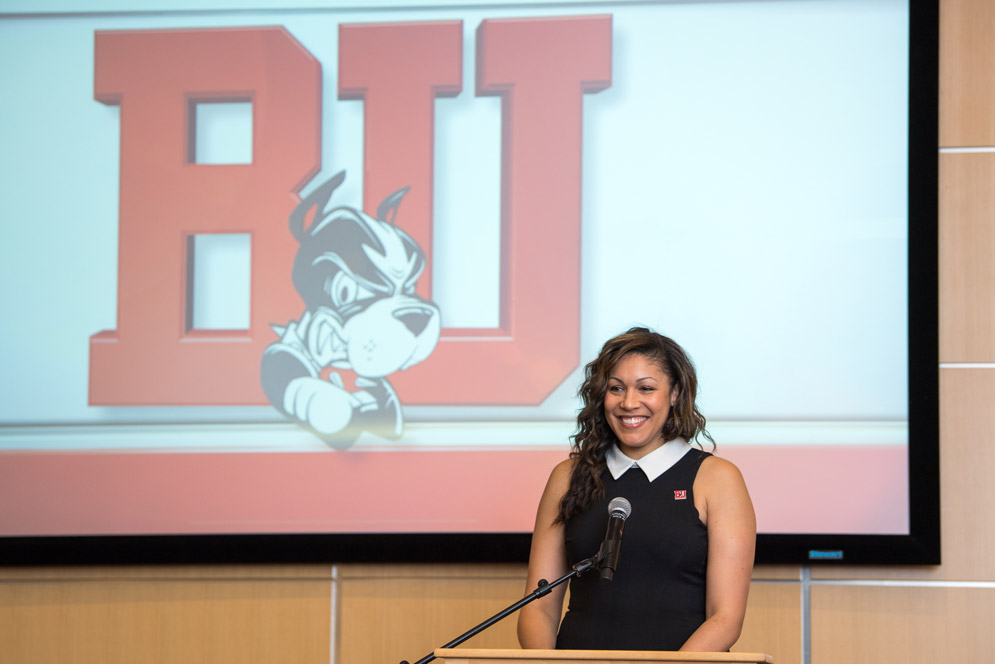 Just over 15 years after she helped power the BU women's basketball team to its first and only NCAA tournament appearance, Marisa Moseley has cracked another first, becoming the only alumna to be named the team's head coach.
Moseley (CAS'04) returns to her alma mater with gold-plated credentials: she spent the last nine years as an assistant coach of the powerhouse University of Connecticut women's basketball team. The Huskies reached the Final Four during each year of her tenure and won five national championships. UConn also produced 3 national Players of the Year and 11 All-Americans and boasted a 331-14 record and two of the longest winning streaks in the history of NCAA basketball during that time.
At a news conference yesterday at Agganis Arena, Moseley said her UConn run had given her "a front-row seat in one of the best classes a coach could ever dream of.… I know I would not be ready for this without those nine years.
"In life, one gets very few chances to come home again," she said. "And I'm so happy that I have the opportunity to come home again to Boston University."
Looking at her team in the seats facing the podium, she said, "To my players—it's kind of weird to say, but exciting—I am so glad that you are able to be here today. I am thrilled to be your coach."
Moseley, relaxed and joking throughout a Q&A at the press conference, was asked about her earlier locker room meeting with the team. "That's classified," she said, but she did tell them they could win a championship "every year—no pressure."
Moseley takes over from Katy Steding, coach for the last four years. The Terriers finished their just-ended season with a 5-13 Patriot League record and a 31-88 record during Steding's tenure, prompting the decision to make a change in leadership, said Drew Marrochello, director of athletics, in a news release last month.
"This is truly a watershed day for us," Marrochello told reporters and staff gathered at the press conference, where Moseley was welcomed by cheerleaders, the BU marching band, and BU mascot Rhett. "This place is buzzing," he added, referring to the texts, emails, and calls flooding in as news of the new head coach was officially announced on Tuesday.
He recalled a phone conversation during the interview process with a person he respects, who gushed about two possible candidates for coach. "I think I let them talk for seven minutes," Marrochello said, before asking what his caller thought of Moseley.
After a pause, the reply was, "If you can get Marisa Moseley, disregard what I said about the other two candidates."
"Yeaahh, obviously we were excited," shooting guard Payton Hauck (CGS'17, ENG'19) said about their new coach hailing from UConn. "It's huge for us, and I think we can make really big steps for the future."
"I think it's awesome that she's played here," said point guard Vanessa Edgehill (CGS'18). "She knows the campus." In fact, when Moseley came for her job interview, she ate with some players at a dining hall, Edgehill said, and "She was like, 'Oh, nothing's really changed.'"
Moseley told the players that she prefers man-to-man defense, but otherwise didn't disclose much about her coaching style, Edgehill said. "She just seems very personable, easy to talk to…and she says she wants to have fun."
Moseley racked up impressive stats during her Terrier playing days. A defensive specialist, the Springfield, Mass., native ended her career as the team's third-leading shot blocker, with 114 deflections. She was named to the All–America East Conference Third Team for the 2002-2003 season on the strength of her University-topping number of blocked shots and steals. She also was team captain for two years.
Before joining UConn, Moseley was on the coaching staff at the University of Minnesota and at the University of Denver. She also worked one year as a production assistant at ESPN.
But one place claims a particular affection. Marrochello recalled that during his job interview with Moseley, he asked her why she wanted the head coach position, telling her, "You can't say it's because you're an alum.
"She quickly wove a great, thoughtful, articulate answer. And I nodded my head. And then she finished her answer, 'And I'm an alum.'"