Boston Marathon Advice: Have Fun—and Be Careful
Parties on roofs and decks come with safety concerns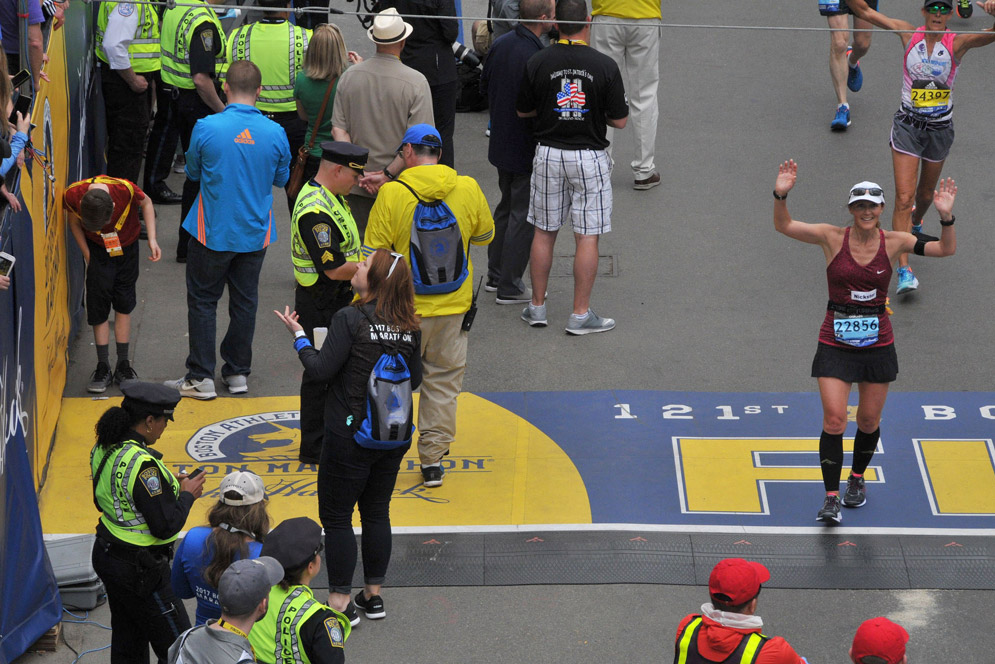 Public safety officials have a few requests for members of the BU community who plan to enjoy the 122nd Boston Marathon on Monday: have fun, cooperate with the increased security presence on the streets, and be smart about how you celebrate.
"The reason we ask is obvious," says Kelly Nee, BU chief of police and executive director of public safety. "After the bombings of 2013, there is a concerted effort to police this differently, but still to maintain the fun, family atmosphere."
Nee advises all race spectators to be aware of their surroundings at all times, and if they see something, say something. They should prepare for travel delays and security checks, especially if they hope to get close to the finish line on Boylston Street near Copley Square or to enter other event venues.
Public drinking and open containers are prohibited at the race, and "intoxication will not be tolerated," says an open letter from William B. Evans, Boston police commissioner.
Also prohibited from the marathon route are backpacks, coolers, packages, and other large items, as well as weapons or fireworks. "We've been notified that in some locations you may be asked to pass through security checkpoints where police and security officers will inspect bags and other items," Nee and Kenneth Elmore (SED'87), associate provost and dean of students, advise in a letter being sent to BU students today.
See the graphic below for a complete list of spectator guidelines or visit BAA.org.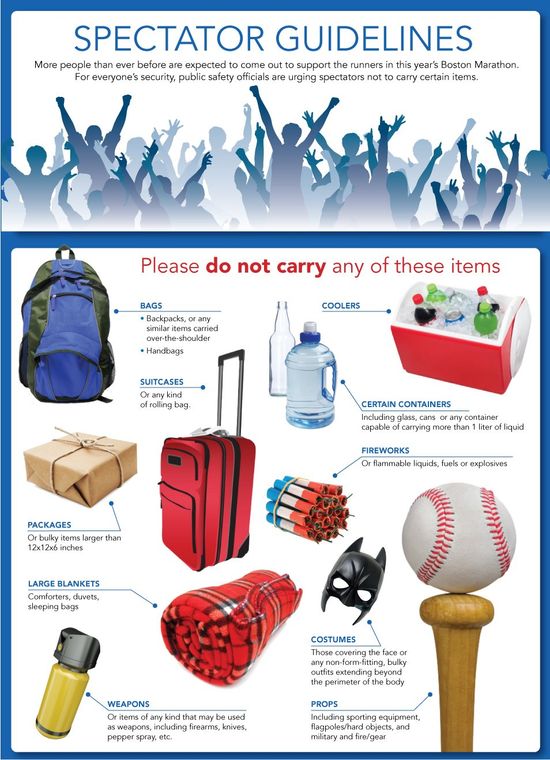 "You will notice a big uniformed police presence," Nee says, "but what you won't notice are other aspects of security which are designed so you don't see them."
Nee and Elmore's letter also advises students to travel light and be alert for scammers and thieves. "Most importantly," they say, "if you choose to drink, don't overindulge and keep an eye out for each other (especially if you're hosting people in your apartment)."
Safety officials say they worry about daylong parties, many in off-campus rentals, that can encourage underage drinking and overconsumption. Officials are asking students to celebrate responsibly and not to congregate on rooftops and decks, many of which are not designed to support large groups of people.
"Be a considerate neighbor," says Nee. "And watch out for your safety and the safety of your friends."
The 26.2-mile marathon route skirts South Campus on its way down Beacon Street through Kenmore Square. Student Health Services is providing free pizza, water, and rally towels for students at the corner of Amory and Beacon Streets from noon to 2 pm on Monday.
Some streets may be closed to traffic on the days leading up to the race. Find up-to-date information on street closures and parking restrictions here.
Officials suggest using the MBTA to get around, particularly because there will be extra subway and Silver Line service before and after the race. Note that the Green Line's Copley Station will be closed for the entire day, and that the following Green Line stops will be closed from 10 am to 6 pm: the C trolley Kent Street and St. Mary's Street stops and the B trolley South Street stop. The T recommends that Green Line passengers heading toward the finish line from the west get off at the Hynes Convention Center stop. Some bus routes may be detoured, and bicycles will not be allowed on buses or trains beginning Sunday night. Additional details on travel by T during the marathon festivities can be found here.
"It's cool that the Boston Marathon is a part of our community—we're thankful," Elmore and Nee write. "Regardless of your plans, have all the fun you can stand, and please do make your way to the Marathon route."