K. Matthew Dames Appointed New University Librarian
Access to scholarship, strengthening ties to Boston among the priorities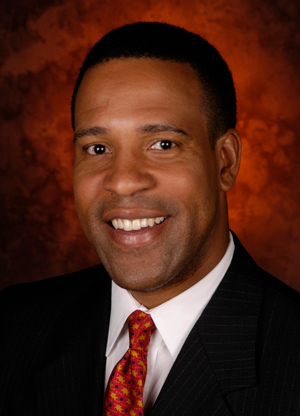 K. Matthew Dames, a nationally recognized scholar in copyright law and innovator in library sciences, has been appointed the next Boston University Librarian. Currently Georgetown University Associate University Librarian for Scholarly Resources and Services, he succeeds Robert Hudson, who is retiring after more than 40 years at BU. Dames will assume his new position July 1.
At Georgetown, Dames has overseen use, placement, and access strategies for the library's 3.8 million-volume principal research collection. He has led the library's large-scale digitization of archival materials chronicling Georgetown's history with slavery, while driving key initiatives aimed at modernizing, preserving, and archiving the university's collections.
"In an age of daily digital transformation, his leadership experience and energized vision for advancing new ideas and technologies herald an exciting future for the BU Library and the resources and services it offers," says Jean Morrison, BU provost and chief academic officer.
"We look forward to welcoming him this summer and to working with him to reenvision a 21st-century library that remains a proud focal point for our research and scholarly community for many years to come," Morrison says.
Prior to taking the Georgetown post in 2016, Dames was the founding director of the Syracuse University Copyright and Information Policy Office, then associate dean for research and scholarship, and later interim dean of libraries and University Librarian. While at Syracuse, he launched new digital preservation efforts as well as a fund to develop new library spaces and services.
Dames says he sees a particular opportunity in Boston University's "commitment to open access and the work that Bob Hudson and others in the library have done to make that a priority," including adoption of a policy in 2015 that requires faculty to opt out if they don't want to allow open access to their scholarly work online.
"We're in an environment where even though open access seems to have a little more traction outside the United States, we are clear within the United States that the current ecosystem of scholarly publishing is unsustainable and we need to find alternatives," he says. "I don't necessarily think that open access is the sole alternative, but I certainly think it should be part of the equation. And since BU has already made inroads there, that gives us a good starting place to work from."
Dames says BU has one of the leading African studies libraries in the world, and he hopes to do great things to extend the reach of that collection to scholars both in and outside of the University. The librarian says he hopes to bring "a slightly different perspective about how to present some of the materials," including "where to go for partnerships that perhaps we haven't explored before, and really doing a good job at representing through our collections and services the entirety of the city of Boston."
Dames says the University's desire to be a cultural institution at the center of Boston was one of the things that most attracted him about the job. He says he looks forward to strengthening the library's ties with the city through the area library consortium as well as directly. "I think there are things we can do in the city of Boston," he says.
The author of more than 60 articles, Dames earned an undergraduate degree from Bernard M. Baruch College, City University of New York, a master's in library and information science from Syracuse, a law degree from Northeastern University School of Law, and a PhD in information studies from Syracuse.
Dames grew up in the Bronx and acknowledges being a Yankees fan, but he's looking forward, he says, to his first visit to Fenway Park. He knows Boston well from his time as a Northeastern law student, when he was a disc jockey on MIT's WMBR-FM and at an after-hours club on Stanhope Street called the Loft, spinning underground house music. He remembers well the record shops he haunted in those days and says he's still an active collector.
"Boston was and still is a great vinyl-record-buying town," he says. "I cannot tell you how much money I spent on records as a poor law student."