New BU LA Programs Head: "First Be Good, Then Be Fearless"
Former NBC exec Charisse McGhee-Lazarou introduces students to the ways of Hollywood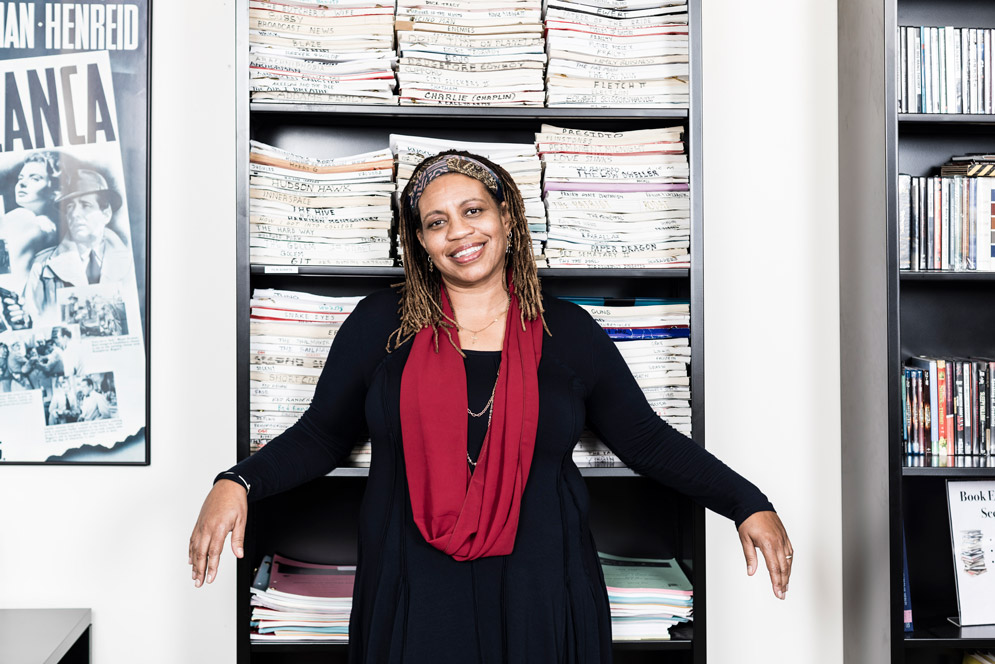 Charisse McGhee-Lazarou rose to vice president of prime time programs at NBC as hits like ER, The Cosby Show, and Seinfeld made the peacock proud night after night. Now, as the new director of Boston University's Los Angeles Programs, she will be introducing BU students to the industry where they hope to find similar success.
"This isn't like becoming a doctor or lawyer," McGhee-Lazarou says. "There is no one way to do it. It is serendipitous, and you need to be willing to talk to everybody about everything. First be good, and then be fearless."
Her own story is an object lesson. In the mid-1980s, McGhee-Lazarou studied television and interactive media—computer games—at Harvard's Graduate School of Education. A friend organized a symposium on women in the media, and one of the speakers was a producer named Carla Singer.
"I asked her a bunch of questions, and she said, 'If you are ever in Los Angeles, you should stop by,'" McGhee-Lazarou recalls. "My family reunion was in Los Angeles that summer, and I got in touch, and she asked me to cover a script" (reading it and making notes on its content and potential).
McGhee-Lazarou wasn't a complete industry newbie—while at Harvard, she had run a camera for WGBH (badly, she says). But she had never read a Hollywood script or written coverage. When Singer read her comments, she suggested that McGhee-Lazarou stick around. So she stayed in LA for the summer, working as a production assistant on a failed ABC sitcom while making the rounds of the industry. Eventually, she heard that NBC was hiring, and seven interviews later, she found herself working for network president Brandon Tartikoff, then considered the brightest mind in television.
"That was the first year NBC went back to number one," she says. "It was a great atmosphere, unlike the way it is now. A show like Seinfeld, which was not actually a hit when it first came on, could brew for a while. Shows were noted for their creative capacity and not just their ability to bring in numbers. It was a pretty great time to be in that mix."
She worked at NBC from 1986 to 2003, and among the people she met was BU trustee Nina Tassler (CFA'79, Hon.'16), who was then a Warner Brothers executive and later chair of CBS Entertainment. The two women worked together on ER.
"Charisse's vast experience in the television business affords her a unique perspective on how things really work," Tassler says. "She knows firsthand how to inspire and motivate creative thought and discussion."
McGhee-Lazarou worked with producers to make sure the shows she was responsible for had the best possible storylines, casting, and visuals. She advocated with the studios and the network on budget, promotion, and scheduling and for pushing content boundaries. Among her favorite shows, she says, are the critically acclaimed Homicide: Life on the Street  and In the Heat of the Night with Carroll O'Connor, and working with Gene Wilder on the short-lived comedy Something Wilder.
She also worked at Lifetime for two years as a vice president of scripted television, and she spent six years in independent production. During that time she took a last-minute offer to teach a class at California State University Northridge. There she found a new calling—sharing her industry knowledge.
McGhee-Lazarou comes to BU from High Point University, in High Point, N.C., where she was director of the Media Fellows Program and an assistant professor of the practice of communication for more than six years. The job included classroom teaching and also gave her a chance to run the fellows program, which regularly sent university students to Hollywood. "I really enjoy having that relationship with students, helping them launch their career and giving them real insight into what the business is like," she says.
A dream job
BU's Los Angeles Programs provide internship-based experiences in the entertainment industry for students from all of the University's schools and colleges. The programs have historically attracted students from the College of Communication, but in recent years they've seen increases in students from the Questrom School of Business, the College of Fine Arts, and others. About 200 students a year are spread across the three semesters, 90 percent or more of them undergraduates.
"Many of them never come back to Boston—they do their program in their senior year and go straight into the workforce," says Gareth McFeely, executive director of Study Abroad, which oversees the Los Angeles Programs.
McGhee-Lazarou says she knew of the BU LA Programs and considered them a role model for High Point fellowships, so when longtime program director William Linsman, a COM associate professor of film and television, died in December 2016 and BU began the search to fill the position, she saw it as a dream job.
"Charisse's experiences combined with her energy and vision for what our LA Programs could become for our students, faculty, and alumni, made her the candidate for us," says Willis Wang, vice president and associate provost for Global Programs.
McGhee-Lazarou is already moving forward on plans to open the programs to students from other colleges that don't have a Los Angeles outpost. There are currently three students—from Lafayette College, George Washington University, and Oberlin College—and she says there is the capacity for more. She also says she is looking forward to making the Los Angeles Programs an integral part of the BU Hub general education program.
"Her vision for the future of BU in LA includes cutting-edge, progressive curriculum combining emerging new disciplines in media while helping students navigate an ever-challenging professional career," Tassler says.
The new director has already made a good start with students. "Charisse greeted me with a wonderful smile and immediately wanted to know how I was adjusting to Los Angeles," Kwame Wade (COM'19) says. "She made sure I knew she was here to be supportive."
"Charisse was the first person I met at BULA after a straight 38 hours of traveling from Mumbai. She was at once warm and welcoming, with an air of confidence that makes you believe everything is going to be all right," says Khyati Shah (COM'19).
Not all of what McGhee-Lazarou has to teach will be Hollywood glamorous. When she started at NBC, she says, she was sometimes not just the only woman in the room, but also the only African American in the room and the youngest person in the room. "To anybody in that situation I would say, you have to put on your work suit. Don't be intimidated."
She points out that Hollywood often blurs the lines between what is social and what is business, a practice that "certainly bred a lot of the misconduct and harassment in the industry" that has been in the news lately. "Go into it like you would any other job," she advises. "But keep it just a little bit at arm's length in terms of the personal until you get your feet on the ground."
And one last bit of advice for students: look at the credits when you watch TV and movies. "I know that sounds goofy," she says, "but my dad brought me up to look at credits. We stayed in the movie theater until the last credits ran, because there are people who worked hard on that movie, he said, and you need to acknowledge them. That's how I learned who Aaron Spelling was by the time I was 10."
Connor Lenahan (COM'17,'19) contributed reporting to this story from Los Angeles.