Nightlife: Virtual Reality on Tap at ICA's First Friday
Music, drinks, dancing, and plenty of art at 21+ event
Since moving to the waterfront in 2006, the Institute of Contemporary Art/Boston  has become a vibrant part of the city's cultural life. It has been building a significant permanent collection and is known for hosting special exhibitions that push the boundaries of modern art.
The museum is noted for its popular First Fridays series, held the first Friday of each month. The 21+ evenings offer a mix of art, music, dancing, and specialty cocktails, and each is built around a different theme. Tomorrow it celebrates the world of virtual reality and should draw art lovers and techies from all over.
The monthly event is popular and often sells out. Tickets must be purchased online in advance. Admission is $15 and does not include the cost of drinks.
The April 6 celebration of virtual reality is tied to the ICA's current show, Art in the Age of the Internet, 1989 to Today, on display through May 20. With work from a diverse group of artists, it explores the many ways the internet has changed the field of art, "especially in its production, distribution, and reception," says the museum website. Through painting, performance, photography, sculpture, video, and web-based projects, the exhibition broaches the subject of art, culture, and humanity in the digital age.
Among the artists featured are Judith Barry, a former visiting artist at MIT's School of Architecture and Planning; noted New York–based video artist Dara Birnbaum, whose work focuses on technology and gender; and the late prolific filmmaker Harun Farocki.
The exhibition addresses provocative themes, such as emerging ideas of the human body and notions of human enhancement and the internet as a source of both surveillance and resistance. One of the most arresting works is Barry's IMAGINATION, Dead Imagine, a 10-foot-high internal projection video cube, created in 1991.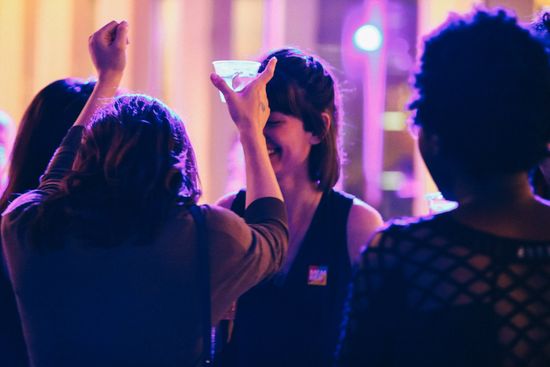 In addition to touring Art in the Age of the Internet, guests can explore the museum's other current exhibitions, as well as visit a special virtual reality art pop-up and enjoy a live performance by the synth-pop Boston band Bearstronaut, whose debut album Telecoast was released two years ago. There will also be music from DJ Knife, dancing, and adult libations (cash bar).
The Institute of Contemporary Art's First Friday: Virtual Reality is tomorrow, Friday, April 6, at the ICA, 100 Northern Ave., Boston, from 5 to 10 pm. Admission is $15 (free for ICA members) and includes live entertainment, special programming, and a cash bar and café. The event is 21+ only and IDs are checked. Purchase tickets here. Find directions here.  
This is part of a series featuring Boston nightlife venues of interest to the BU community. If you have any suggestions for places we should feature, leave them in the Comment section below.
Jacob Gurvis can be reached at jgurvis@bu.edu; follow him on Twitter @JacobGurvis.