Hockey Runs in the Family
Three Terrier men's team members, manager have dads who played for BU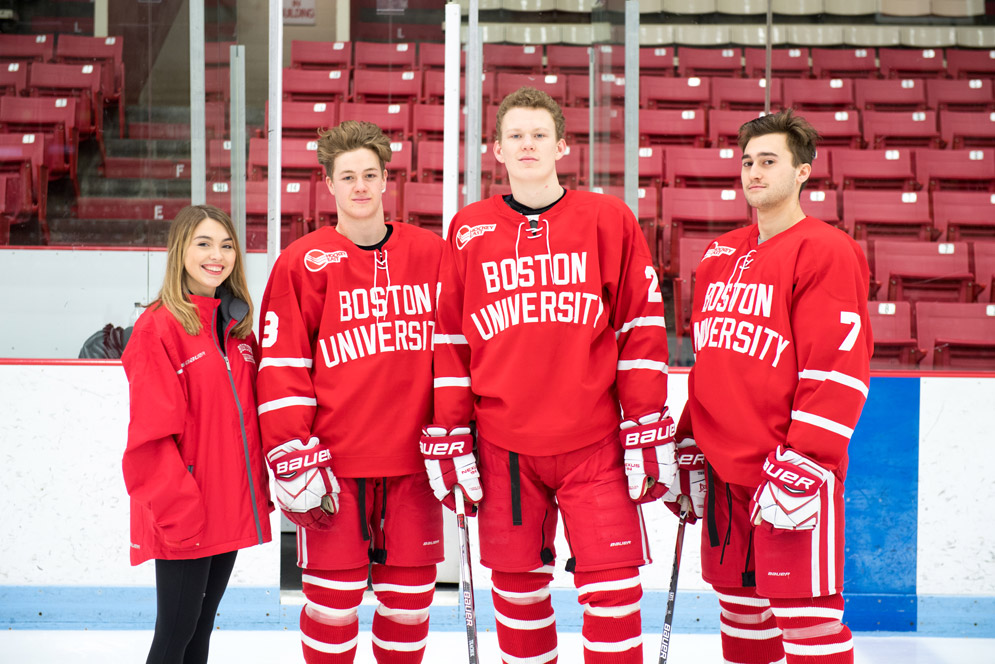 BU alumni regularly seed the ranks of the NHL and other professional hockey leagues. This year, three standout players on the Terrier men's team in the early 1990s have sons skating for their alma mater and one player's daughter is team manager.
One of the skating offspring is defenseman Chad Krys (CAS'20), whose dad, Mark (CAS'91), played for several American Hockey League (AHL) teams after captaining the Terriers during the 1990–91 season, when he helped the team reach the NCAA title game. Krys, a Chicago Blackhawks second-round selection in the 2016 NHL draft, remembers going with his dad to BU hockey games as a child and visiting the locker room afterwards. He grew up listening to stories about the Beanpot and anecdotes about his father's teammates, familiar to him from a framed photo in his home.
"My parents wanted me to go somewhere where I was happy and could go to school and play hockey," Krys says, "but I think they hoped I would play for BU."
The other three current Terriers are forward Ty Amonte (CGS'19), son of Tony (CAS'92), who played right wing for theChicago Black Hawks and New York Rangers, among other teams; forward Brady Tkachuk (CGS'19), son of Keith (CAS'96), who skated for the Winnipeg Jets, St. Louis Blues, and other teams; and team manager Ali McEachern (COM'18), daughter of Shawn (MET'92), who played for several teams, like the Boston Bruins and the Pittsburgh Penguins. The four students have similar stories about their dads (and moms) instilling in them a love of the game from an early age. When it came time to pick a college, a visit to Comm Ave was a must.
"My dad loves BU and wanted me to play here, but he told me it was my decision," says Tkachuk. "He said I should play wherever I felt comfortable." Keith Tkachuk is one of only two men who have skated for the United States at four Olympic Winter Games; he played in the NHL for 19 years and is considered one of the game's most dominant power forwards. He was inducted into the US Hockey Hall of Fame in 2011. Matt Tkachuk, Brady's brother, plays for the NHL's Calgary Flames.
While having a dad who played professional hockey doesn't guarantee that a young skater will one day play NCAA Division I hockey, it appears to help. In a recent interview with the Toronto Star, Mark Seidel, chief scout for North American Central Scouting, pointed out some of the benefits of being the son of an NHLer, in addition to genes: the right contacts, the financial resources to buy equipment and ice time, and practice time and guidance—sometimes tough—from dad.
BU head coach David Quinn (CAS'89) says the game has morphed a bit since the dads were making their way through the ranks in the early '90s. "Today, it's probably a little faster," he says. "I don't think you have as many game changers, the McEacherns, the Amontes. It's just a harder game to play, there's more structure, more defense. It's harder to create offense."
Amonte learned to skate at the age of four, and to speed up the process, his dad duct-taped steel skate blades to the bottom of his shoes and told him to walk around the house. "It was so I could get the feel of the blades on my feet," Amonte says. Five-time NHL All Star Tony Amonte, a 2009 inductee to the US Hockey Hall of Fame, is now head coach of the boys hockey team at Thayer Academy in Braintree.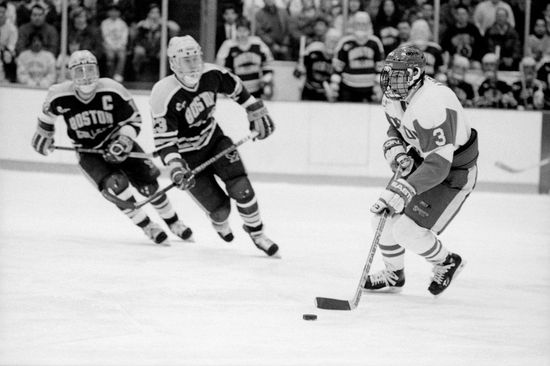 "My dad always coached me when I was younger," says Krys. "He has always been someone to talk about the game with. He knows what's going on; he understands things. He's a sounding board, and he gives me a good kick in the butt. But he wants me to have fun. It's kind of nice to share with him. I think more than anything, he enjoys watching me."
Tkachuk's mother was the one who taught him to skate, because his father was busy playing professional hockey. His dad's experience in the NHL had a big impact on his own hockey career, Tkachuk says. "Whenever I didn't have school, I would go to practice with my dad," he says. "My brother and I would go on the ice with him, play against each other. We would meet his teammates."
A top eligible draft pick for the 2018 entry draft, Tkachuk says his father "expects a lot out of me because he knows I can do it. After every game, he critiques what I did wrong and what I did right. His pointers help. He'll give tips about some plays I could make next time in the offensive zone, or little plays behind the net."
Ali McEachern remembers watching her dad, Shawn, who played for 13 years in the NHL, winning a Stanley Cup with the Pittsburgh Penguins in 1992. He is currently head coach of the boys hockey team at the Rivers School in Weston.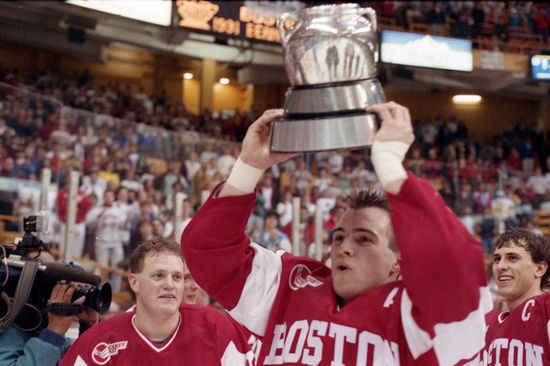 Now in her fourth year as team manager, McEachern played hockey through high school. "My dad coached me for a few years and he came to every game I played," she says. "The ride home would be a conversation about what I did well." Her roommates laugh whenever she calls home because every conversation soon turns to hockey.
When it came time for college visits, her dad told her to go wherever she wanted, but she says it was hard for him to hide his true feelings. "Right when he got here, he had so many stories," she says. "I saw Coach Quinn on my tour; he made me excited about the program and going to school."
The four students say the Beanpot has a special significance in their home. Krys, who grew up in Connecticut, says his family makes the trip up to Boston for all home games.
Tkachuk says this year's Beanpot Tournament, his first as a player, will be a family affair, since his dad's family lives in the area and plans to be in the TD Garden stands Monday night. "From what I've heard, it's a really big deal," Tkachuk says. "There's a lot of hype around it."
"My dad loves the Beanpot, my whole family comes every year," says McEachern, who will graduate in May. "It's definitely my favorite time of the hockey season."
The 66th annual Men's Beanpot Tournament: BU plays Harvard in the second game of the semifinals Monday, February 5, at 8 pm, preceded by the semifinal between Boston College and Northeastern University at 5 pm, both at TD Garden, 100 Legends Way, Boston. Purchase tickets on Ticketmaster or Stubhub. Beanpot second round: the consolation game is at 4:30 pm, Monday, February 12, the championship game at 7:30 pm, both at TD Garden. The games will be televised live on NESN and broadcast live on WTBU Radio (640 AM and 89.3 FM) and the Terrier Sports Radio Network.