Students Help Spur Campus Increase in "All-Gender" Restrooms
University is working to make more inclusive bathrooms available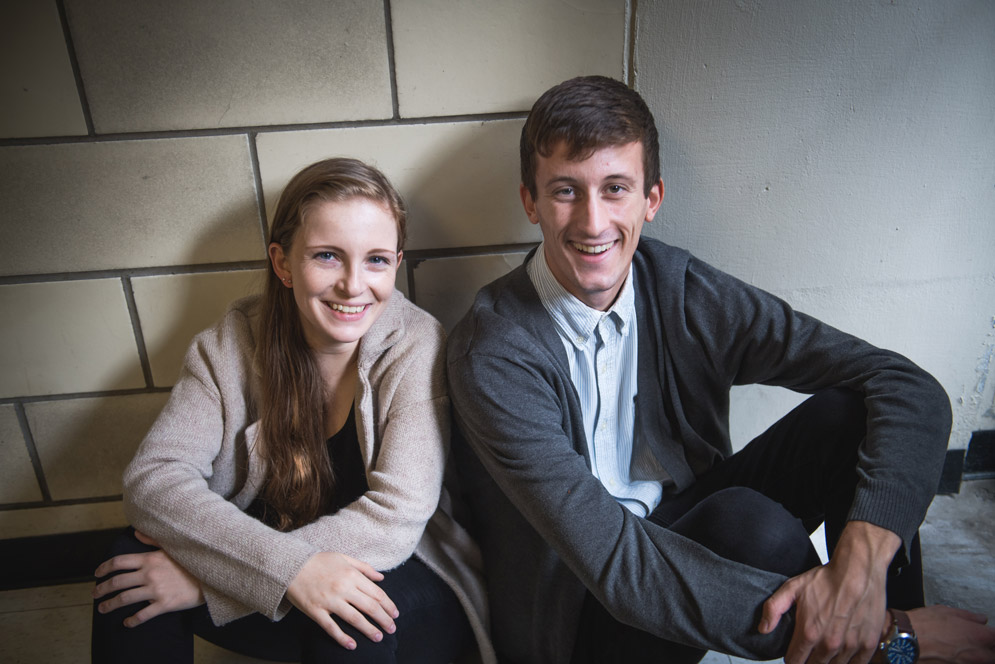 The figures of bald men and women in dresses that have labeled many BU bathrooms for years will soon be relics of generations past.
After years of discussion, much of it driven by students asking that BU catch up with the current era of increasing gender awareness, the University is creating more bathrooms open to everyone, regardless of gender. The work includes construction this month of two new gender-neutral bathrooms on the George Sherman Union second floor.
"It's satisfying to know this is coming to fruition, because it's so important," says Rachel Bennetts (CGS'17, CAS'19, GRS'19), an activist for better transgender facilities at BU, who has spearheaded the shift.
Citing recommendations by a consultant, the University will also redesignate 43 men's and women's bathrooms on the Charles River Campus as "all-gender restrooms" to indicate that they are inclusive and available to all students, regardless of gender identity. An additional 53 bathrooms on the Medical Campus and 27 on the new Fenway Campus will also be updated. Once the work is done, officials will determine the best way to make the locations of the gender-neutral bathrooms known to the BU community in a mobile-friendly way.
Kenneth Elmore (Wheelock'87), associate provost and dean of students, says the University wants to make the changes to better serve students, while at the same time ensuring that the greater BU community understands why the changes are important.
"So much of this is really a conversation about people understanding each other, understanding gender fluidity, understanding people's perceptions of gender, and understanding as a community why we need to make spaces more available for people in terms of how they perceive their gender," Elmore says. "So a lot of this, for me, has been about educating people."
Bathroom access has been a contentious subject on campuses and off around the country. In 2016, North Carolina lawmakers enacted a so-called "bathroom law," requiring transgender individuals to use public restrooms, locker rooms, and showers that match their sex at birth. The law, which cost the state thousands of jobs and millions of dollars in corporate investment by various athletic and business entities, has since been repealed (ending a boycott by the Atlantic Coast Conference, a major collegiate athletic league), but activists seeking the changes, as well as those fighting for gender-neutral housing and further transgender rights, responded by organizing forcefully, particularly on college campuses.
Since then, universities like Yale and Tufts have installed or are planning to install gender-neutral or all-gender bathrooms, labeled as such. Harvard also analyzed its bathrooms across campus in response to student demands and posts a lengthy list of gender-nonspecific bathrooms in buildings and residential houses. The issue has become so important to current and prospective college students that organizations use bathroom access as a factor in ranking a college's friendliness to LGBTQ students.
Ethan Liu (Sargent'21) welcomes the changes at BU. Born a female, Liu says he began transitioning freshman year and does not currently feel comfortable in either a women's or a men's bathroom. BU offers a handful of gender-neutral bathrooms, he says, but they are so few and far between that they're not always an accessible option for him.
"I think this is a start—we're getting somewhere," Liu says of the proposed changes. "Eventually, if they could have multi-stall bathrooms for rush hour, it would help so you don't have to wait in line."
Numerous studies have shown that bathrooms are among the most stressful areas on campus for transgender students, because they are places where they are stared at, questioned, or flat-out told to leave. Research has also shown that transgender college students are at a significantly higher risk for suicide and attempted suicide when denied access to bathrooms and gender-appropriate housing on campus.
Liu says he has never had a hostile encounter at BU, but remains wary of using a men's room as he transitions, so he still uses a women's room. "It's uncomfortable, but at least there won't necessarily be a negative reaction," Liu says. "If I go into the males' bathroom—who knows."
Debate over gender expression continues on the national stage with President Trump's decision last year to rescind Obama-era protections for transgender students that allowed bathroom choice. States have been making their own determinations. There is a current effort in Massachusetts to repeal a 2016 law banning discrimination of transgendered students in bathrooms. That question will appear on the ballot November 6.
Bennetts, a special initiative advisor at BU's Center for Gender, Sexuality, and Activism, coauthored with Brian Stanley (CAS'20) a proposal called "Gender Inclusive BU: A Proposal to Improve Conditions for the LGBTQIA+ Community at Boston University."
Written last spring, the report advocates for gender-neutral improvements on campus, including changes to BU bathrooms. It cites research showing how transgender students report more mental health–related issues and harassment, both verbal and physical, compared to their cisgender peers (people whose gender identity matches their sex assigned at birth).
The proposal also says existing gender-neutral bathrooms on the BU campus are so spread out that sometimes students have to go to a different building to find a restroom they felt comfortable using.
"The stress associated with this usually banal task sets transgender and gender-nonconforming students apart from their peers, only increasing feelings of not belonging," the proposal says.
Bennetts says she hasn't heard of harassment of transgender students at BU, but changes to the bathrooms are a first step toward making the community feel safer after years of inaction. "It will have a significant impact on current and future students, faculty, and staff," she says. "It's disheartening to be in an environment that doesn't fit your identity; it affects your relationships with professors, with other students, with yourself. This is really going to have an everyday impact on people."
The proposal, which Bennetts brought to BU administrators, among them BU President Robert A. Brown, last spring, helped spur the changes. Officials hired the Boston architectural firm Goody Clancy, which has done similar evaluations at MIT and the University of Massachusetts Amherst, to create an inventory of current facilities on campus and evaluate how BU could meet goals to increase and improve inclusiveness.
The firm's report studied 62 restrooms, chosen because they were widely distributed across the Charles River Campus, and recommended changing 43 of them into all-gender spaces.
Michael Donovan, BU vice president for real estate and facility services, says the University will post signs that say "all-gender restroom" underneath an image of a toilet. The two washrooms under construction at the GSU will also be marked the same way, he says, calling the move a "very important social issue that happens to cross over into the mundane world of planning, construction, and design of University facilities.
"We're including all-gender restrooms in all of our new major capital projects as well," Donovan says.
That includes at least one single-occupancy all-gender restroom facility in the Yawkey Center for Student Services, the School of Law, the Rajen Kilachand Center for Integrated Life Sciences & Engineering, and Myles Standish Hall. (Note: All-gender restrooms at the Kilachand Center are not public.)
The two GSU bathrooms are being created from reconfigured men's and women's rooms. Both will feature private stalls; if urinals are included, they will be located within the stalls. Those gender-inclusive bathrooms will also be identified online on campus maps.
Megan Woolhouse can be reached at megwj@bu.edu.