Documenting the Real Story Behind Boston Memory Sites
BU students publish their findings on crowdsourced website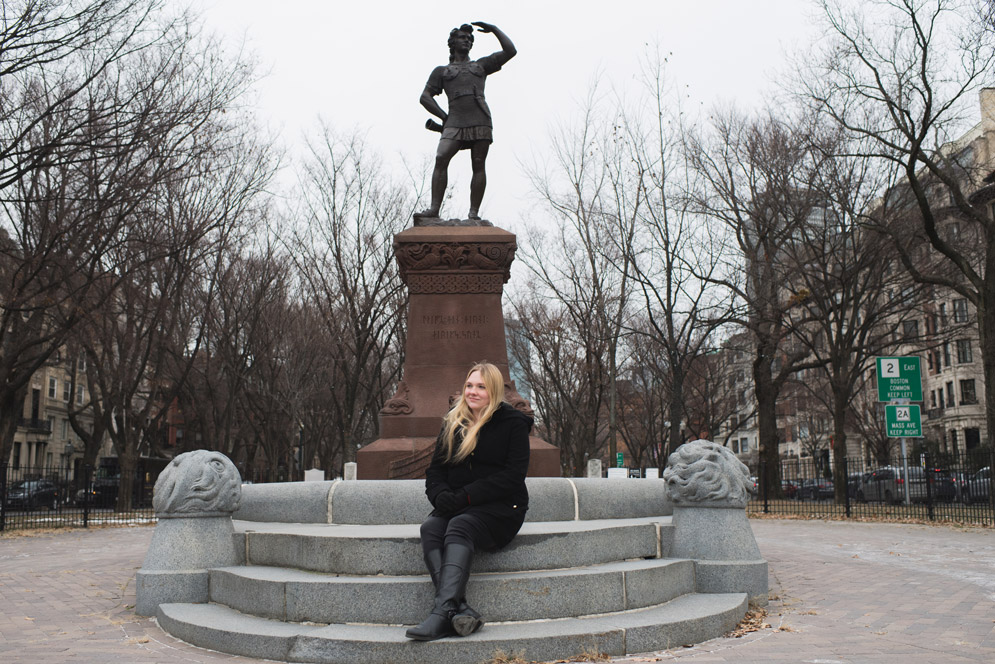 The Leif Erikson Memorial on Commonwealth Avenue in Boston depicts the famous 10th-century Norse explorer larger than life, much like the story behind the monument. Unveiled in 1887, it commemorates the once-popular now debunked belief that Erikson came to America and settled in Cambridge hundreds of years before Christopher Columbus was credited with its discovery in 1492.
"It's a really pretty statue," says Hannah Rodgers (CAS'18), who researched the monument for the class Catastrophe and Memory. "There's just no proof that Leif Erikson was ever here."
Rodgers and the other students in last semester's class recently published their historical findings on TheClio.com, a crowdsourced public history platform used by academics and amateur researchers alike.
James Schmidt, a College of Arts & Sciences professor of history, philosophy, and political science, says he asked students to write about landmarks, or what he calls memory sites in Boston to help them better understand history, as well as how and why certain events are commemorated.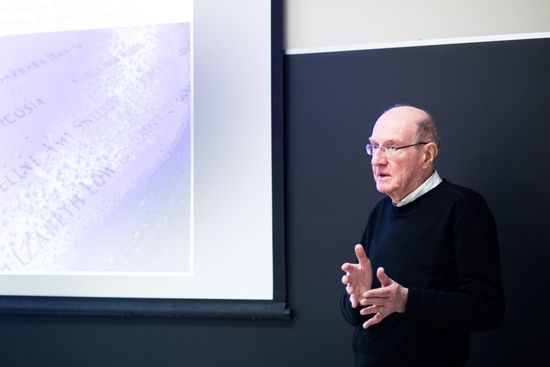 Since the Catastrophe and Memory class examines the ways in which catastrophic events are memorialized," Schmidt says, "collaboration with Clio struck me as an opportunity for students in the course both to explore some of the many different forms of memorialization that can be found in the Boston area and to contribute to a project that takes history out of the classroom."
The Clio website, based at Marshall University in Huntington, West Va., offers the histories of nearly 30,000 landmark and cultural sites across the United States, written by academics and researchers. Schmidt's students added more than 20 new Boston entries to the site last semester.
"Students are walking through this Boston landscape that's littered with memorials nobody looks at," Schmidt says. "The idea was to unleash them on the city and have them become aware of the ways that the past intrudes on the present."
Investigate they did, culling information from city and state archives, newspapers, and a variety of other sources to shed light on many lesser-known landmarks. Some investigated sites that commemorate disasters, such as the Great Molasses Flood of 1919, while others documented monuments to scientific discoveries, like Boston's Ether Dome and Ether Monument, commemorating the first use of ether as an anesthetic. Others explored sites marking athletic accomplishments or the sacrifice of American soldiers.
The Clio website uses GPS to guide users to monuments in most US cities. With just a few taps on their mobile phone, users can get a more detailed historical accounting instead of a few sentences or the generalities etched on a plaque. Each entry includes embedded material and links to primary source material.
"Memorials are not giving people historical accounts at all," Schmidt says, noting that they are instead about heritage, and usually not subject to critical scrutiny. He points to the many monuments to Confederate generals erected long after the Civil War in response to 20th-century civil rights efforts.
Lucy Gamades (COM'18, CAS'18) researched the story behind a small sign in Chinatown honoring Phillis Wheatley, a slave who has become revered as a poet and one of the nation's first African American authors.
Just two sentences long and mounted on the side of a restaurant, the plaque says Wheatley was sold into slavery as a girl nearby in 1761 and became America's first published African American woman. What the memorial does not describe, Gamades says, is the way Wheatley was required to prove she had authored the book to a group of white men, some Harvard-educated, who were skeptical. Among the men she had to convince was founding father John Hancock.
Gamades says she pored over research to paint a fuller picture of what life was like for Wheatley, noting that the marker's story may be more palatable to white people because it describes the slave-owning Wheatleys as tolerant. "There's the narrative people know, and the one they don't, the one that gets glossed over," she says.
A small plaque in Boston's North End commemorates the Great Boston Molasses Flood of 1919, which killed 21 people and injured more than 100 when a tank of molasses exploded, sending a two-story wave of molasses through city streets.
Lauren Stikeleather (COM'20) wrote on Clio that the tribute is "a reminder of the chaos of the flood, and more importantly, what could happen if small technical flaws are overlooked." Her entry describes how the molasses tank that exploded was hastily constructed by the United States Industrial Alcohol Co. during World War I, when alcohol was in high demand.
Residents at the time said the massive tank had been making ominous groaning sounds prior to the disaster, Stikeleather wrote, citing newspaper accounts. Some people suffocated in the rapidly spreading molasses.
Yet the plaque describing the flood is modest. "I feel like it could be bigger," she says of the memorial. "A lot of people might not even see it."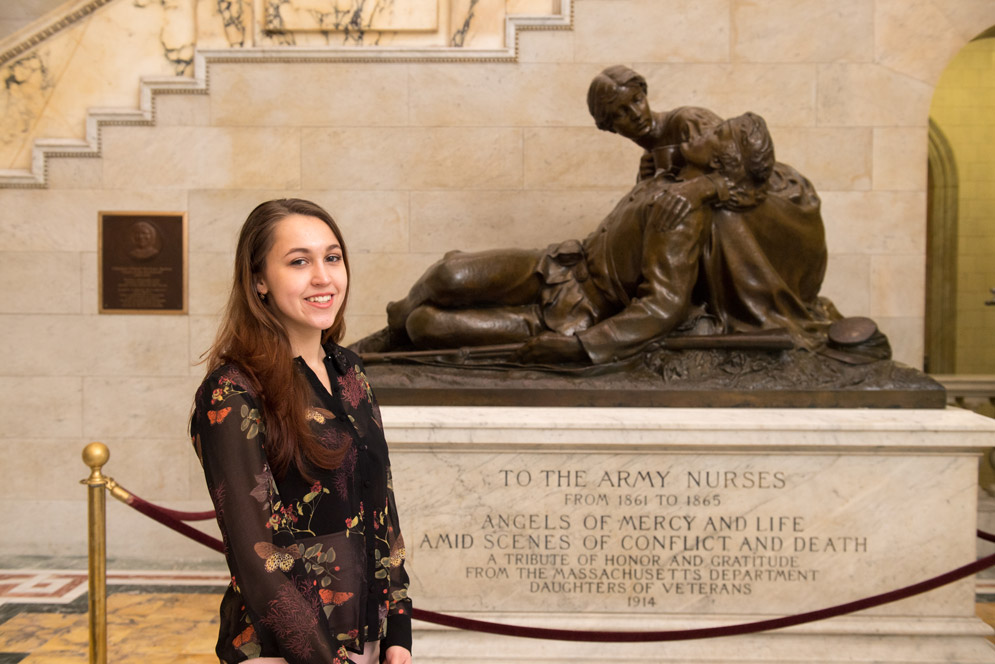 Yet the plaque describing the flood is modest. "I feel like it could be bigger," she says of the memorial. "A lot of people might not even see it."
Edda Kirsch (CAS'18) found inspiration for her Clio entry at the Massachusetts State House, where she worked as an intern. She chose to write about a massive Italian marble statue depicting a woman succoring an injured Civil War soldier, a tribute to the women who nursed the wounded.
Rules banned women from the battlefield during the Civil War, and female nurses were rare, Kirsch learned. Instead, the original untrained nurses were often the wives and relatives of soldiers who wanted to help with the war effort and cared for the wounded at camps and hospitals.
She says she had long been curious about who built the statue and why. And she hopes her Clio entry brings more attention to the monument and what it honors.
"This class taught me the proper ways that events should be memorialized," Kirsch says. "That's important because the way the public chooses to commemorate events becomes part of our national memory."
Megan Woolhouse can be reached at megwj@bu.edu