Destination: Thailand
Sargent students learn about healthcare system, culture on service learning trip
A lucky handful of BU undergrads has had an unforgettable learning experience this summer: they spent two weeks traveling across Thailand to learn firsthand about the complexities of its healthcare system. Although the country has become a mecca for medical tourists, it still struggles to provide accessible care for certain segments of its population, despite the introduction of a universal insurance program 16 years ago.
Sargent College of Health & Rehabilitation Sciences first introduced its International Service Learning Program in 2011, and each year since, students have traveled to developing countries, such as Belize, Costa Rica, India, and Ghana, to promote health education and work on service projects in local communities. This year's trip is the second to Thailand. The first was in 2016.
"These trips create firsthand learning experiences that would not happen in the classroom," says trip leader Adrian Wright-Fitzgerald, a Sargent lecturer in athletic training. "It takes them out of their comfort zone, which is where growth occurs, and it gives them real-life experience to draw upon when they return to school and their chosen profession."
First stop, Bangkok
The trip began in Bangkok, the nation's capital. Then it was on to the fishing village of Baan Kway and the northern city of Chiang Rai and the eponymous mountainous province that surrounds it. The Sargent group visited hospitals and NGOs, helped to build a road, even took in an elephant sanctuary. Below are some of the trip highlights.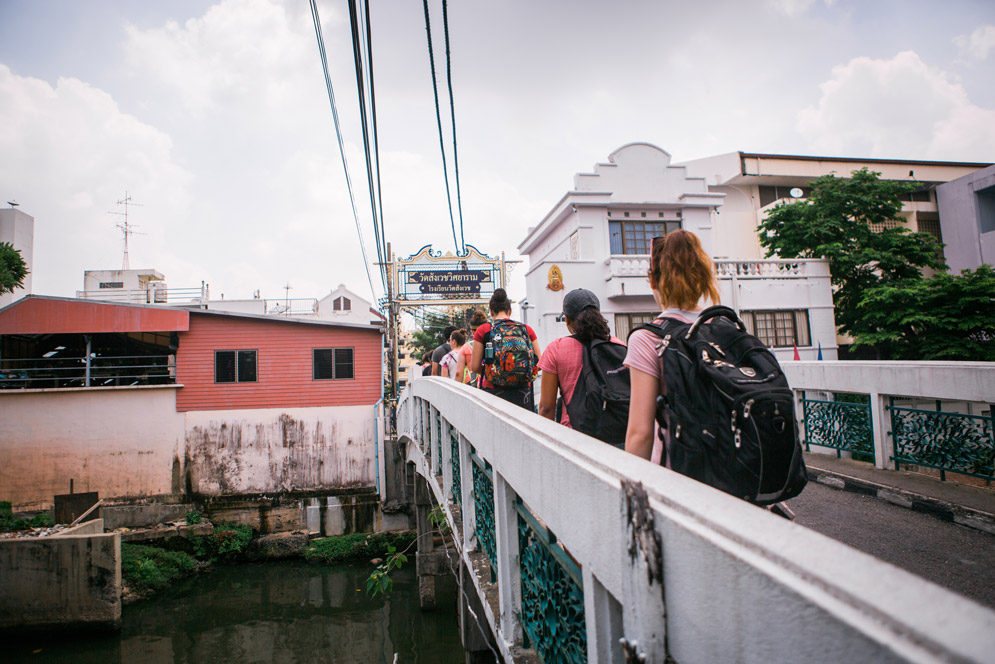 The journey to Thailand was exhausting: a 17-hour flight to Hong Kong, then a 3-hour flight to Bangkok. Human physiology major Eunice Aworanti (Sargent'19) remembers that it took a long time to reach their first stop, the NGO Sikkha Asia Foundation, but says that despite the intense humidity and 90-plus degree weather, it was worth it.
"The kids were so excited and animated," Aworanti says, and they formed an immediate attachment with the Sargent group.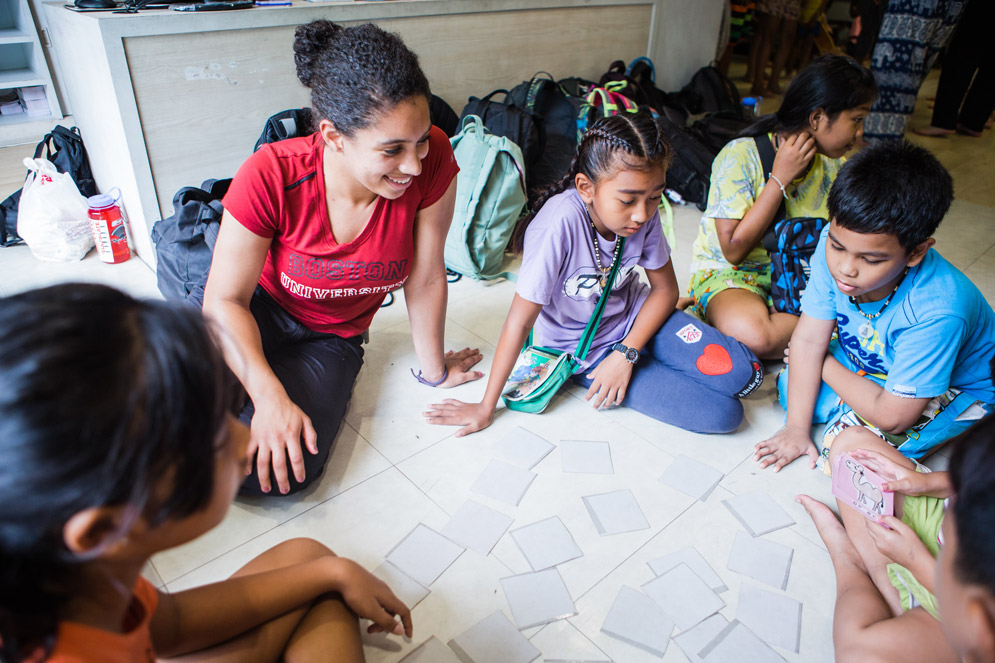 The foundation provides educational opportunities to underprivileged children living in some of Bangkok's poorest neighborhoods (sikkha means education in Sanskrit). Floor-to-ceiling shelves hold books featuring different races and disabilities for a range of reading levels (from picture books to Percy Jackson).

Sargent students and children played games, sang, and danced, including shimmying to the 1990s dance hit "Macarena." The language barrier didn't prevent an immediate connection.
"Children are children everywhere, regardless of what language they're speaking or where they're from," says Hannah Giffune (Sargent'19,'21). "The kids were really bright, and it was clear they wanted to learn." In Thailand, children can begin working at age 15, but Giffune hopes they'll realize the benefits of remaining in school. "They all have the potential," she says. The BU students ended the day with an impromptu performance of Journey's "Don't Stop Believing."
As with other service learning trips, this was an immersive experience. "We lived with the locals, ate with the locals, and worked side by side with them," says Wright-Fitzgerald. "So often we visit a new country expecting to make a change or give back without truly learning about the needs and traditions of the local people. Working with local villagers, living in their houses, eating with their families, and learning their language allows the students to have a deeper connection when they learn about the family's lack of healthcare."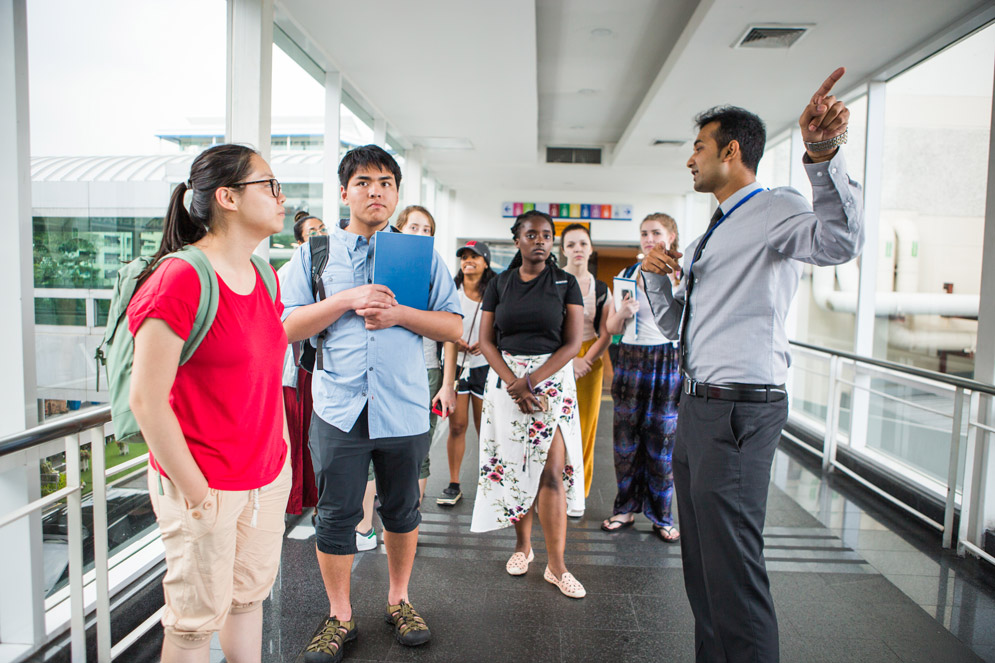 Next on the tour was a visit to Bangkok Hospital, renowned for its extraordinary patient-centered care. The hospital "rivals anything we have in Boston," says Wright-Fitzgerald. A "full-body workup" at Bangkok Hospital—complete with CT scan and fMRI—costs only about $700 (US), much less than an urgent care visit in a typical Boston hospital.
But this high standard of care, the students learned, is not accessible to most local residents, who instead depend on the universal healthcare system and public hospitals. "Almost no Thai people can afford the care at Bangkok Hospital," says Wright-Fitzgerald. "They cater to foreign visitors."
A temple on every corner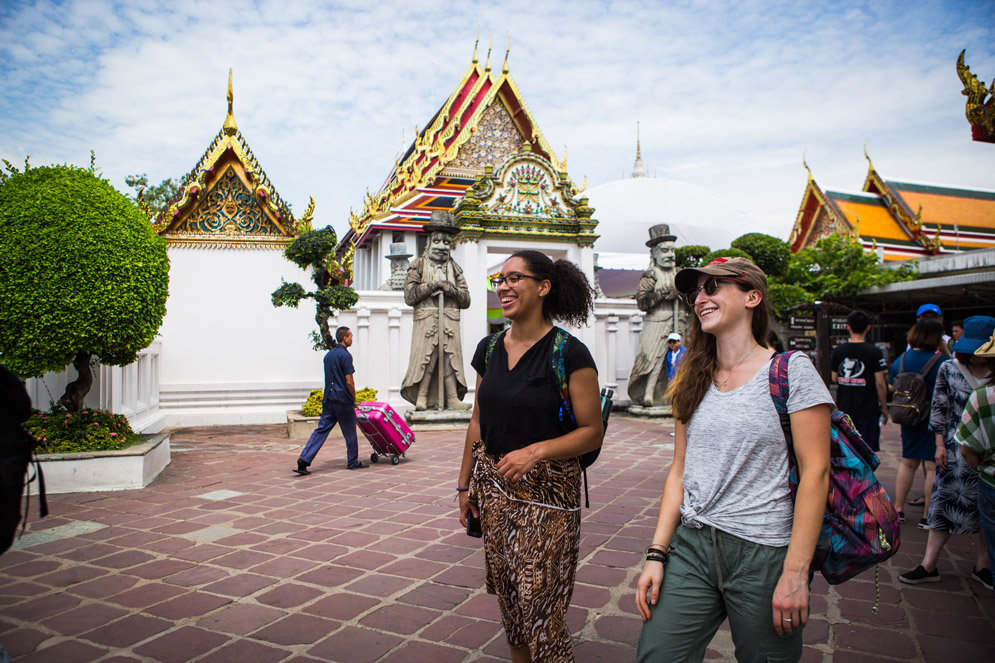 The Sargent students visited several temples, including Bangkok's Wat Pho (Temple of the Reclining Buddha), a large Buddhist complex thought to be Thailand's earliest center of public education. Today Wat Pho, considered the birthplace of the original Thai massage, is a center and school for traditional Thai medicine.
Learning to fish
From Bangkok, the students rode overnight on a bus to the province of Chiang Rai, where they met with members of the Mirror Foundation, an NGO that helped organize the trip. From there, they traveled to Baan Kway, one of the province's hill tribe villages. Local fishermen showed them how to fish using bamboo poles, nets, and baskets. Some of the village women prepared the fish as part of that evening's dinner. They stayed with host families while there.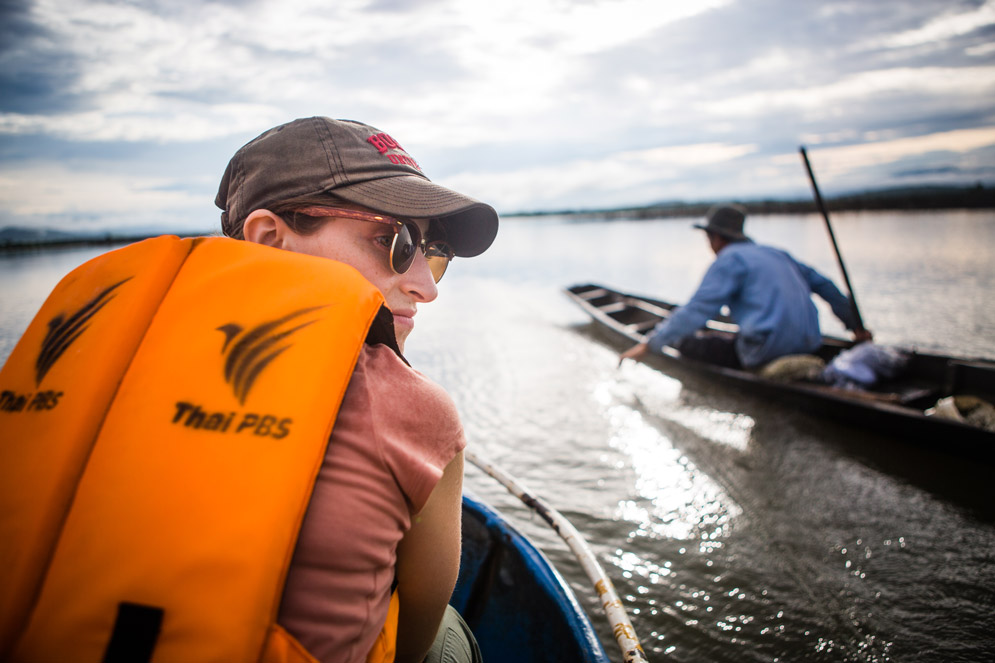 Road to Pak La
The second week, the Sargent group traveled to Pak La with Mirror staff, where they helped local residents pave a road running through the village center. They spent two days in 90-plus degree heat mixing cement by hand and covering nearly 200 feet of dirt road, communicating with the Thai workers with hand signals and gestures. The most rewarding aspect of the project was what the paved road would mean for the village children.

During monsoon season, dirt roads become swampy, "like a big muddy slip and slide," says Tiffany Canate (Sargent'20), making travel difficult for villagers. Cars get stuck, and children are covered in mud when they get to school. They are often bullied when they arrive dusty and muddy, and "teachers won't let them in the classroom because they're dirty," she says. "They walk all the way to school only to be left outside."
Part of the BU students' program fee of $2,255 was used to purchase materials to help build the road.
Letting elephants be elephants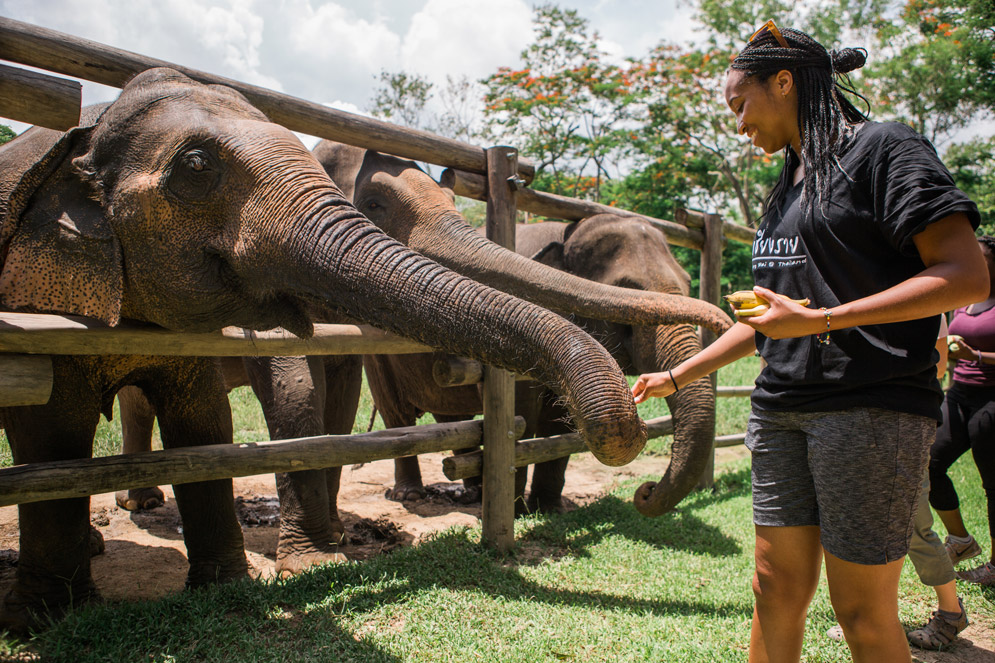 One of the highlights of the trip was a visit to Elephant Valley, an elephant sanctuary in Chiang Rai province. Many of the elephants have been treated inhumanely and were rescued from the logging or tourism industries. The elephants are used to being ordered around by humans, and one of the sanctuary's goals is to help them develop survival skills. "Staff there teach them to be elephants again," says Wright-Fitzgerald. The ultimate goal is to release them back into the wild.

A final celebration
On the BU students' last night in Pak La, the villagers hosted a celebration in their honor, serving local food and performing indigenous dances.

Canate was struck by how similar the Thai way of life is to her home country of Colombia. "Everyone is in and out of everyone's homes," she says. "You always feel like you're part of a large community."
The Sargent students say the trip exceeded their expectations.
"I expected to go and give back and be very active in the community," Awonati says. "I wasn't expecting to be so fully immersed in the culture."
And perhaps most important, they say, it will make them better healthcare practitioners.
"The more you travel, the more you broaden your horizons," says Giffune. "That allows you to empathize more with your patients."