Destination Dino at Franklin Park
Lifelike roaring animatronic dinosaurs thrill visitors of all ages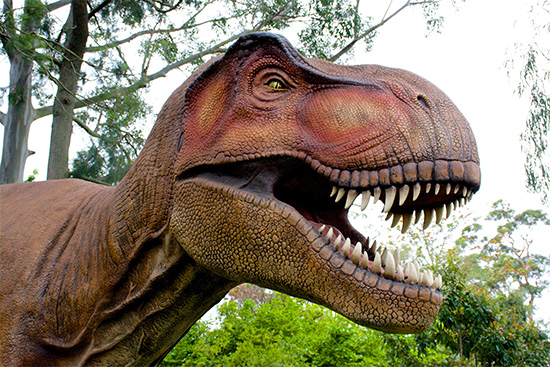 This summer Franklin Park Zoo has been overtaken by a prehistoric species: dinosaurs.
The 72-acre zoo, considered the crown jewel of Boston's Emerald Necklace Park system, is famous for its zebras, gorillas, and tigers, but over the coming weeks, visitors can thrill to something special: a chance to come face-to-face with more than a dozen animatronic dinosaurs lining a woodland path, among them a towering Tyrannosaurus rex and the smaller, birdlike Citipati. Destination Dino runs through September 3.
The zoo is using a mix of hands-on activities and immersive scenarios to teach guests more about the massive creatures that roamed the Earth 65 million years ago. Budding paleontologists can search for fossils at the Dino Dig, fun activities like dino footprint crafts are offered on Dino Fridays, and on Sunday, July 15, and Saturday, August 18, you can Dine with the Dinos. Dinosaur enthusiasts of all ages can enjoy a continental breakfast alongside a T. rex or a Baryonyx and get to talk with an education specialist about these ancient creatures and learn about what connects them to parts of the zoo's living collection of animals.
For night owls, there's an opportunity to see these creatures after dark. The zoo is hosting a Dinosaurs after Dark Sleepover for families and groups (children must be six or older and be accompanied by an adult). Led by the zoo's educators, participants can explore the Dino exhibition by flashlight and tour the tropical rain forest building the next morning to meet some modern dinosaurs. The outing ($55 for nonmembers, $45 for members) includes a light evening snack and a continental breakfast.
The zoo offers lots of dining options during regular zoo hours. The Giddy-Up Grill features a selection of southwestern-themed wraps, salads, and sandwiches, classic burgers, fries, and pizza. Kalahari Kitchen serves up grilled hot dogs and hamburgers. There are plenty of picnic areas for those bringing their own food.
Franklin Park Zoo is at One Franklin Park Rd., Boston. Find information about admission here and hours and directions here. Find more info about the Destination Dino exhibition here. Purchase tickets online and save 15 percent.
Sarah Wells can be reached at swells21@bu.edu.