Ready Camera One
COM's Academy of Media Production offers hands-on experience for high schoolers
The cellist wants more vocal in his in-ear monitors. Camera four has to reframe its shot through the strings of the harp. The lighting designer needs to change the colors so the singer's blue shirt stands out against the backdrop. The video shoot, with five cameras and a crew of 15 students, is running about 45 minutes behind schedule.
But the director, Charles Gagnon, wearing shorts, a T-shirt, and a headset, appears unruffled. He smiles narrowly at the suggestion that he seems calm, even though the production rests on his shoulders. "I'm just trying to…" he begins. Instead of finishing the sentence, he makes a wavy gesture that suggests smooth sailing over choppy waters.
He sounds like a TV veteran, but Gagnon will be a high school junior this fall, and the only TV shows he's directed before have been on cable access back home in Brewster, N.Y. Now, as a student enrolled in the College of Communication's Academy of Media Production (AMP), he stands in the middle of a busy control room, calling roughly 30 camera shots on take after take of a live performance by a well-known quartet of BU alums, the Sons of Serendip, whose previous TV experience includes a slot on America's Got Talent.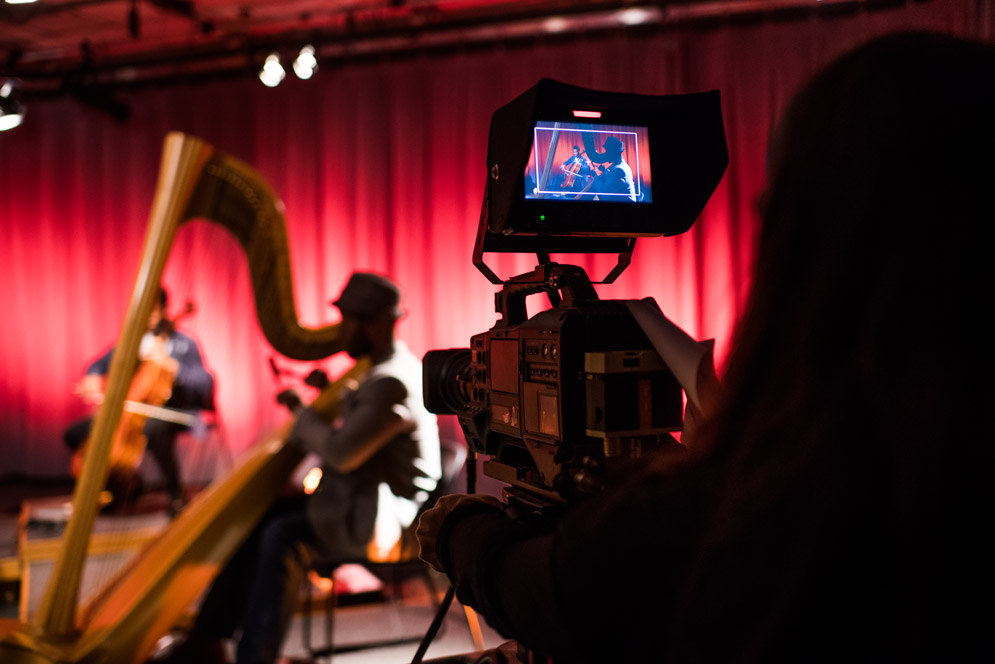 "Good job that last time, you're almost there," Christophor Cavalieri, a COM assistant professor of television and the academic director of AMP, assures Gagnon. "Are you ready for another one?"
Gagnon purses his lips, takes a deep breath, and nods. Next to him, hands on the console, student technical director Julia Marceau sits up straight and says, "Yeah, baby, showtime," sounding as matter-of-fact as a character in Broadcast News.
"Standby in the studio," Gagnon says into his headset mic, as everyone takes their places. "We're opening on two. Ready camera one."
A moment later, cameras rolling, the Sons of Serendip launch into their lyrical cover of a Kansas hit from the 1970s, "Carry On Wayward Son."
Sixteen full or aborted takes over nearly five hours are required before Gagnon—and Cavalieri—are satisfied. The director remains outwardly calm throughout the session. "Inside I was different," he says later. "It was a mix of anxious and excited. As soon as we started, I got a lot more excited. But when we started—anxious is a good word. Most of it was feeling like it was kind of my responsibility if we messed up. It all came down to that screen in front of me, which I was commanding live, and I had to keep going for the whole four minutes."
It's the third time the Sons of Serendip have volunteered for AMP duty in between touring and recording. They're happy to help students and give back to BU, says cellist Kendall Ramseur (CFA'12). In return, they'll be able to post the video on their website.
This year, 28 rising high school sophomores, juniors, and seniors attended the four-week summer AMP program, which debuted in 1989 under a different acronym. They pick three workshops from a menu of five: television studio production, field production, filmmaking, visual effects, and podcast-broadcast (audio). The limited enrollment means students get lots of personalized instruction. They learn technical skills from running a heavy camera to using effects software, but that's only half of the program's goal, Cavalieri says.
"We're also challenging them to develop their interpersonal communication skills, because this is a collaborative environment," says Cavalieri, a veteran TV producer, director, and production manager, whose resume ranges from This Old House to Aerosmith videos, and who also serves as faculty advisor for butv10, the University's student-run TV station. "If you're going to be successful, the ability to communicate effectively in that group setting is paramount."
He oversees about a dozen faculty and teaching assistants, including AMP alumni who have gone on to careers in the media but who return to help out.
"AMP kind of opened my eyes to a whole new world of media production that set me on the path to where I am today," says Mike Gaines (COM'04), who attended AMP in 1999 as a high school student from Bethesda, Maryland. Today, he's a successful visual effects artist working in television: his company InvisEffects, provides post-production design, visual effects, and editing for film and TV.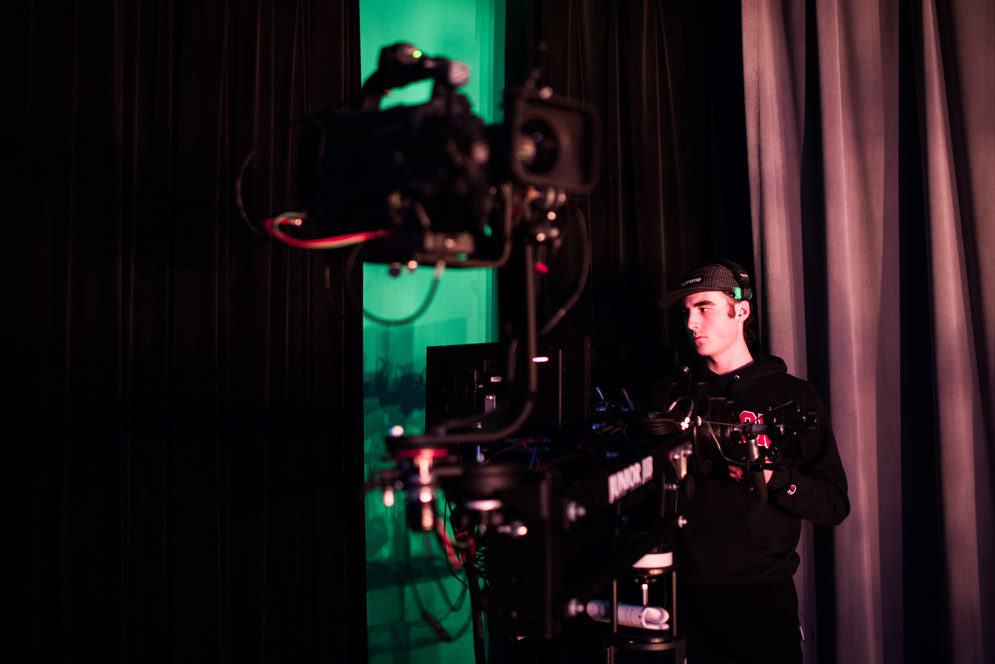 Gaines takes advantage of Hollywood's summer production slowdown to give back as an AMP instructor. "If it wasn't for AMP, I definitely wouldn't be in the same spot today," he says.
"The amazing thing is, the students do a project like this start to finish in less than three days," Cavalieri says. "It's a long journey in a short amount of time."
AMP students say the immersive hands-on program gives them a chance to hone their skills behind the camera. "I was working at a local studio before I came here," Gagnon says. "I wanted to go somewhere and bring something back, so I could be in, like, more of a leadership role back there."
For Maccon Bonner, of Exeter, N.H., the Sons of Serendip video production is his first time operating a jib camera, an unwieldy apparatus with a camera on one end of a long boom that can move around, up and down, right and left. Before the taping, Cavalieri whispers to a visitor that "Mac" showed an immediate aptitude for the camera's fussy movement and would do a good job, but it didn't work out that way at first. A couple of failed takes rested partly on his shaky camera movements.
"The day before, when it was just me and the jib and I was trying to learn how it is, it looked pretty smooth," Bonner says. "When it became a big deal and we actually started recording stuff, maybe I became a little too focused. I was just a little jittery on some of my moves."
But he delivered the signature sweeping arcs on the final takes. "After we did it a couple of times, I smoothed out," he says. "We finally got our heads in order, or however you say it. Even though it took us a very long time to get what we wanted, it was one of the best learning experiences of my life."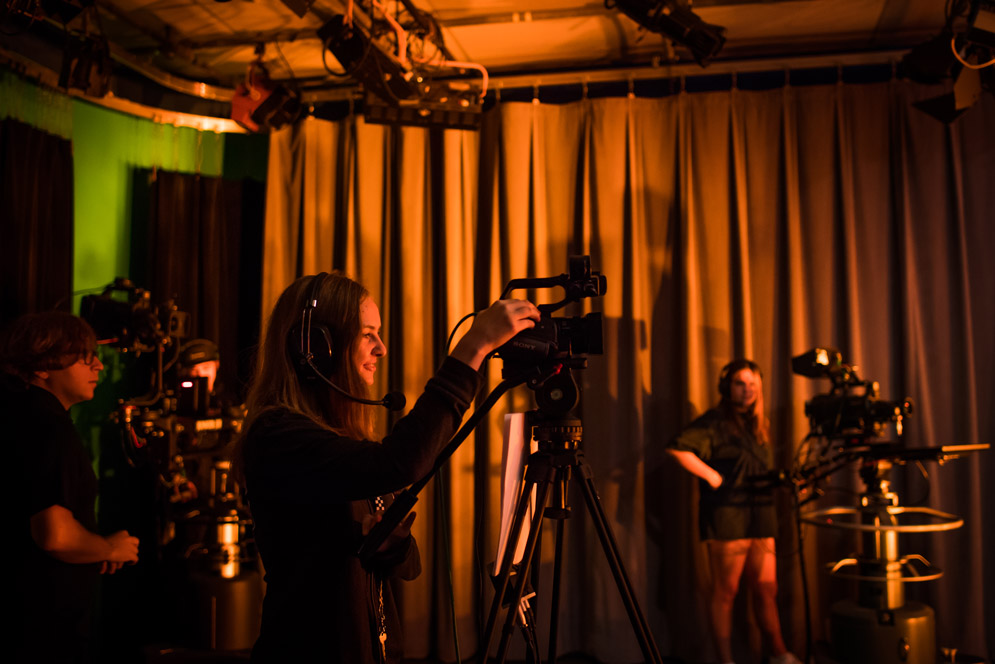 Sara Forsey, another AMP student, was working a simpler tripod camera. This was the San Diego native's first experience working in film and TV; back home, she had been involved in building sets for school plays. She says she came to AMP in large part to gain expertise in storytelling for the movies she wants to make with her sister.
The video shoot had taught her a valuable lesson: "I know every time you do a live production, there are a lot of mistakes," she says. "But once you do a rough draft you just have to redeem yourself and try something new. It was a new experience, seeing how we could make so many mistakes but still have a great video in the end."