COM Students Cover the 2018 Midterms
WTBU, BUTV10, BU News Service, and others report on local and national elections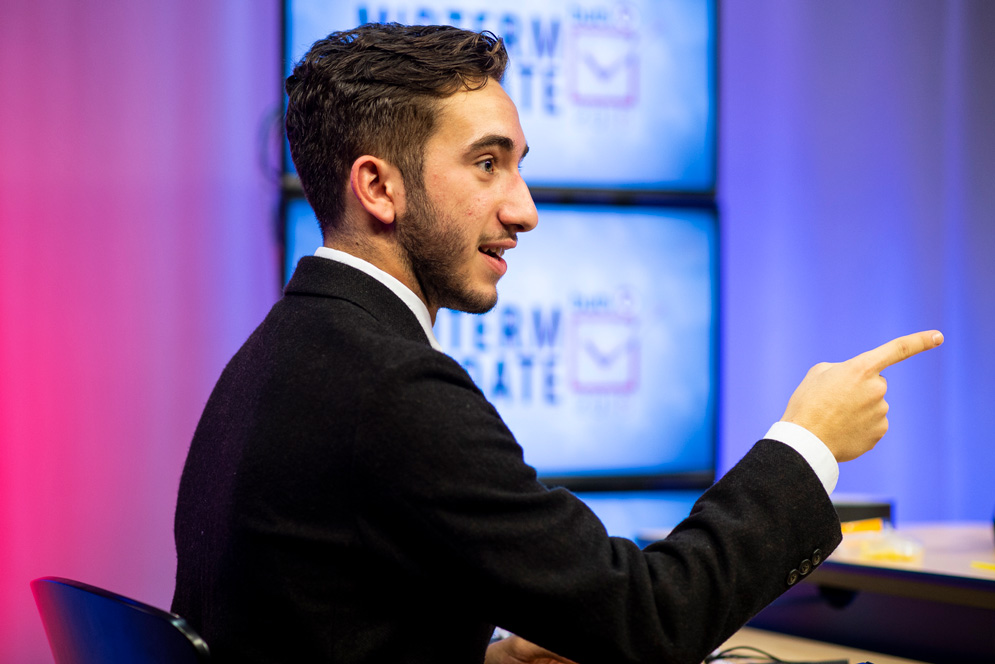 A 2016 study by the nonprofit Futurity compared how student journalists and their professional counterparts covered previous elections. Unlike the pros, who focused more on political polling and strategy, the researchers found the focus of student reporters was more on the issues and candidate profiles and offered a greater variety of perspectives.
In short, they better served their audience.
Today, upwards of 100 College of Communication students are reporting on the national midterm elections and on the Massachusetts ballot questions. Participating are students in the BU News Service, WTBU, BUTV10, the Statehouse Program, and the journalism and film and television departments, who will update their sites and social media channels throughout the day and broadcast live coverage of election results tonight.
Overseeing the coverage are a number of faculty and veteran journalists, among them BU News Service advisors Susan Walker (GRS'09), a COM associate professor of journalism, and Michelle Johnson, a COM associate professor of the practice of journalism, Brooke Williams, a COM associate professor of the practice of computational journalism, Jerry Berger, a COM Statehouse Program lecturer in journalism, WTBU advisor Anne Donohue (COM'88), a COM associate professor of journalism, and BUTV10 advisor Chris Cavalieri (COM'81), a COM assistant professor of television.
BUTV10's Midterm Mandate will send student reporters to campaign headquarters across the country, including Washington, D.C., Texas, Maine, and Boston. The show will also provide reports and commentary from alumni journalists now working at CNN, Hearst Media's Washington bureau, Boston ABC affiliate WCVB, Portland, Maine, NBC affiliate WCSH, and Fort Myers, Fla., NBC affiliate WBBH.
"The fact that alums are willing to participate speaks to the experience they had at COM and how it has resonated in their professional lives," Cavalieri says. "COM set the bar and whet their appetite."
The BU News Service is slated to have student reporters at Massachusetts Republican Governor Charlie Baker's campaign headquarters Tuesday night. Other coverage: a story about voters' impressions of US House of Representatives Democratic candidate Ayanna Pressley, who would become the first African American woman to represent Massachusetts if she wins the Seventh Congressional District seat, and a data analysis of financial contributions to the Reason to Believe political action committee started by former Massachusetts Governor Deval Patrick (Hon.'14) as part of his exploratory 2020 presidential run. Student-run radio station WTBU will produce stories covering the competitive House and Senate races, as well as interview voters leaving the polls in Belmont, Mass.
Students will also gather reaction from Bay State voters on this year's three ballot questions: Question 1, if approved, would impose stricter nurse-to-patient ratios in Massachusetts hospitals; Question 2, if approved, would show that Massachusetts opposes the Supreme Court's 2010 Citizens United ruling allowing greater political spending by corporations and labor unions; and Question 3 seeks to repeal certain protections for transgender people in the state.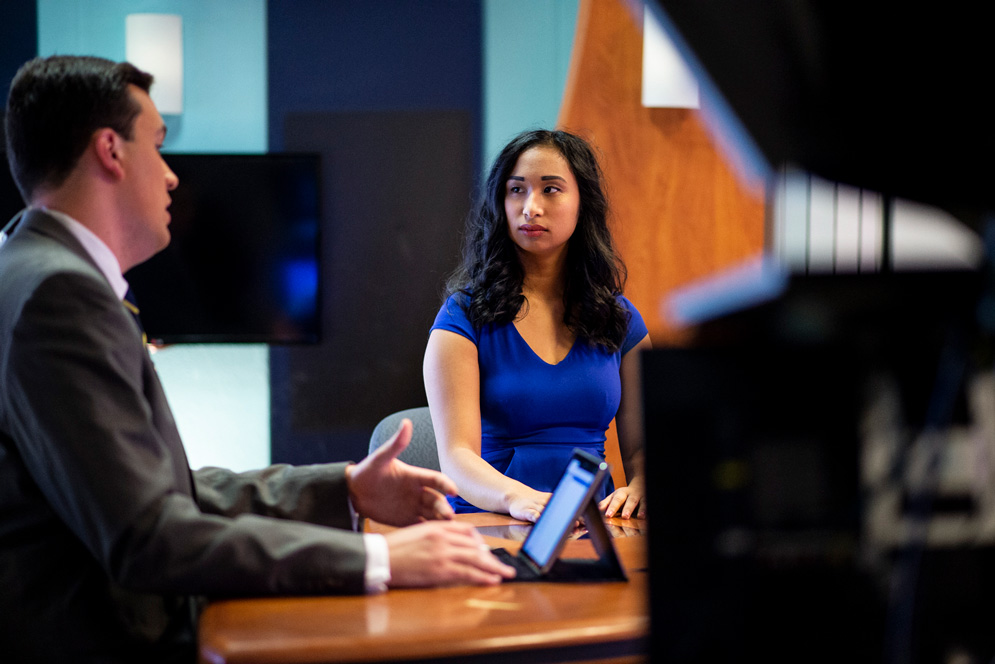 Graduate student Jenny Rollins (COM'19), BU News Service managing editor, has eight editors working under her, and faculty advisor Johnson says their website "will be kind of a hub, running stories produced from a variety of classes and sources, plus our own staff… We've covered the midterms before, but not in this depth. This is more like what we do for a presidential election."
New this year is what's happening in COM's Zimmerman Family Social Activation Center, where the journalists will use software to do a "sentiment analysis" of the public's Twitter reactions to key Congressional races, like the closely watched Texas and Florida Senate races: Republican incumbent Ted Cruz pitted against Democratic Congressman Beto O'Rourke in Texas, and Democratic incumbent Bill Nelson against Republican Governor Rick Scott in Florida.
Leading this effort is Lei Guo, a COM assistant professor of emerging media studies, who uses the program Crimson Hexagon. "For example—like with Ted Cruz in Texas—I'll come up with a list of keywords that will indicate the presence of Cruz in tweets, his last name and other key words," she says. "So as long as a tweet mentions these keywords, I'll know these tweets will most likely be about Cruz. And then I will use the program's existing algorithm to determine the sentiment of the tweets about Cruz, to see if the tweets exhibit a positive or negative attitude. And I'll do the same thing to the opposing candidate, Beto… So we'll have some insights based on the Twitter discussion. It may or may not help us learn anything about election outcomes, but we think it will be something that's interesting to try."
WTBU News director Anna Scholz-Carlson (COM'21), who is overseeing a team of 14 reporters, says the lead-up to the midterms has been a great learning experience. "It's really cool to be at the head, but also kind of scary," she says. "I covered one election before, but now I'm in charge, and it's been interesting and fun to see how the election unfolds.
"I think it's a very important election, considering everything that's going on," she continues. "Each side is riled up, and I'm excited to see what happens nationwide."
Marc Chalufour contributed reporting to this story.
Amy Laskowski can be reached at amlaskow@bu.edu.