Class of 2022, by the Numbers
Stats and insights into the new freshman class
With two weeks of college under their belt, students in the Class of 2022 have already figured out their class schedule, where to go for meals, and how to use the Green Line and have started memorizing the University's tangled web of acronyms.
By any measure, this year's freshman class is impressive. They were selected from the largest applicant pool in BU history—a 6 percent increase from the previous year—and also the most competitive pool, says Kelly Walter (Wheelock'81), associate vice president and dean of admissions. Their average SAT score is 1421 (out of a possible 1600) and average ACT score is 31 (out of a possible 36).
Among their ranks is a UNICEF national council member, a biochem researcher who completed work for the International Space Station, and a cofounder of a Mexican urban gardening organization that educates her community about green living.
"By metrics alone, they are the brightest incoming freshmen in the history of the University," Walter says.
Walter is especially excited about BU's "yield," a term used to describe the number of students who choose to enroll in an institution after being admitted. She says the school has seen a significant shift over the last five years. In 2013, 23 percent of admitted students chose to enroll: in 2018, that figure rose to 27.6 percent. "That gets at the attractiveness of BU," she says. "Students are seeing and believing and saying yes to all of the qualities that make BU a world-class university."
The Class of 2022 is one of the most racially diverse in recent memory—more than 17 percent are underrepresented minority students. At their Matriculation ceremony earlier this month, President Robert A. Brown urged the freshmen to both embrace and celebrate their differences. Citing Martin Luther King, Jr. (GRS'55, Hon.'59), Brown said that inclusiveness is "woven in the fabric of the University."
When asked, 32.8 percent identified as white, 17.6 percent as Asian American, 10.2 percent as Hispanic, and 6.3 percent as African American, among other groups.
This year's class is diverse geographically as well, with students hailing from 48 states (Montana and South Dakota being the outliers) and 67 countries.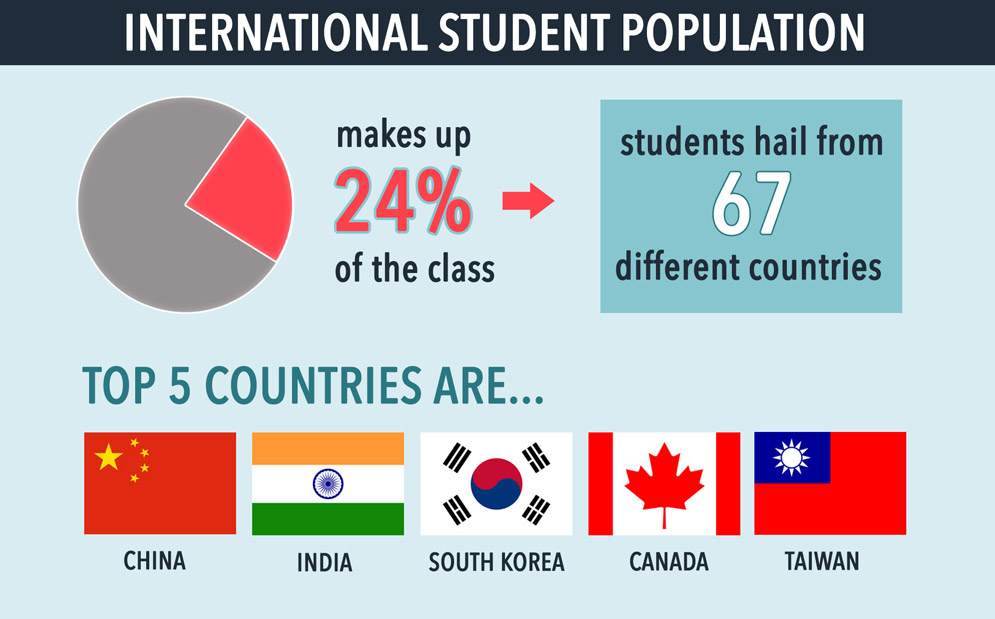 Another mark of the Class of 2022's diversity is socioeconomics—17.4 percent of class members come from low-income families.
Walter says students in the new class display an "inquisitiveness and engagement in an academic setting that will push our faculty.
"That's exactly the type of engagement you want to see in a classroom setting," she says. "Students will take advantage of both academic and nonacademic life at BU. They will thrive and make their mark at this institution and hopefully, make a difference in the world."
Meaghan Glendon can be reached at mglendon@bu.edu.