Calling All Sneakerheads!
A guide to Boston's best boutiques and outlets
Americans love their sneakers. Last year alone, sales of sneakers grew 37 percent, and athletic footwear generated sales of nearly $20 billion. An apparel item once relegated to the playground, gym, and ball courts has entered the realm of high fashion.
Sneaker culture is thriving in Boston, driven in part by the area's many colleges and universities and the number of sneaker manufacturers, like New Balance and Converse, headquartered here. The city is also a magnet for collectors drawn to well-known sneaker boutiques, such as Bodega and Concepts.
It's possible to pay up to four figures for a pair of top-shelf, limited-edition sneakers, but there are plenty of places that offer stylish and more affordable options.
We've put together a list of the best places around to indulge your sneaker fetish. So whether you own one pair or 40, want to design an original pair of kicks or buy a pair of Converse Chuck Taylors off the rack, our list can help. And if your favorite spot is missing, add it in the Comment section below.
Bodega
6 Clearway St., Boston
It's easy to miss this high-end boutique. There's no signage on the exterior and you enter in what looks like a dingy convenience store. But a secret door leads to the elegant boutique, with wood detailing, high ceilings, and yes, rare and collectible sneakers. Bodega frequently collaborates with companies like Asics, Adidas, and Saucony to create limited-edition designs available only in its store. Collectors have been known to line up for hours outside, especially on weekends, for hot-ticket items like the Off-White and Nike collaborations from designer Virgil Abloh. Bodega offers sneakers from high-end designers like Raf Simons and Hender Scheme (whose limited-edition Single Monk Mills will set you back $750) to more affordable brands like Vans. There are plenty of high-end apparel options too, like Surf Is Dead, Yeezy, Wacko Maria, and Bodega's exclusive line of shirts and sweatshirts.
Best known for its athletic wear, Under Armour has made inroads into the domestic sneaker industry in recent years. And it doesn't offer only performance sneakers—shoppers can find items from flip-flops to boots to shearling-lined sneakers, even the signature sneaker of Golden State Warriors player Stephen Curry. The Prudential Center store is one of its largest in North America and features interactive experiences, including an area to test your fitness levels and a sports therapy center.
Laced
426 Massachusetts Ave., Boston
Did you miss the hottest new sneaker release? Couldn't get your hands on that super-limited-edition pair of Adidas when you had the chance? Laced has you covered. This high-end consignment shop, part skate shop, part sneaker boutique, part winter sports outfitter, sells brand-new, never-before-worn treasures from collectors. Browse shelves filled with tough-to-find Jordan's and most of the impossible-to-score Kanye West–designed Adidas. For a consignment shop, it has steep price tags, but that's because of the high-end stock. The store carries its eponymous line of apparel and a staggering collection of streetwear from brands like Supreme, Bape, and Anti Social Social Club.
Nike Boston
200 Newbury St., Boston
Ask a Terrier where to pick up a new pair of running shoes in Boston and you'll likely be directed to Nike's Newbury Street outpost, a one-stop shop for all your footwear and athletic needs. The first floor caters to running and workout gear, the second floor to basketball and lifestyle shoes and apparel.
Sneaker Junkies is for customers looking for variety in their wardrobe. You'll find plenty of sneakers, from Asics to Ewing, as well as top streetwear from Billionaire Boys Club, Mitchell & Ness, and the Hundreds.
If you're looking for one-of-a-kind shoes, the Converse flagship store can make your sneaker dreams come true. The Boston-based company's headquarters offers limited-edition designs and patterns, and the in-store ink bar and blank canvas workshop let your creativity flow. Mix and match all elements—from color to materials—for a distinctly personal pair. The design is then sent to the manufacturer and your customized shoes arrive in the mail about a month later.
Sneaker aficionados would be remiss not to check out AWOL, one of the city's best lesser-known sneaker shops. With a striking interior featuring illuminated shelves, AWOL carries apparel from up-and-coming designers and classic brands like Adidas and Puma.
Those in need of fresh footwear on a budget will find it at the New Balance Factory Store. The New England brand's outlet features a massive inventory of sneakers in all sizes and colors. It also has a variety of New Balance apparel, from running gear to clothes just right for chilly walks on campus, and it's a top stop if you're looking to fill out your wardrobe without breaking the bank.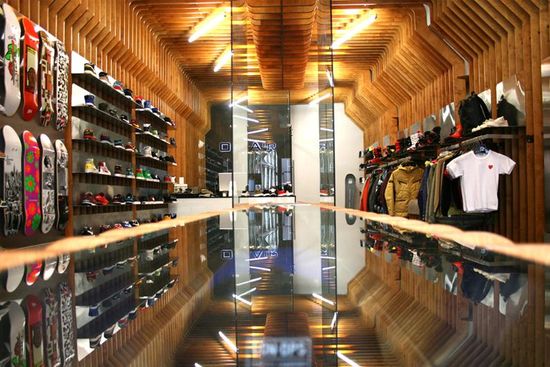 Concepts
37 Brattle St., Cambridge, and 73 Newbury St., Boston
Concepts now has two spots in the Boston area. You'll find one in the heart of Harvard Square. This small store specializes in collaborative pieces, notably frequent special designs in partnership with New Balance. The two routinely team up to create fashionable editions of the New Balance 999 and 1600, like the November 2017 Hyannis 999 release. And in summer 2017, Concepts partnered with Adidas to bring an Adidas Brand Experience store to Boston's already sneaker-rich Newbury Street landscape. Concepts has expanded from the Boston area to New York City and Dubai, with buyers from around the world clamoring to get the latest collaborations on sneakers and apparel, such as a Canada Goose jacket. Those looking to score special-edition sneakers are advised to arrive early—they often sell out within hours of release.