BUPD's Giannopoulos Promoted to Captain
American dream leads to leadership post for Greek immigrant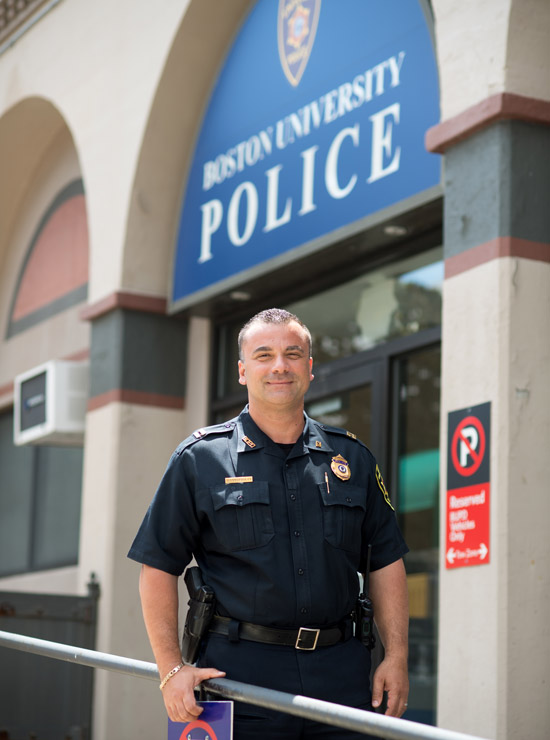 BU Police Department Captain Anastasio Giannopoulos was born in Athens, Greece, where his father was a police officer. His family moved to the Boston area when he was nine, and he started to live what he calls "the whole immigrant American dream thing." He worked long hours in the family produce business, pizza place, and butcher shop, and became a US citizen at age 18. Shortly thereafter, he followed in his father's footsteps to wear the badge.
"I was going to the Plymouth Police Academy and working 60 hours a week," he says. "If you do the math, that doesn't leave much."
Known to most as "Taso," Giannopoulos was recently promoted to department captain, replacing Robert Molloy, who became deputy police chief last September. The captain commands the day-to-day operation of every shift at BUPD, including assignments, training, and discipline.
"He is a great problem solver and mediator," says Kelly Nee, BU chief of police. "He is incredibly organized, and when he's given an assignment, I never have to ask twice about it."
Giannopoulos signed on as a patrolman with the BUPD 20 years ago. He was 22, and had worked previously as a correctional officer at the Suffolk County Sheriff's Department. "I went through the ranks, worked all three shifts, got promoted to sergeant, and worked all three shifts through that," Giannopoulos says. He served six years as a sergeant, overseeing BUPD's operations at the Medical Campus, and was promoted to lieutenant in 2010.
As a lieutenant, he says, "some of the things you do affect the organization a little more, and you work more hand-in-hand with the administration at Boston University." He's working to bring that wider perspective, and the credibility of his two decades with the department, to bear in his new role as captain. His recent projects include the months-long planning of security for BU's 2018 Commencement.
Giannopoulos met Nee in 2014, when he and another BUPD officer stopped a man from bringing two handguns into the main Commencement ceremony. Nee, then a deputy superintendent in the Boston Police Department Bureau of Intelligence and Analysis, was dispatched to the incident.
"When I came to BUPD in 2017, he was the day-shift lieutenant, and he was incredibly welcoming," Nee says. "And when Captain Molloy was promoted to deputy chief, Taso took over the patrol command function and did a terrific job."
Giannopoulos offers a salute to Molloy, his "role model," who he says is always available to guide him in handling the numerous responsibilities he has taken on with the new job. Molloy "watches my back," he says.
The new captain, whose brother is an officer with the Boston Police Department SWAT team, was part of the BUPD's response to the deadly 2013 Boston Marathon bombings and the related murder of Sean Collier, the MIT police officer killed by the bombers. That was the hardest and longest week of his career, he says, but "the good news is that the events changed the way a lot of people think about police work, and increased the level of security for events like commencements."
As a department, the BUPD is "always talking about advancing the policing side of things," Giannopoulos says. "But I also think that we are trying to advance culturally—as a place of employment, and in better blending with a community of 50,000 people. People in the department want to know that other people know they care. And from the meetings I'm in now, I'm able to tell everybody, 'There are great things being said about you. What you're doing shows.'"
Joel Brown can be reached at jbnbpt@bu.edu.