BU Hosts First Global Music Festival Next Weekend
Register now for free performances and workshops
Some are coming from as far as China, others from Egypt, South America, Ethiopia, and the Democratic Republic of the Congo. There will be folks from Hawaii and Puerto Rico, too. We're talking about the lineup for BU's inaugural Global Music Festival, scheduled for Friday and Saturday of next weekend, October 5 and 6.
It's fitting that a University with a significant percentage of international undergraduates should host artists from around the world for two days of free performances and workshops.
"Knowing that BU is more and more using the term 'global' as part of its identity, it felt like this was the right opportunity to seize upon," says Ty Furman, managing director of the BU Arts Initiative.
"Experiencing new music can be a visceral and powerful entry point to think about human sameness and difference," says festival director Marié Abe, a College of Fine Arts associate professor of musicology and ethnomusicology.
While the two-day event  is open to the general public, attendees must register in advance. General festival tickets and passes are going fast and each venue has limited space, but some seats are being reserved for BU undergraduate and graduate students (see information about how to register below).
A global perspective may be especially meaningful now, with immigration on the front page every day, say event organizers. The festival "makes a statement about who we are and who we welcome," Furman says. But ultimately, says Abe, "exploring new expressive cultures brings pleasure, delicious surprise, and joy, and that's really the biggest drive behind the festival for me."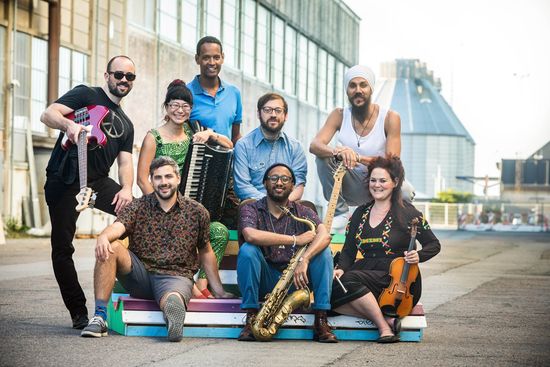 The festival kicks off Friday, October 5, at 7 pm in the Tsai Performance Center, with a performance by Jupiter & Okwess, musicians from the Democratic Republic of the Congo, whose work combines traditional Congolese sounds with Afropop. At 9 pm, the George Sherman Union Metcalf Ballroom hosts Boston-based Debo Band, known for its groundbreaking approach to Ethiopian pop music. The band will share the stage with Ethiopian performer Fendika.
Saturday's lineup of 10 performances starts at 1 pm with a concert by the Zhou Family Band from China in the GSU Conference Auditorium and ends with a set at BU Central by DJ Rekha of India and New York City. Known for hosting the popular Basement Bhangra club night in the Big Apple, Rekha is one of the few female DJs in the bhangra scene. Other Saturday highlights: a duet performance in the GSU Conference Auditorium by balaphone players Balla Kouyaté from Mali (now a Boston resident) and Mamadou Diabaté of Burkina Faso, and at the Tsai Performance Center, a performance by Native Hawaiian musician Kaumakaiwa Kanaka'ole.
LADAMA, described by Abe as "an inspiring collective bringing together different perspectives on female artists from the South American continent," will perform in the Metcalf Ballroom. And there's a rare opportunity to hear Boston's own Dominican sacred drumming group Palos de Peravia, led by a female musician.
In addition to performing, many of the international musicians will hold free workshops for registered attendees Saturday afternoon and early evening at various venues in the GSU. And on the GSU Plaza, from noon to 4 pm, there will also be an open global bazaar, selling clothing, home goods, and handmade art from around the world. Organizers say they hope the festival becomes an annual event.
Like many of the festival's performers, Abe will be traveling numerous time zones to make it to the event. She began a yearlong sabbatical as a research fellow at the International Research Center for Japanese Studies in Kyoto in August, but will return to campus to help run the festival and to perform: she plays accordion with Debo Band.
She especially excited about the festival's hands-on workshops and educational programming. "Opening our ears will help us think creatively about the relationship between critical attention, compassion, and commitment," she says.
The BU Global Music Festival is produced by the BU Arts Initiative and the School of Music department of musicology and ethnomusicology, with support from the Karbank Fund for Global Music. Additional support has been provided by BU Global Programs, the Frederick S. Pardee School of Global Studies, the BU Center for the Humanities, the College of Fine Arts, and BU Global House.
The BU Global Music Festival is Friday,  October 5, and Saturday, October 6, at the Tsai Performance Center and the George Sherman Union. All performances are free, but you must register here. BU undergraduate and graduate students should use promo code "bustudent18" to reserve their ticket, and a valid BU ID number is required to complete registration.