CAS Biology Professor Pens First Thriller
Geoffrey Cooper's novel tackles envy and greed among scientists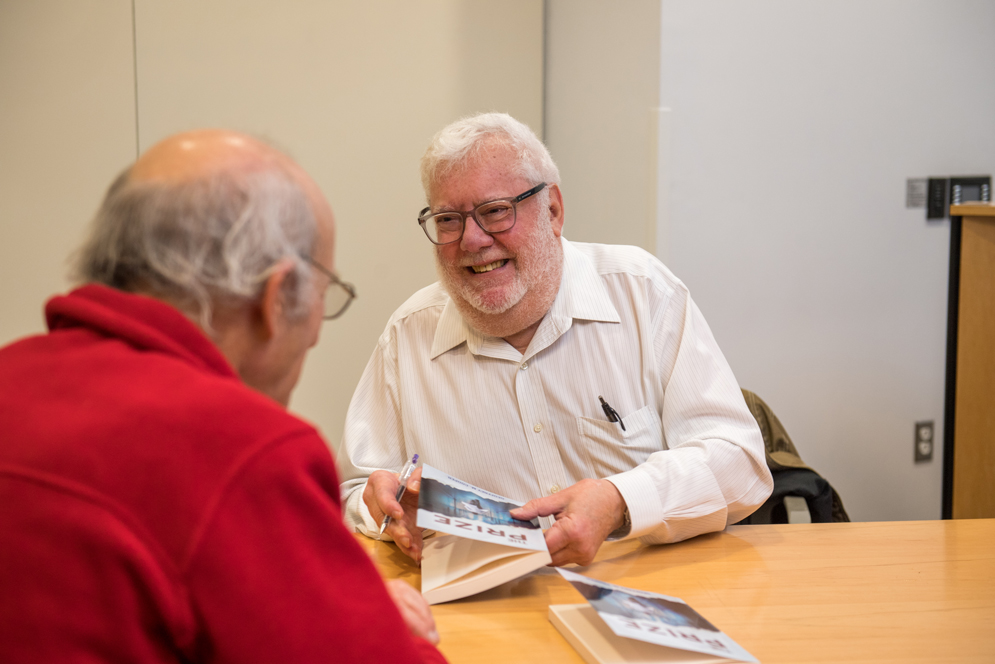 Biologist Geoffrey M. Cooper has published such scholarly books as Elements of Human Cancer and coauthored multiple editions of The Cell: A Molecular Approach—unsurprising for a College of Arts & Sciences professor of biology. But Cooper's latest book features treachery, fraud, murder, and even some extracurricular sex.
His first novel, The Prize (BookBaby, 2018), even pulls back the curtain on some nasty behavior that he's seen over the years among research scientists driven by what he calls "a greed for prestige."
Cooper is currently on leave and looking forward to retirement at the end of the semester. For much of his career, he studied the proto-oncogene proteins that control proliferation, survival, and differentiation of mammalian cells, including human cancer cells. In The Prize, however, he focuses on a promising discovery in the treatment of Alzheimer's disease—one so promising that it just might earn a Nobel Prize.
At the fictional Langmere Institute for Neurological Disease in Boston's Longwood Medical Area, an assistant professor named Pam Weller makes a breakthrough that she hopes might push her over the top for tenure. But an ambitious research assistant and an unscrupulous, egomaniacal competitor will stop at nothing to steal her breakthrough, ruining her career in the process. Weller's a plucky one, though, with a handsome FBI-agent-turned-private-eye for a boyfriend, and the baddies may have picked on the wrong neuroscientist.
BU Today talked with Cooper about his first work of fiction.
BU Today: Why did you write this book instead of another textbook?
Cooper: There are two reasons. One is that I always wanted to try writing a novel, and I never had time. And after I stepped down from the dean's office a couple of years ago, I had the time. The other, more interesting reason is that I've always thought the lives of academic scientists are a lot more interesting and filled with drama than the public thinks. They're not just dispassionate observers, but usually very human, with all of the ambitions and problems and competitiveness of any other profession, along with some of the bad and aberrant behavior you see in the plot. There's been very little depiction of that, and I thought it would be a good story.
Your bad guy in particular is driven by that Nobel, not the idea of getting rich.
It's a greed for prestige rather than a greed for money. I think that's a major driving force for many scientists. There certainly is a greed for money as well, when people get into starting companies and so forth, but there's much more of a need for that kind of ego gratification, especially in the higher ranks. In this case, covetous wanting of the Nobel Prize is a real driver that can and does lead people into some awful behavior.
Why Alzheimer's and not cancer research, which is your field?
My own field at this point is much more complicated. It just seemed a little harder to come up with the kind of seminal discovery and make it realistic. Alzheimer's we know almost nothing about, really, and there are no meaningful treatments, so it seemed simpler to create something to write about without getting bogged down in the details.
Are any of your colleagues here or your former colleagues at Harvard going to see themselves in this?
I made sure it was fictional, which it is. But a lot of the incidents and the lab culture, the institutional culture, is based on real things. It has stirred a lot of interest, and people have said they've enjoyed it. But I can't imagine anybody thinking they look like the villain and deciding I had made it look like them.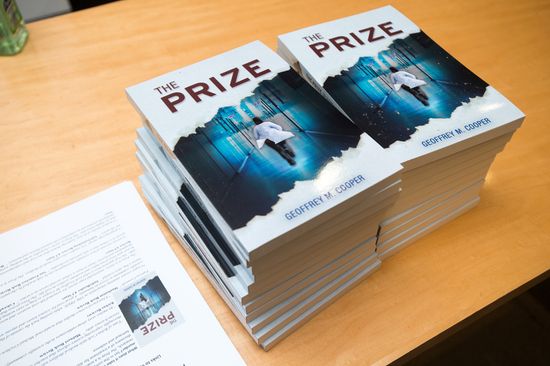 You're a first-time novelist, and a guy, but your protagonist is a woman.
It just seemed logical for her to be a woman. And there's still an enormous amount of gender prejudice in science, not just sexual harassment, but viewing women as unequal, in how they're treated, how seriously they're taken. So I thought Pam ought to be a woman in order to counter that.
Who are your favorite writers in the field and what have you learned from them?
My favorite has always been Robert B. Parker [GRS'57,'71], but I've always enjoyed Robin Cook's stuff, and in a way his work is actually closest to this. Another person who's close to this, although not in the science field, is John Grisham, who also writes novels centered on his profession. Parker had his short, snappy chapters, which I've always enjoyed, and which I've got in The Prize. From Robin Cook and Grisham, just the general idea of a novel centered on behavior in a profession. A lot of medical or science thrillers are about some catastrophic event, like bioterrorism. A scientist or a medical person gets caught up in it and fights it. As opposed to a real view of what goes on in that academic field.
What was the biggest challenge?
I'd never written fiction before. That has a whole different way of going about it, different style and guidelines. I went through it once and didn't know if I'd written anything usable. So I joined a writing group, Grub Street in Boston, and got a reading of it from one of their consultants, Caroline Leavitt, an established novelist. And she was actually very encouraging, which was nice. Someone besides my friends liked it. And she straightened out a lot of stuff for me, like how you actually deal with character points of view in a scene or a chapter. The established convention is that in any given scene, you have one point-of-view character. And I had not-so-conveniently switched back and forth between different character voices. It made things really confusing. This was a very basic writing convention that was new to me. Going through that revision, the first of quite a large number, was the challenging part.