Forward or Back, Field Hockey's Ally Hammel Has You Covered
Terrier senior could become the program's initial two-time First-Team All-American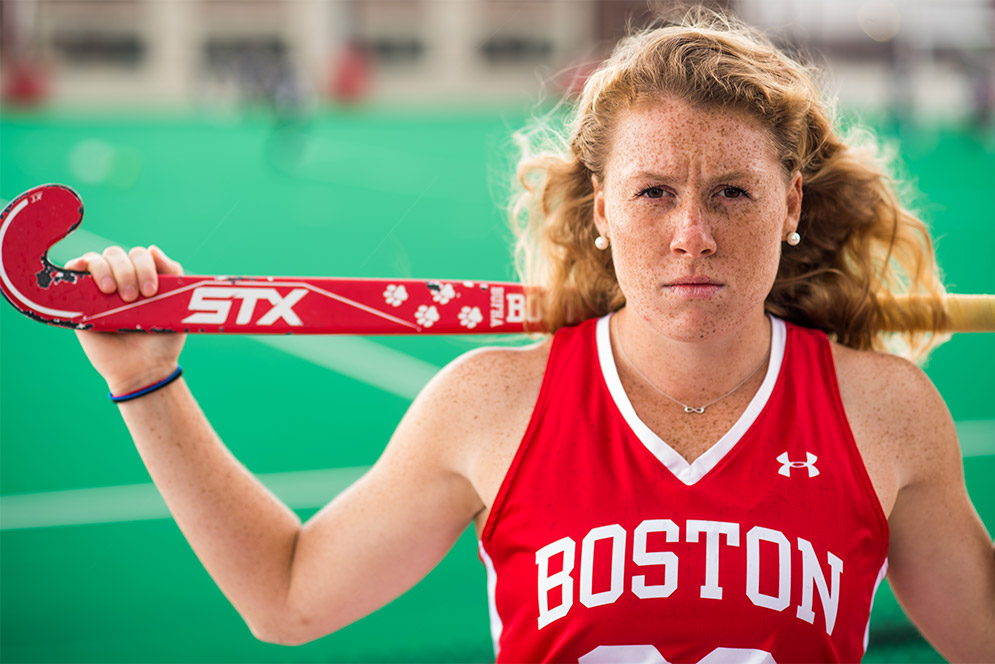 At the end of the 2015 season, BU field hockey assistant coach Tracey Paul approached Ally Hammel with a question: "What do you think about being a back?"
Hammel (CGS'17, Sargent'19) had just finished her freshman season—a very successful one at that—as a forward, highlighted by a hat trick against Holy Cross that earned her the inaugural Turnpike Trophy MVP. (The Turnpike Trophy athletic series was created by Patriot League rivals BU and Holy Cross and spans several varsity sports.) But with the impending graduation of elite center back Rachel Coll (Questrom'16), the Terriers needed someone to fill the void.
Hammel wasn't sure she was up to the task. She had played the midfield in high school and was familiar with playing defense, but she felt she was nowhere near fit enough to be a back. With the first scrimmage of the spring looming, Hammel was anxious.
"I was so stressed," she recalls. "The whole time, I was so stressed."
She needn't have worried. As soon as she stepped off the field after that first scrimmage against UMass, Paul reassured her: "I think this is right for you. The team needs a center back. We need someone."
"I can do that," Hammel responded.
Now one of the most decorated field hockey players in Terrier history, Hammel not only became the first back in program history to be named an NFHCA First-Team All-American, she could also become the first Terrier to land on the First-Team twice.
Hammel fell in love with ice hockey before she discovered field hockey. She grew up with two brothers who played the sport. As a student at Duxbury (Mass.) High School, Hammel anchored the women's ice hockey team's blue line.
She picked up field hockey somewhat grudgingly in seventh grade, at the request of her mom, a former field hockey player at UConn, who had started her own club in Duxbury. When her mother asked her to play, Hammel insisted that she was an ice hockey player.
Over time, Hammel's passion for ice hockey waned. Through her sophomore year, the grind of getting up and going to the rink every day left her feeling burnt out. There was never a specific moment, she says—just a dawning realization that she didn't love playing it anymore.
That same year, her mom's field hockey club merged with HTC Field Hockey, where Hammel began competing at higher-level USA Field Hockey–sanctioned tournaments. As the competition rose, so did her enthusiasm for the sport: she fell in love with hockey again, but this time it was on the field.
Sophomore year was a bit late to suddenly get serious about the sport, Hammel says, but she was good enough to start getting offers from smaller colleges. She turned them all down, though, because she wanted to play for a top major program like Boston College or UConn.
"Maybe this isn't right for you," Hammel recalls her parents saying. "Maybe you're not meant to be a Division I player."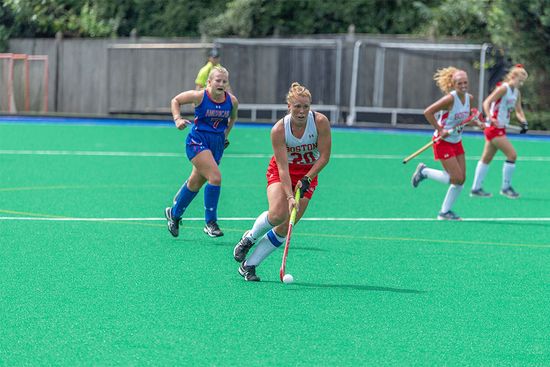 But one day during her senior year, Hammel found herself playing in a spring tournament at BU's New Balance Field. She caught the attention of BU women's field hockey coach Sally Starr. Four days later, Starr called and asked if she was committed to a college. Hammel said she wasn't. Starr asked: "How are you not committed?"
"I don't know," she answered.
Hammel wasn't particularly interested in playing at BU at the time, but when she returned for another play day, Starr stopped her. "All right," she said. "I want you to come and visit in the fall." (Hammel had elected to spend a postgraduate year at the Loomis Chaffee School.)
She did visit and said the people she met changed her perception of the program. "I knew," Hammel says. "They treated me like I was part of the team already, and that completely set BU apart from the many schools I had visited."
Throughout her BU career, Hammel has been as respected off the field as on. Starr says she embodies the team's core values: joy, integrity, fearlessness, and selflessness. But friends and fellow teammates say there's one word that best describes Hammel.
"Passionate," says Jordyn Beesmer (CAS'19). "I've literally never met anyone who loves field hockey as much as she does."
"I think more than anything—and this is something we can't coach—she has an intrinsic love of the game," Starr says. "She has a true passion for hockey. She can't get enough. She can't play enough."
That passion, combined with her athleticism and work ethic, earned Hammel back-to-back Patriot League Defensive Player of the Year honors. She is arguably the best back BU has ever seen.
Hammel's collegiate career will end this spring, but her ultimate goal is to play alongside the country's best: the women's national team. "I don't want to regret anything in my life," she says, "and I feel like I'm so close and that I can be there if I work hard enough."
As a member of the US National Development Squad, the Terrier senior has already gained international experience.
For the next year or two, Hammel may be a "bubble kid"—the next four to six players after the top 16 who make the team—but with the right experience overseas, her coach believes Hammel is capable of landing her goal.
"I see her playing on the national team," Starr says. "I think she has the grit to do what she has to do to hang around and keep working hard."
First up though is the 2018 NCAA Tournament, which kicks off on Wednesday at New Balance Field. For Hammel, and for her teammates, it's the pinnacle of a season that included capturing the Patriot League title, which they did Sunday when they beat American 2-1.
"Advancing to the NCAA tournament is a huge accomplishment for us," Hammel says. "It reinforces everything we have worked for, everything past BU field hockey teams have worked for. I'm excited to have another day with this team. I can't wait to see what we can do."
The Boston University field hockey team takes on Ohio's Miami University in the opening round of the NCAA Field Hockey Tournament today, Wednesday, November 7, at noon, at New Balance Field, 286 Babcock St. Admission is free and open to the public.
Jonathan Chang can be reached at jchang19@bu.edu; follow him on Twitter @jonathanychang.