A Hockey Enforcer at the End of the Line
Alum's locker-room drama drives Brawler at Boston Playwrights' Theatre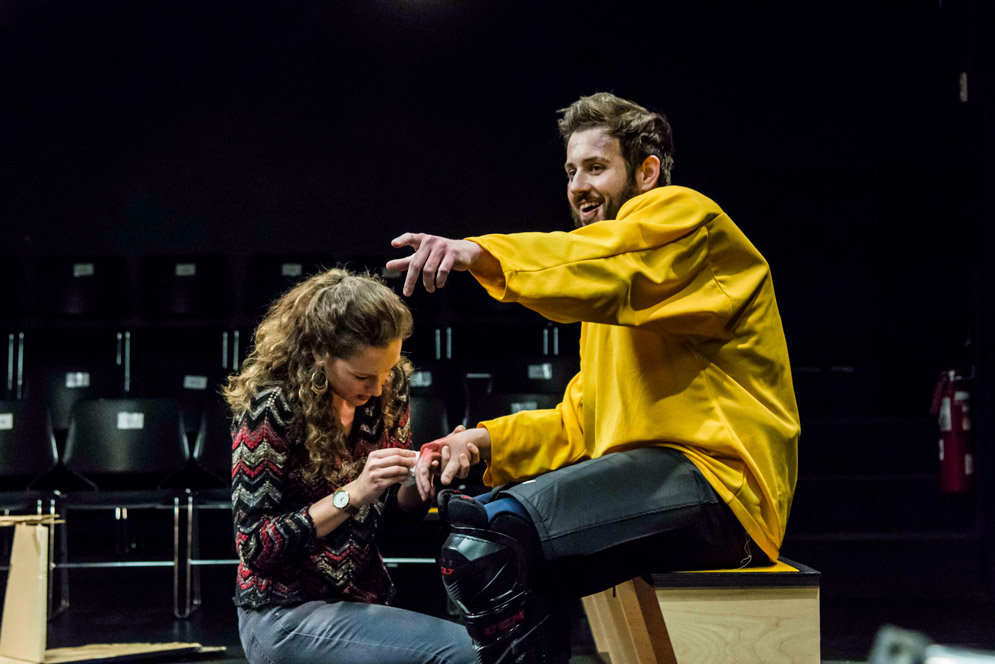 "Moose" Moser has wrecked his hockey team's locker room in an after-hours rage fueled by a fistful of opioid painkillers. Once a feared enforcer for the Boston Bruins, now demoted to minor-league Providence, Moose is washed up, and he knows it. He's holed up in the bathroom while the only people who might give a damn try to talk him out: Trisha, his girlfriend, Jerry, the security guard, and Odie, the star Boston center Moose used to protect with his fists.
Brawler, a new play by Walt McGough (GRS'10), looks at the life of a hockey goon through the prism of a classical tragedy. "I remember riding the T, reading this article about an enforcer, this guy who's been sort of beaten and broken down by this thing that he loved," says the playwright. "Somewhere in the back of my brain that idea clicked with the Greek myth of Ajax, about somebody who is incredibly good at something that destroys him, because the people in charge let it happen."
Brawler has just started a rolling world premiere, playing at Boston Playwrights' Theatre through March 18, then at the Kitchen Theatre Company in Ithaca, N.Y., from April 8 to 22. Greg Maraio stars as Moose, with Marc Pierre as Jerry, Anthony Goes as Odie, and Gigi Watson as Trish.
The production, with the same cast in both locations, is directed by M. Bevin O'Gara (CFA'04), who worked at the Huntington Theatre Company for several years—starting as a BU sophomore—until she was chosen as the Kitchen Theatre Company's producing artistic director last year.
Ripping up the locker room could be the last straw for Moose's career. The play limns his pain as he looks for a way to change his fate, or at least to find solace in his shaky relationship with Trisha or his friendship with Odie. But Odie doesn't want to get dragged into a mess that will screw up his playoff run with the Bruins. And poor Jerry is mainly worried about losing his job because he let Moose and Trisha in after hours for a romantic skate. As they talk and argue and scuffle, truths emerge—but that's not the same as solace.
McGough is known for wild swings in subject and style, from a swashbuckling medieval farce (The Haberdasher) to a comedy with aliens (Priscilla Dreams the Answer) to a powerful drama about a doomed Afghan villager and an American drone pilot half a world away (Pattern of Life).
"Yeah, I decided that Pattern of Life wasn't depressing enough, so I decided to go back to that well," he says with a laugh.
Brawler required a daunting amount of research. Growing up in Pittsburgh, McGough was a Penguins fan, but he never played hockey himself. Brawler began in a class in BU's graduate playwriting program, where he read Ajax by Sophocles and learned that the struggles of many Greek warriors look like post-traumatic stress syndrome. In 2011, he read a New York Times story about Derek Boogaard, an enforcer for the Minnesota Wild and the New York Rangers, who suffered from severe bouts of depression and died of a drug overdose at age 28.
"It was decided for him when he was in middle school or high school that if he was going to play hockey, he was going to be an enforcer, mostly because he was a big guy with a big reach," says McGough, who works as an administrator at the Brandeis University library. That path opened him up to injury and to overprescription and to harder drug use. In a span of a few months, McGough noticed that three or four present or former NHL enforcers had died, one from suicide, "so there was a lot of conversation around the enforcer role in hockey."
During a playwriting fellowship at the Huntington in 2015, McGough wrote a quick first draft, and he's been working on it ever since, with table reads and workshops. "Most of my work on it has been driven by Bevin, who heard one of the first table reads at the Huntington and hasn't let me forget about it," he says.
"I grew up in a hockey family but very much on the periphery of the sport," says O'Gara, whose father coached and brother played hockey and now coaches. "I was just really drawn to these characters. For me this is a lot about exploring this thing that my brother, who I love tremendously, is really passionate about."
O'Gara was already on board to direct the run at Boston Playwrights' Theatre when she got the Kitchen job last summer. The production seemed like a natural fit. McGough credits her with keeping the play alive through a long creative process: "She has championed this play and has never given up on it for a second," he says. "Everything in there has her fingerprints all over it."
Both McGough and O'Gara say the play is really about the physical and emotional tolls that professional sports takes on athletes. For hockey's enforcers, it's horrific, McGough says, even as that role has been fading out. And the broader national conversation has grown louder, he says, as football confronts its concussion problem.
"We can no longer just pretend that these things don't happen to the players that are bringing us the sports we love," he says. "It's all about setting a personal threshold. I still count myself as a hockey fan and a Steelers fan, and I still read the coverage, but I have found myself not going out of my way to watch the games."
Brawler "is about what we do to our heroes," O'Gara says, "and what our heroes do to themselves in order to stay our heroes."
Brawler by Walt McGough, directed by Bevin O'Gara, is at Boston Playwrights' Theatre, 949 Commonwealth Ave., through March 18. Purchase tickets, $30 adults, $25 seniors 62+, $10 students with ID, here.