Let Your Light Shine, Uzo Aduba (CFA'05) Tells CFA Grads
Orange Is the New Black actor this year's Convocation speaker
Orange Is the New Black actor Uzo Aduba urged the artists, musicians, and actors who were about to receive their College of Fine Arts diplomas at the CFA Convocation not to let fear of the unknown paralyze them and prevent them from reaching their dreams.
Aduba (CFA'05) was welcomed with enthusiastic applause from the audience of graduates, family, and friends at the Track & Tennis Center Saturday afternoon. She sprinkled her address with memories from her time at BU.
"It wasn't so long ago that I was waking up at 7:50 in the morning in West Campus and making my way down to CFA for an 8 a.m. ear training and sight-reading class," said Aduba, who garnered back-to-back Emmys, in 2014 and 2015, for her role as Suzanne "Crazy Eyes" Warren in the Netflix series Orange Is the New Black. She reminisced about people-watching at the George Sherman Union and the BU Beach and getting a slice of pizza from T. Anthony's, much to the delight of the crowd.
The actor's portrayal of Crazy Eyes also earned her 2015 and 2016 Screen Actors Guild Awards for Best Actress in a Comedy as well as two Golden Globe nominations. The show returns for a fifth season on June 9. Aduba has also appeared on the popular CBS series Blue Bloods, and as Glinda the Good Witch in NBC's 2015 musical production of The Wiz Live! She made her Broadway debut in Coram Boy in 2007, followed by a revival of the musical Godspell in 2011. Her voice will be heard in the upcoming animated film My Little Pony: The Movie, due out this fall.
Before Lynne Allen, CFA dean ad interim, invited Aduba to the podium, she had some words for CFA's graduates. "These are curious times, unsettled times, and we need artists such as yourselves to carry the torch about why art and culture are important in today's world," she said. "Imagine our society without the things that propelled you and other artists like you into this field—museums, concert halls, high school bands and choirs, art festivals, and operas."
Aduba began her 20-minute speech with an anecdote about her reaction to Allen's invitation to speak at this year's Convocation—panic—and her efforts to find an excuse why she couldn't accept the invitation. "What do I know about graduation speeches?" joked Aduba, who majored in classical music and ran for the Terriers track team (she still holds a record in sprinting). "Speakers are supposed to get up here and impart some kind of mind-opening understanding of life, or at the very least, offer a confirmation of some kind of what your future might produce."
She used a recurring nautical analogy during her remarks, likening the graduates' future to a voyage, telling them that they were all standing "on the shore of a unique and irreplaceable time, ready to set sail from this Boston harbor into the unknown of this next chapter."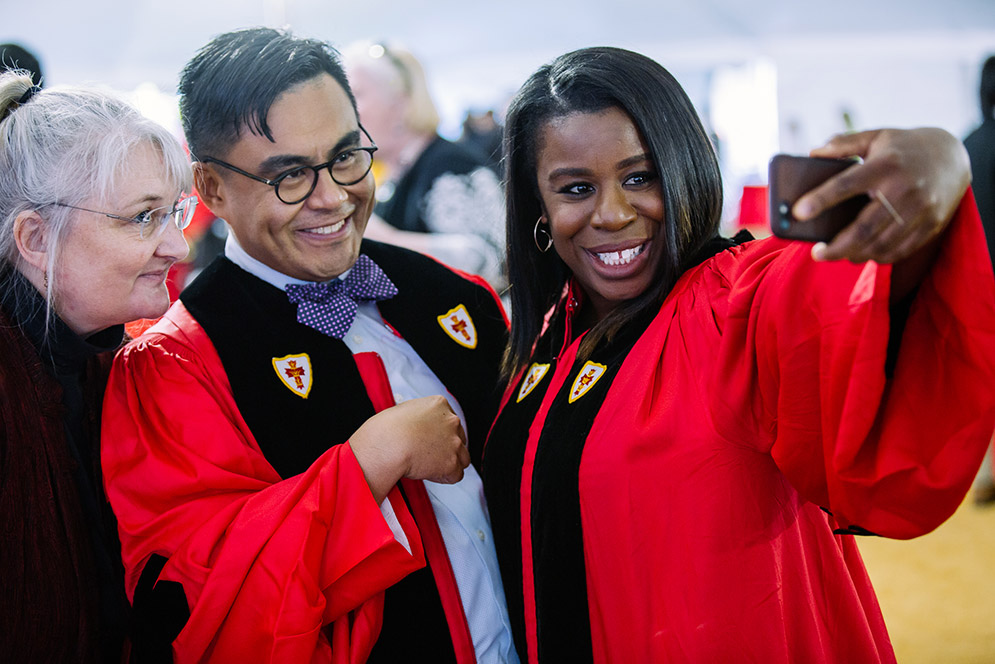 "I want to be of service today and remind you that the voyage is entirely up to you: sail as far as you can," she said. "You have prepared for this. Never has the job of the writer, the creator, the noisemaker, or the visionary been more important in helping to shape our world and bridge the gaps."
Her twin themes of fear and perseverance were well received by the soon-to-be graduates. Aduba told of meeting a CFA graduate named Liv just before Saturday's Convocation and bonding with her over their discovery that skydiving is not scary. "I have a terrible fear of heights, but I realized that I was opting out of doing something simply because I was afraid," Aduba said.
Despite her prejump jitters, she said, "my very first thought after diving into the sky was, this is not scary. Liv and I are here today to serve as evidence that the parachute opens, and that the view is absolutely beautiful….It was this discovery that fortified me to extend this fearless attitude into my professional life, the willingness to endure and put all of myself into my craft, never worrying about end results or opinions….Let me be the confirmation for you today that your highest artistic self lies in your ability to let your light shine."
She also talked about the need to ask questions, to not be afraid to ask for help, to have gratitude for life experiences, the power of the phrase thank you, and the importance of working hard.
"What I know from life, drawing from my time at BU running around this very track or from the hours I spent at CFA or drawing from my time working as an artist in New York," Aduba said, is that "you have put in tremendous amounts of work during your time here and that work must continue on this next life tour. Command from yourself your very best. You are now stepping into the world as a full-time contributor."
She encouraged the graduates to ask themselves whether a choice makes them happy, and if it doesn't, to think about what would make them happy, and then pursue that new path.
"Sailing into the unknown is not always easy, but it is an entirely necessary thing for self-discovery, growth, and for expanding your offerings into the world," Aduba said. "These are all good things, so do not let any fears keep your boat safely tied to the dock. I am here to remind you to go for it."
More information about Commencement can be found here.