Third Annual Comm Ave Charity Classic Tonight
Fundraiser puts hockey rivals on same side for a good cause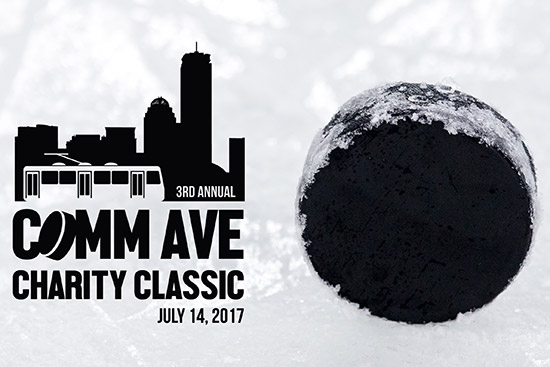 The BU-BC hockey rivalry runs deep, but tonight an elite group of former Terriers and Eagles will take to the ice for a common goal: to raise awareness and support for ALS research and those with spinal cord injuries. The players, all with ties to the National Hockey League or the American Hockey League, will put their collegiate rivalry aside for the third annual Comm Ave Charity Classic. Puck drop is at 7 p.m. tonight at Walter Brown Arena.
All proceeds from the game will benefit two charities: Compassionate Care ALS (CCALS), which provides physical and emotional support to individuals and families battling the fatal neuromuscular disease ALS, and the Travis Roy Foundation, which assists those with spinal cord injuries and their families. Last year's Charity Classic raised over $55,000 for the two nonprofits and organizers hope to exceed that amount this year. Both organizations also support research.
All of tonight's participating players are former Terriers or Eagles who are current or past NHL or AHL stars. Playing for the Terriers tonight are Jack Eichel, who left BU in 2015, after being drafted by the Buffalo Sabres at the end of freshman year. Eichel won the 2015 Hobey Baker Award, college hockey's highest individual honor. Other former BU hockey stars suiting up: Minnesota Wild forward Charlie Coyle, Boston Bruins defensemen Charlie McAvoy, San Jose Sharks forward Danny O'Regan (COM'16), and New York Islanders defenseman Doyle Somerby (CGS'15, COM'17), a former Terrier team captain. Among the returning Eagles is Calgary Flames left-winger Johnny Gaudreau, 2014 Hobey Baker Award recipient.
Proceeds from tonight's game will support the foundation created by Travis Roy (COM'00, Hon.'16), who suffered a devastating spinal cord injury 11 seconds into his first Terrier hockey game, to assist those with similar injuries, and CCALS. The fundraiser is in memory of the late BC assistant athletics director Dick Kelly, who had ALS and died in 1991, Coach Jim Cotter, Ron Perryman, and Richard Armstrong and in honor of Pete Frates, the former BC baseball captain battling ALS, who inspired the Ice Bucket Challenge, which has raised hundreds of millions of dollars for ALS research and support for those with the disease, and Roy.
Tonight's event will include a silent auction, raffles, and giveaways, and attendees will have an opportunity to meet the players after the game.
The third annual Comm Ave Charity Classic is tonight, Friday, July 14, at 7 p.m. at Walter Brown Arena, 285 Babcock St. Doors open at 6 p.m. Tickets are $15 and can be purchased online or at the Agganis box office, 925 Commonwealth Ave.
Liz Vanderau can be reached at vanderau@bu.edu.