SHS Seeks Student Health Ambassadors for Next Year
Two info sessions scheduled for this week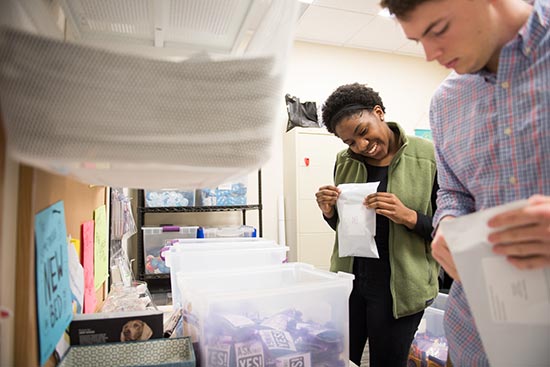 It's a Monday night and a group of undergrads has gathered in the Wellness & Prevention Services office at Student Health Services (SHS). Surrounded by brightly colored flyers promoting mindfulness, pamphlets about smoking cessation, and boxes filled with condoms, the students excitedly discuss a new mental health initiative (a stigma-busting sticker campaign) they are launching next month. These are BU's student health ambassadors. Trained by professionals to serve as liaisons between SHS and the student body, each of this year's 16 ambassadors is as a peer educator, teaching fellow students about issues from stress management to alcohol prevention to sexual health.
"Meeting other students who are so passionate, ready to give, ready to advocate, and ready to make a difference is exciting," says student health ambassador Melody Eaton (CAS'17). "My favorite part of being an ambassador is meeting like-minded students who are excited about public health and what they can do with it."
The program, which launched about a decade ago, is looking for rising sophomores who would like to volunteer to be an ambassador next year. Students interested in peer health education are encouraged to apply. Ambassadors are required to commit to 8 to 10 hours a week; responsibilities include attending weekly meetings, taking part in weekend activities, planning and hosting events, giving oral presentations, and assisting the wellness office.
Current freshmen interested in learning more about the program are welcome to attend one of this week's two information sessions. The first session is tomorrow, Tuesday, March 14, at the College of Arts & Sciences at 6:30 p.m. The second is Wednesday, March 15, at the Metcalf Science Center, also at 6:30 p.m.
"We obviously are not student therapists or experts," says ambassador Lauren Banks (CGS'17), "We just try to have a little more knowledge than the average student on campus so that we can share what we know."
Katharine Mooney (SPH'12), director of Wellness & Prevention Services, says the program offers invaluable training. "The ambassadors are trained by health care professionals in a variety of fields and use their skills to design and deliver prevention programs that support students' well-being. It's a unique, hands-on experience in public health that gives students knowledge, leadership experience, and teamwork skills essential for any future career," Mooney says.
So far this year, student health ambassadors have provided services to nearly 5,000 students, hosting events like Sex in the Dark, an annual Q&A panel featuring sexual health experts; assisting in SHS's National Depression Screening Day; and staffing tables for campaigns like the Great American Smokeout, an American Cancer Society smoking cessation campaign. They also assemble and distribute approximately 1,000 care packages, such as finals survival guides (filled with study tips, pencils, and Post-its) and flu buddy kits (including tissues, thermometers, and tea) and conduct Stress Buddy Workshops, where they teach students tips for managing stress. They are also the driving force behind Wellness & Prevention's most popular service, the Condom Fairy Program, which discreetly distributes contraceptives like condoms and diaphragms to more than 2,500 on-campus students per semester.
"It's tough sometimes, but it's really rewarding to know that people are listening to you," says ambassador Savan Shah (CAS'17). "This program allows me to be a student leader on campus and to push bigger programs out to the student body. I definitely feel like it makes a difference."
Ambassadors say they strive to be a nonjudgmental, supportive, and informative resource for students.
"We aren't asking people to be perfect or to never drink or smoke or stay up too late," Banks says. "We just want people to know what happens to their bodies when they choose to partake in activities that put their health at risk in some way. It's really about creating a culture of mindfulness."
The ambassador program has become highly competitive. After a rigorous application and interview process, five rising sophomores are accepted into the program each year, on average. Most of those accepted remain with the program until graduation. The deadline for applying for next year is March 26. Applications can be filled out online here.
"Being a student health ambassador is a fun time. It definitely adds a different perspective to your college experience," Shah says. "It's rewarding and it gives you opportunities that you wouldn't find in any other student organization."
Information sessions will be held tomorrow, Tuesday, March 14, in the College of Arts & Sciences, 725 Comm Ave, Room 208, at 6:30 p.m., and Wednesday, March 15, at the Metcalf Science Center, 590 Comm Ave, Room 117, at 6:30 p.m.
Liz Vanderau can be reached at vanderau@bu.edu.