The Scientific Model
BU postdoc's world spans Ecuadorean jungles, fashion runways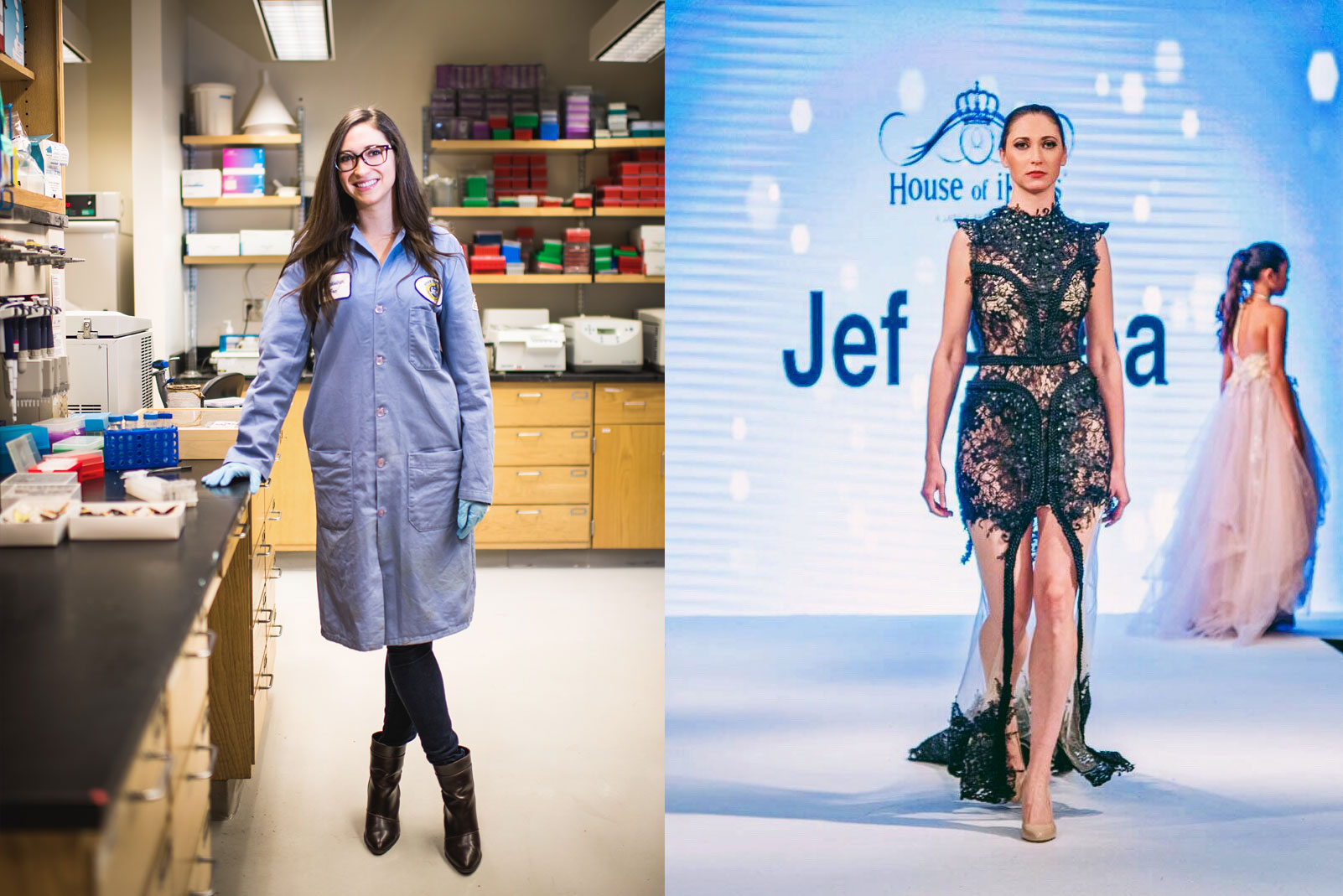 Entomologist Susan Finkbeiner can be found scouring the remote rain forests of Ecuador for her research on evolution, slogging through the mud for weeks on end in search of rare butterflies.
But it's her other job that turns heads.
The BU postdoc is also a model who recently traded in her waders and rubber boots for designer evening gowns and heels to appear at London Fashion Week.
It's a double life for the insect lover with a PhD in ecology and evolutionary biology, who came to Boston to study species evolution, not how to strut a catwalk. But the cameras, and the excitement of donning couture dresses from up-and-coming designers like Sara Onsi and Venera Tabakin proved every bit as thrilling as the quest for the Heliconius butterfly in the tropics of Ecuador.
"It was a Cinderella experience," Finkbeiner says of her modeling gig, "but I really can't wait to get back to work."
Science remains her foremost, if less glamorous, passion. Growing up in rural Illinois, while other kids played sports, Finkbeiner collected bugs.
She dabbled in beauty pageants and ballet as a teenager, but her interest in butterflies, caterpillars, and moths grew stronger, eventually taking her to Cornell University, where she graduated with a degree in entomology in 2009. Going on to study for a PhD at the University of California, Irvine, Finkbeiner was inspired by friend and fellow entomologist Phil Torres, who earned money on the side as a game show contestant and model. She tried out and became a contestant on the CW game show Oh Sit! whose format was a type of extreme musical chairs.

After arriving at BU in 2015, Finkbeiner decided to give modeling a try, and with help from a fellow grad student, she created her own portfolio and sent it to Dynasty Models, an agency on Newbury Street. Agency executives liked what they saw and signed her to a two-year contract.
"I set my mind to things I want to do or try," she says, "and go for it."
Savita Kaye, chief executive of the London design firm House of Ikons, says Finkbeiner had the qualities the firm was looking for and that at five-foot-eight and size four, she wasn't an emaciated waif, so she was hired for fashion week.
"Her elegance and confidence come through in her images and footage," Kaye says.
It is a new world, vastly different from her work at BU, where she works in the lab of Sean Mullen, a College of Arts & Sciences associate professor of biology, studying adaptive traits, such as mimicry, in butterflies, as well as the origins of barriers to gene exchange, or speciation. A Smithsonian Tropical Research Institute fellow, she recently authored a Journal of Experimental Biology article on ultraviolet reflectance in visual discrimination.
Finkbeiner practiced her runway stride before September's Fashion Week in her tiny Boston apartment and walking along Comm Ave. Once on the runway, she says, she had to struggle to keep her facial expression neutral, a requirement of the job. There was also a lurking fear of tripping in her heels while scores of photographers and fashion critics looked on.
Yet those concerns seem minor compared to what Finkbeiner has confronted in the jungles of the Amazon for her research.
She once caught a Brazilian wandering spider on the wall of her bathroom in the rain forest and managed to coax it gently into her butterfly net. It was unnerving, she says, because its bite is lethal and it's known for its ability to run and jump extremely fast.
And that's far from the only danger in the field. "My biggest worry there is being stalked by a jaguar," Finkbeiner says. "Or getting bitten by a deadly snake, or getting stung by a bullet ant. They're gnarly."
Finkbeiner has a quirky sense of humor about it all. She is the rare runway model, for example, who might allow a tailless whip scorpion to sit on her face and then tweet a video of it.
Torres, whose far-flung research has been featured on Animal Planet, the Discovery Channel, and Sesame Street, calls Finkbeiner a science rock star, willing to do difficult and incremental work in isolated places to advance scientists' understanding of the natural world. He joined her in Ecuador earlier this year to film her collecting butterfly species with what he dubbed the world's longest butterfly net for his YouTube channel, The Jungle Diaries.
"Swinging a 30-foot pole with grace while standing in the middle of a rain forest stream is no easy feat," Torres says. "She made it look easy."
Finkbeiner is currently planning an expedition to Costa Rica in the spring to continue her field research, and she will be featured prominently in an upcoming episode of the PBS series Nature. One day, she says, she hopes to become a professor and manage her own research lab. And she has already been asked to return to England for next year's London Fashion Week.
"I want to crush stereotypes," Finkbeiner says. "And I want to send the message to young girls that you can be a model and get a PhD too."
To keep up with Finkbeiner's adventures, follow her on Twitter.
Megan Woolhouse can be reached at megwj@bu.edu.