The Hope Behind the Resurgence of Women's Hoops
Tri-captain's off-season work leads to strong final year
After two seasons that saw the BU women's basketball team go 5-25 and 3-27, head coach Katy Steding told tri-captain Sarah Hope last spring that no position was safe.
"We told her that all jobs were wide open and that she could choose to rise to that challenge or she could roll the dice and see what happens," Steding says.
Instead of sailing smoothly into her senior year on the back of a prolific three-point shot and assuming her role would remain the same, Hope (COM'17) decided to push herself to excel. She trained during the off-season and returned in the best shape of her career, adopting the mentality of not letting herself get in the way of having the best senior season she could.
She says that assistant coach Cindy Blodgett "opened my eyes and made me realize that this is it. I'm not going to go on to play basketball after this season. I needed to just give it everything I had. I took that and I knew that conditioning was a point of weakness in my game, so I just really focused in on it."
This season, the Terriers have gone 11-15 overall, 9-6 in Patriot League play, with just 3 games remaining in the regular season.
"I think the number one thing with us and with me is to be positive no matter what the situation is," Hope says. "The past two years, we weren't that successful. It's just staying positive. I think our team did a really good job. I mean, look where we are now compared to where we were two years ago."
While Hope eclipsed the Terrier mark for career 3-pointers in Saturday's loss to league-leading Bucknell, knocking down her 245th bucket from beyond the arc, Steding says she has also answered her challenge and become a more well-rounded player.
"I've seen such tremendous growth from Sarah in the way she leads her teammates and the way she follows when it's not her turn to lead," she says. "We often say to her that she's not just a three-point shooter and that she needs to show that side of her game. When people are taking away her shot or face guarding her, she shows that she's a great passer, that she can set good screens, and that she's a great defender. All those things wrap into the player we know as Sarah."
Hope, who was recruited by a previous coaching staff, says that she was immediately comfortable with Steding.
"We have a relationship where it's almost like she did recruit me," Hope says. "It was never awkward. I loved her from the beginning, and she's such a great coach. I'm really thankful to have played for the coaching staff that recruited me, but also to have the opportunity to be coached by this new staff."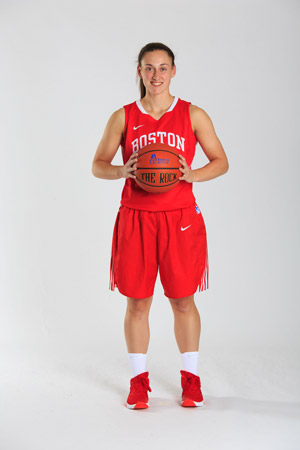 For Steding's part, Hope's compassionate nature makes her interactions with her teammates rewarding to watch. "You can encourage someone to express their genuine affection and care for their younger teammates," she says, "and everybody has that to one degree or another, but Sarah is just so outgoing and warm and loving to her teammates. It's fun to see it from the sideline and watch her character."
This season is a far cry from Hope's sophomore season, when a knee injury laid her up for the final 13 games. She has played in all 26 contests this season and leads the team in minutes by a wide margin.
While the knee injury was a definite career setback, Hope says it taught her a valuable lesson about perspective. "Staying positive through that 10-month-long recovery back to playing was definitely hard, but I learned from it and grew from it," she says. "You can't take it for granted.…Having it taken away just for 10 months doesn't seem like that long, but it really opened my eyes to how lucky I am to be here."
The injury had another positive result: a close friendship with fellow tri-captain Corrine Williams (CGS'16, COM'18). Williams was also rehabbing from a knee injury at the time. Being out of action together sparked what has become a special bond.
"My sophomore summer and her junior year summer, we both had knee injuries," Williams says. "She was coming back from her ACL injury, and I hurt my knee the very first day of summer session. We pretty much bonded over sitting on the sidelines for a whole summer and going through rehab together. That's where our friendship started."
She says Hope is her closest friend on the team and that her leadership style has benefited the entire team. "Sarah does a good job of trying to have a personal connection with everyone on the team," Williams says. "She might be close with the girls in her class and with me, but she has a one-on-one bond with everyone, and everyone knows it. She tries to make sure everyone on the team sees her face off the court and outside of that captain's role."
As the team heads into the final stretch of the season, and of Hope's career, the guard says her future beyond BU will continue to include the game she loves. "I hope to coach somewhere. The dream job for me later in life is to become a college basketball coach," she says. "I want to have basketball still in my life, just not as a player. I think I'm going to be ready to make that transition when the time comes."
First, however, there's one last shot at a Patriot League championship. League tournament play kicks off Monday, March 6, and Hope is confident that she and her teammates are up to the challenge.
"You can't take any game lightly, and you can't take any team lightly. Our league is unique in that way," she says. "You have to show up every game. There are no easy wins. I think our team is ready. I think we're peaking at the right time, and we're confident."
The BU women's basketball team takes on Army tonight, Wednesday, February 22, at 7 p.m., at Case Gym, 285 Babcock St. Tickets are $7 for the general public, $6 for faculty, staff, and students without a sports pass, and free for students with a sports pass. Tickets can be purchased here or at the Agganis Arena ticket office, 925 Comm Ave.
Taylor Raglin can be reached at traglin@bu.edu.