Dispute with Trump Puts San Juan Mayor, a BU Alum, in Spotlight
Carmen Yulín Cruz (CAS'84) blasts federal response to Puerto Rico's plight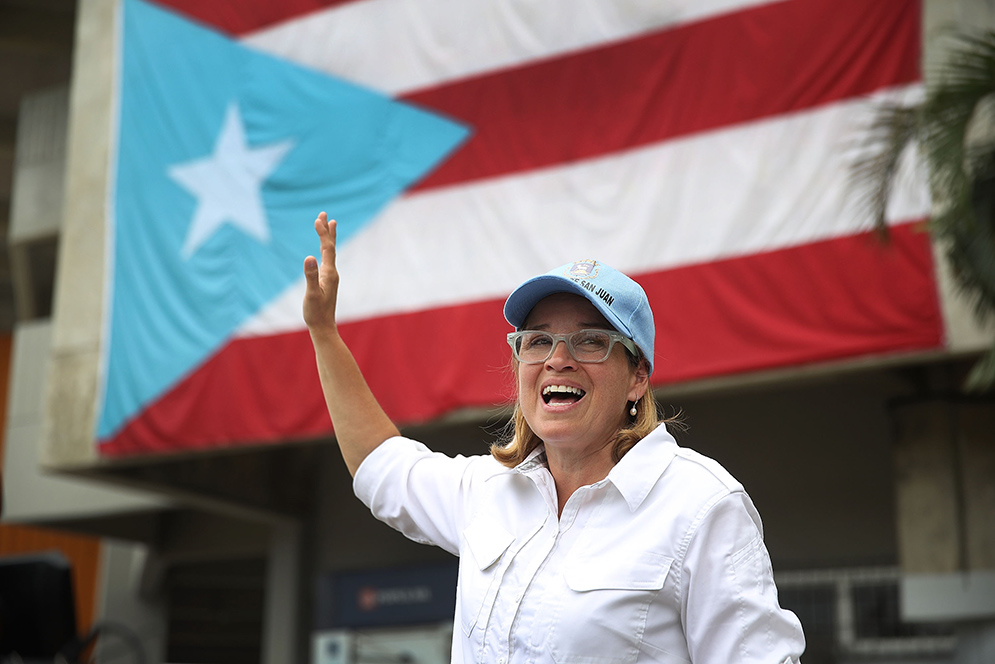 Carmen Yulín Cruz, mayor of San Juan, and a BU alum, shared a public dispute with President Trump this weekend over the government's response to the devastation of Puerto Rico caused by Hurricane Maria, which struck the island September 20 with 150 mph winds, leaving its 3.4 million residents without water, electricity, or any way to communicate. The disagreement started Friday when Cruz (CAS'84) pleaded for a greater effort from Washington, saying at a news conference, "We are dying, and you are killing us with the inefficiency…I am begging, begging anyone that can hear us, to save us from dying."
Trump responded Saturday morning in a series of tweets sent from his golf club in Bedminster, N.J., citing the "poor leadership ability by the Mayor of San Juan" and other local Puerto Rican leaders.
…Such poor leadership ability by the Mayor of San Juan, and others in Puerto Rico, who are not able to get their workers to help. They….

— Donald J. Trump (@realDonaldTrump) September 30, 2017
Trump also wrote: "The Mayor of San Juan, who was very complimentary only a few days ago, has now been told by the Democrats that you must be nasty to Trump."
The president claimed that federal workers are "doing a fantastic job."
…want everything to be done for them when it should be a community effort. 10,000 Federal workers now on Island doing a fantastic job.

— Donald J. Trump (@realDonaldTrump) September 30, 2017
An hour later, Cruz, in apparent response to Trump, tweeted:
The goal is one: saving lives. This is the time to show our "true colors". We cannot be distracted by anything else. pic.twitter.com/7PAINk19xM

— Carmen Yulín Cruz (@CarmenYulinCruz) September 30, 2017
Cruz was reportedly angered Thursday by the assertion of Elaine Duke, acting secretary of Homeland Security, that the government's response was "really a good news story in terms of our ability to reach people and the limited number of deaths that have taken place."
Speaking on CNN Friday night, Cruz said, "This is, dammit, this is not a good news story. This is a 'people are dying' story. This is a 'life or death' story. This is 'there's a truckload of stuff that cannot be taken to people' story. This is a story of a devastation that continues to worsen."
The New York Times reports that after traveling to Puerto Rico on Friday, Duke agreed that the ground response to the hurricane was "not satisfactory."
At least 16 people have died in the wake of the storm, and millions are still without clean water, electricity, or food, with many supermarkets across Puerto Ricco still unable to reopen. Fewer than half of the island's 62 hospitals have been able to reopen and less than a dozen are said to be operating at full capacity 11 days after the hurricane struck. Hospitals are experiencing acute drug shortages as well. On Sunday, according to the Boston Globe, the situation on the ground had become so desperate that some citizens had attempted to take their own lives.
Cruz, who belongs to the Popular Democratic Party, is known for her willingness to speak candidly. She was first elected mayor of San Juan in 2012, after serving four years in the Commonwealth's House of Representatives. The New York Times reports that she stitched together a coalition of students and lesbian, gay, bisexual, and transgender groups and was "reelected handily in 2016 against a lackluster opponent."
A native of San Juan, Cruz graduated from BU with a degree in political science before earning a master's degree from Carnegie Mellon. She later worked for Colgate-Palmolive, Banco Popular, Scotiabank, and the Treasury Department.
On Saturday, the Times reports, Cruz read a text from the mayor of another city that had no water.
"Some of the mayors that I have been able to reach or have reached me are scared of voicing their concern, because they are concerned if they do, they won't even get a bottle of water," she said. "That is a sad situation in a democratic society when fear takes ahold of people, then you know something isn't working."
This was not the time for "political calculation" or even "political correctness," Cruz added. "If President Trump were to say, 'I'm going to go to San Juan to see that nasty mayor,' I would receive him with open arms, because democracy is larger than me. He was democratically elected. He represents the United States of North America and he deserves all the respect that office brings with it."
She reiterated that point on Sunday in an interview on ABC's This Week with George Stephanopoulos. Asked whether she'd meet with Trump when he tours the devastated island on Tuesday, Cruz responded, "If he asks to meet with me, of course I will meet with him."
The president's criticism of Cruz drew a firestorm on social media. Tony-winning playwright, actor, and Hamilton creator Lin-Manuel Miranda, who has family living in Puerto Rico, wrote on Twitter that the president was "going straight to hell."
You're going straight to hell, @realDonaldTrump.
No long lines for you.
Someone will say, "Right this way, sir."
They'll clear a path. https://t.co/xXfJH0KJmw

— Lin-Manuel Miranda (@Lin_Manuel) September 30, 2017
She has been working 24/7.
You have been GOLFING.
You're going straight to hell.
Fastest golf cart you ever took. https://t.co/5hOY23MBvQ

— Lin-Manuel Miranda (@Lin_Manuel) September 30, 2017
Other celebrities also expressed anger over Trump's remarks about Cruz, and their support for the San Juan mayor:
I this it's clear where the 'poor leadership' lies @realDonaldTrump Puerto Rico is part of the United States. This is our responsibility.

— xoxo, Gaga (@ladygaga) September 30, 2017
.@CarmenYulinCruz I see you, I hear you, I love you. You're a hero.

— Ellen DeGeneres (@TheEllenShow) September 30, 2017
Here in Massachusetts, with the fifth-largest population of Puerto Ricans in the continental United States, local politicians vowed to provide financial support to aid the island. On Friday, Boston Mayor Martin J. Walsh and the Boston Foundation announced plans to create a relief fund, the Massachusetts United for Puerto Rico Fund, which will be used to provide money for relief and reconstruction efforts.
At BU, efforts are under way to coordinate relief efforts by students and faculty. BU Today will provide details when they become available.