BU Rowing Teams Hope to Triumph at Season's Grand Finale
Terriers look to ride recent success in IRA National Championships
The BU men's rowing and women's lightweight rowing teams headed west a week early to prepare for the 2017 IRA National Championship Regatta, the biggest event of the collegiate rowing season for men's heavyweight, men's lightweight, and women's lightweight programs.
The championship begins today, June 2, on Lake Natoma in Gold River, Calif., and concludes Sunday, when the medals will be presented after each Grand Final event. The two BU teams have held a de facto training camp there for the past week to get ready for the nation's oldest collegiate rowing competition.
The early start, women's lightweight head coach Malcolm Doldron said as the teams prepared for their trip, was planned to help the athletes on both teams adjust to the warmer weather, the time difference, and an unfamiliar body of water.
"Being out there for 10 days before is going to be great for us. It's going to allow us to have that acclimation to what we're doing. I also like the fact that we're getting away from campus. We've been here all year, and with finals in the last little stretch, everyone's been pretty tense.…It's going to be a little minicamp in preparation for the IRAs."
The teams enter the regatta riding a wave of momentum, with each taking fourth place overall at the Eastern Sprints Championship and the women's lightweight team turning in a pair of strong finishes from the varsity eight and varsity four boats at the Dad Vail Regatta in Philadelphia.
Jacob Barker (CGS'16, CAS'18), a men's team captain, says the program has enjoyed one of the best springs it's ever had.
Last season, the women's lightweight team finished as national runner-up to perennial powerhouse Stanford. This year, the Terriers finished second to the Stanford rowers in the Lightweight Eight Grand Final at the Knecht Cup in New Jersey and bested them in a final for the first time in program history with a second-place finish in the Openweight Final at the same event.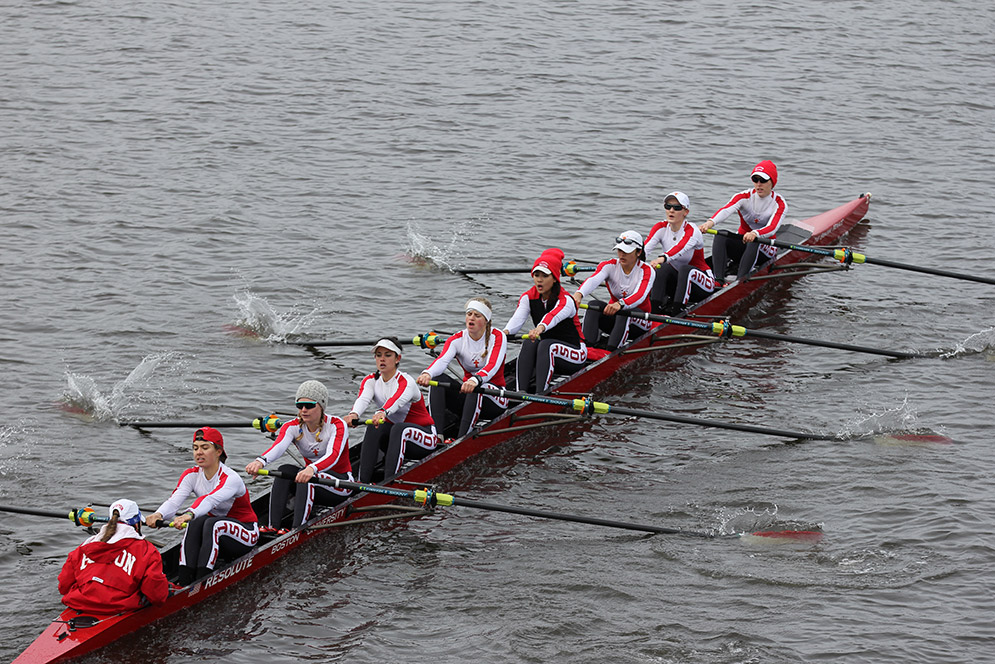 Leigh Shanor (Questrom'17), a Terrier captain, has raced in the varsity eight boat since freshman year, and she says the team's preparation all season long has it poised to take the next step.
"We've really been pushing for a national championship," Shanor says. "We're really gunning for it this year. I think that we've trained harder this year and we've prepared ourselves better mentally than we did last year."
While Stanford certainly has a target on its back, Doldron says the Terriers' finish at the event will depend solely on their ability to employ what they've learned from what he calls an up-and-down spring season.
The women have to "trust the process. The thing about these championship races is that everybody wants to win, and there can only be one," he says. "We have to perform at our highest level on race day, regardless of what everyone else is doing out there. If we can just stay relaxed and race within what we've done in the past, we're going to be fine."
On the men's side, the Terriers finished 7th out of 24 teams in last year's championship. The BU rowers are confident, however, that they can defy their underdog reputation and find themselves on the podium on Sunday.
"Everyone kind of sees us as: BU's OK, they'll finish sixth or seventh in the nation, but they'll never really challenge for the medals," Barker says. "As a team, we take note of that. We kind of have this scrappy mentality that anytime we lay hands on a boat or go out on the water, we're trying to prove ourselves. We want to tear everyone else to pieces or die trying. I think that's what's really helped us excel this year."
The 2017 IRA National Championship Regatta first round heats get under way today, Friday, June 2. The top two finishers in each heat will advance to the semifinals Saturday, and the top three finishers in those races will compete in the Grand Finals Sunday. All races are being held on Lake Natoma in Gold River, Calif.
Taylor Raglin can be reached at traglin@bu.edu.