Fenway Park Comes to Faneuil Hall Today
Red Sox Showcase offers free, interactive experience for fans
This summer, Dustin Pedroia and company won't be the only Red Sox show hitting the road.
The Red Sox Showcase, an interactive mobile experience aimed at bringing a slice of Fenway Park to fans throughout New England, pulls up to Boston's historic Faneuil Hall today at 10 a.m., offering immersive activities for fans of all ages until 3 p.m.
The 15-foot-long panel truck modeled after Fenway Park's Green Monster first launched last season as part of the team's Calling All Kids initiative, a program designed to bring kids and young adults closer to the game of baseball and the BoSox.
As Red Sox mascot Wally looks on, attendees can let loose with a few hacks in the batting cage, test their aim at pitching stations, take a shot at stealing second base, and enter virtual reality for a Red Sox–themed experience in front of replicas of the home team's lockers at Fenway.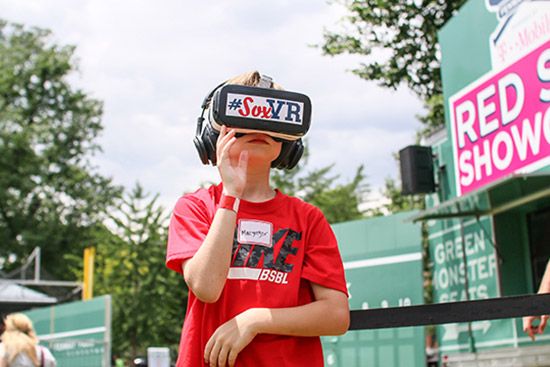 In between selfies in front of the Green Monster and swings in the cage, participants can pit their skills against one another in giant Jenga, a larger-than-life version of the classic stacking game.
Admission to the showcase is free, and waivers for participation will be available on site. However, visitors can save time by filling out adult and minor child waivers in advance online.
In all, the Red Sox Showcase is set to make a dozen more appearances before season's end, including three more at Faneuil Hall, on August 10, September 16, and October 7. Among other upcoming stops are West Roxbury, Woburn, Newton, Brighton, Worcester, Wrentham, and Somerville. A full list can be found here.
After the showcase, fans may want to stick around for the Faneuil Hall Marketplace weekly Lucky Seven Concert Series, a free outdoor series featuring local musicians. Six-piece band Brandy is set to perform a program of big band, swing, jazz, '50s and '60s classics, R&B, country, and more tonight from 7 to 9 p.m.
Taylor Raglin can be reached at traglin@bu.edu.