Robots, Time Machines, Virtual Reality, More at the Museum of Science
Pop culture meets technology in POPnology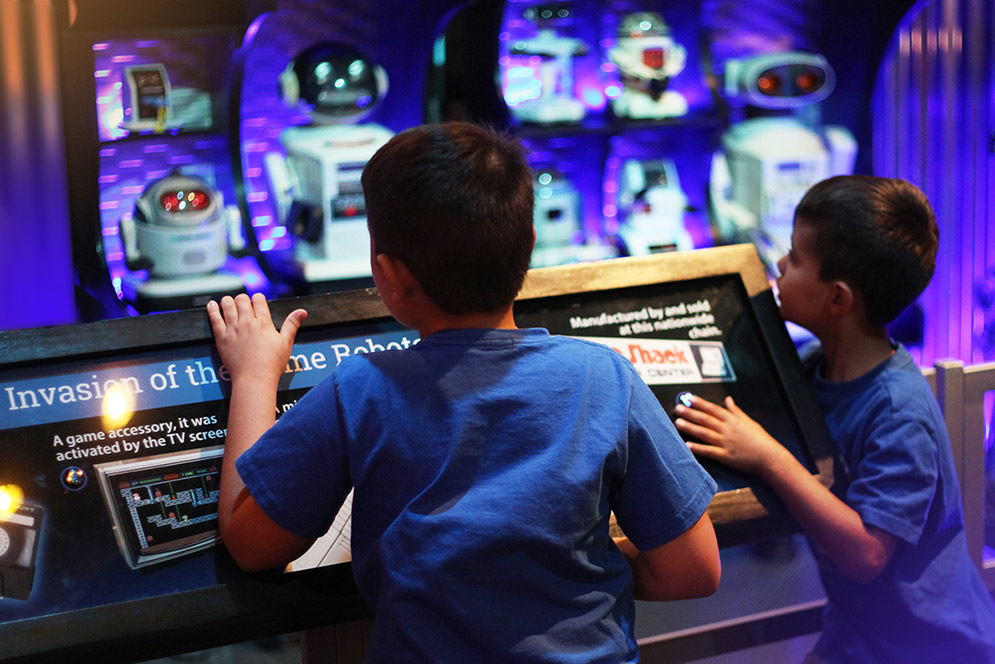 Does a chance to play with robots, experiment with virtual reality, and get an up-close look at the DeLorean time machine that Marty McFly and Doc Brown used in Back to the Future 3 sound like your idea of a great summer outing? You'll find it all at POPnology, the new Museum of Science (MOS) interactive exhibition, on view through Labor Day.
The show charts the myriad ways science fiction movies, television, art, and books have inspired major technological discoveries. It's packed with innovative technology, like the world's first 3-D printed car and hands-on robotics, as well as nostalgic references to sci-fi books, television shows, and films.
POPnology is divided into four areas that explore the relationship between pop culture and technology. How We Play examines the ways people use technology in their free time, How We Connect looks at the impact of social media on the way we communicate, How We Move presents a timeline of human transportation, and How We Live and Work investigates the ways current technology affects modern life.
Highlights include a jet pack from Disney's The Rocketeer, more than a dozen immersive games, and an interactive robotic arm. The exhibition also features a replica of the set of 2001: A Space Odyssey, the Oscar-winning 1968 film by Stanley Kubrick, which introduced technology credited with making electronic control devices like Siri and Alexa possible. There is a room that's been converted into a time capsule of 1983, showcasing what then passed for technology—a Rolodex, a typewriter, and a boom box, among other items—and underscoring the advances the world has made in just a few decades.
Before taking in POPnology, go to the museum's website to play Science: Fact or Fiction? Reminiscent of an animated 1980s arcade game, it combines references to Back to the Future with Boston landmarks and poses trivia questions about science, technology, and movies. You can watch some of the films on the museum's list of recommended sci-fi movies to turn yourself into your own "popnologist."
Complementing the exhibition, on the first Thursday of each month, the MOS annual Summer Thursday Series will screen classic sci-fi movies in the Charles Hayden Planetarium's immersive dome. Tickets are $10 in advance and $12 the day of screening. Independence Day will be shown July 6, and Galaxy Quest August 3. Additionally, there will be two movie marathons: on June 19, Back to the Future I and Back to the Future II; on August 31, the Oscar-winning 1979 film Alien and the 1984 sequel Aliens. Purchase tickets ($18) for the marathons in advance here. The price on the day of screening is $25. Screenings, intended for audiences 18 and older, begin at 6 p.m. and individual movies at 7:30 p.m.
POPnology is on view in the Green Wing, Level 2, at the Museum of Science, One Science Park, through September 4. Admission to POPnology is free with the purchase of an exhibition hall ticket; find prices here, hours here, and directions here. Purchase tickets in advance here. 
Liz Vanderau can be reached at vanderau@bu.edu.