Norwegian Entrepreneurs Come to Questrom
Summer program now in its 17th year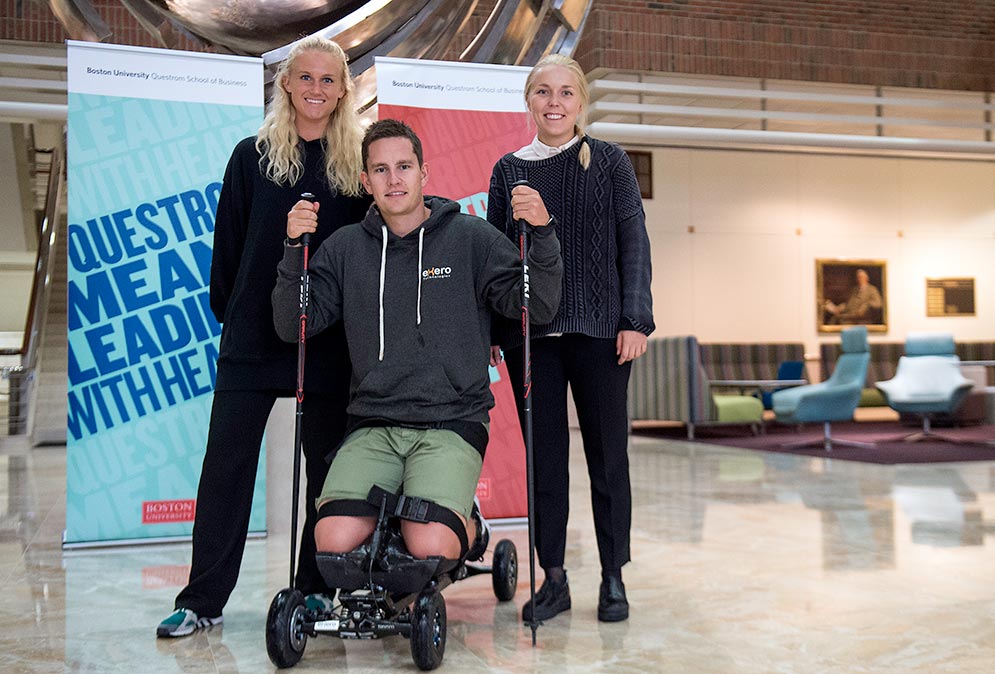 Norwegian graduate students Nicoline Bergh and Bendik Fon recently arrived for an interview at the Questrom Starbucks with a third party: the small wheeled contraption that brought them—figuratively, not literally—to BU for the summer.
The Exero Spike is a mobility device, essentially a wheeled sled that makes it possible for disabled athletes, primarily cross-country skiers, to work out safely on dry ground and rough terrain. The students, here for a 10-week summer program in entrepreneurship, developed the Exero Spike with advice from para athletes, researchers, and the Norwegian Institute of Sports, focusing mainly on users with spinal cord injuries or amputations.
"We see it as a product that can erase the difference between me or you and people who are in a wheelchair," says Bergh. "You can have this cool product and go off with your buddy and [your disability] doesn't matter anymore."
Bergh and Fon are two members of a five-person start-up, Exero Technologies. Along with a third member, Solveig Christensen, they've come to Boston as part of the 17-year-old Norway Entrepreneurship Program at the Questrom School of Business.
"It was a unique chance to get to Boston and learn entrepreneurship and meet another culture, and get feedback on the prototype," says Fon.
It's also an opportunity for the students to improve their skills in presenting their product: "Pitching is something that is really a specialty here at BU," Bergh says.
Questrom is one of several schools that participate in the Norwegian government–run program, known as the Norwegian School of Entrepreneurship ("Gründerskolen") and administered by the University of Oslo. Founded in 1999, this year it sent a total of about 150 students to Questrom, Rice University, the University of California Berkeley, the National University of Singapore, and the University of Toronto.
At Questrom, the program is run by faculty directors Ian Mashiter and Greg Stoller, both senior lecturers in strategy and innovation. "It's the Norwegian government promoting innovation in their country by sending their smartest young people around the world to learn from folks in other countries," says Mashiter.
Some 40 graduate students working toward their master's degrees at universities all over Norway are spending 10 weeks here in entrepreneurship classes and group social outings. For most of each week, though, they are on one of two tracks for some real-world experience.
About half work as interns in Boston-area start-ups, where they face the real-life challenges of working in a new venture. "I think it's a very interesting summer for them," Mashiter says. "They get to hang out in a US start-up for 10 weeks and experience that culture. Some are going to be entrepreneurs, but some of them are going to go join other companies when they go back or do consultancy, or whatever."
Christian Aubell is interning at OffGridBox, which is trying to build a simple, self-contained system to collect solar energy and untreated rainwater, and convert them to charge batteries and provide clean water for poor, remote communities or areas hit by disasters. They already have a pilot program in Rwanda.
For Aubell, the main benefit of the program is gaining experience working in a place with a much more diverse culture than Norway. OffGridBox is located at the Mass Challenge business accelerator center in the Seaport District, along with many other start-ups. "The ecosystem here is so much larger," he says. "It's pretty exciting because the people are really open-minded. It's really easy to get to know other persons and their businesses, and they really want to help."
Interns placed at other local start-ups work on everything from bicycles that are hard to steal to an artificial pancreas for diabetics to an app that helps people find child care.
The other half of the Norwegian students, including the Exero team, are from the Norwegian University of Science and Technology in Trondheim and work as "researchers" in an incubator environment on start-up plans that were already underway in Norway.
"What they're trying to do is make their idea better, meet potential customers, find out about the competition—and learn about the US market for their product and advancing their ideas," Mashiter said. "A lot of these Trondheim students are working on very, very interesting ideas, and over the years we've seen several of those go on to be very interesting companies."
The researchers' projects include one that is trying to produce lighter-weight engines for drones, an app to connect people who want to cook with people who want to eat (although that cannot meet food-safety laws in Massachusetts), and one that is developing financial literacy training for K–12 students.
"A lot of these ideas are not insubstantial," says Mashiter. "These are often very serious technologies." Successful companies that emerged from previous years' programs include one that provides tracking software so a camera-equipped drone can follow its owner down a ski run, and another that solved a problem in liquid natural gas shipping to allow offloading via a floating platform rather than a fixed dock.
"For a lot of the researchers, the US is a market where they're very interested in selling their product," he says. "For some it may be too early, but that doesn't mean we can't connect them with subject matter experts who can give them really good insights."
Students from both groups are expected to make contacts in their field and build their networks while in Boston. "That's one of the reasons the Boston program is popular," Mashiter says. "This is a great entrepreneurial city and it's also very manageable."