MFA Hosts Annual Juneteenth Celebration Tonight
Free tours, talks, live performances commemorate end of slavery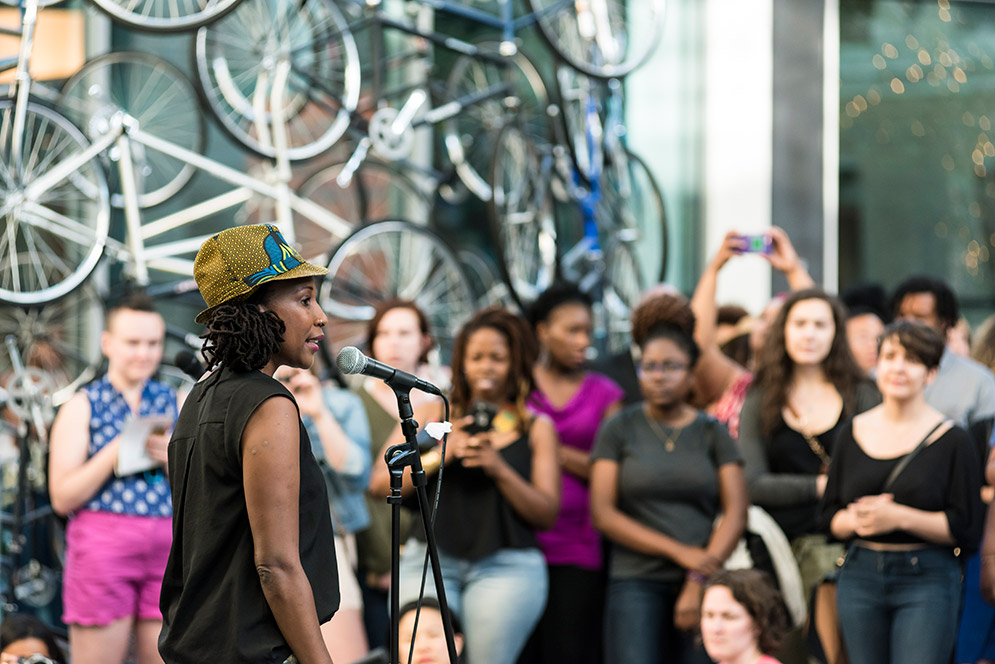 On June 19, 1865, a full two and a half years after the Emancipation Proclamation, Union Major General Gordon Granger landed in Galveston, Tex., and announced "that all persons held as slaves are, and henceforward shall be free." The anniversary of that event has come to be known as Juneteenth, and the Museum of Fine Arts Boston is hosting its annual Juneteenth celebration tonight. Featuring live performances, art tours, panel discussions, and film screenings, the event, which starts at 5 p.m., is free and open to the public.
The evening begins with an official welcome and commemorative remarks in the Shapiro Family Courtyard at 6:30 p.m. Visitors can take a tour of the museum highlighting works by African American artists currently on display, with special emphasis on the temporary show Wilson/Cortor, which showcases the work of contemporary African American artists John Wilson and Eldzier Cortor. Tours are at 5:45, 7:15, and 8 p.m.
The museum is also hosting screenings of two films from this year's Roxbury International Film Festival, which officially kicks off tomorrow, Thursday, June 22. The documentary Paris Noir, which explores the migration of black American artists and writers from the United States to France in the 1920s and '30s, begins at 5 p.m. When Voices Rise examines the ways segregation was ended in Bermuda in the 1950s and '60s and begins at 8 p.m. There will also be a live performance of Live Bird, a one-man play about jazz legend Charlie "Bird" Parker by playwright, director, and saxophonist Jeff Robinson. The films will be screened in the Remis Auditorium, and Live Bird will be performed in the Alfond Auditorium. Free tickets are required and can be picked up at the Remis Auditorium box office a half hour before the shows start. Tickets are available on a first come, first served basis.
Dancers from OrigiNation Cultural Arts Center, a nonprofit dance school and troupe serving Dorchester, Roxbury, and Mattapan, and Sinha' Capoeira, a Boston-based Capoeira school, will also perform tonight. Other event highlights are performances and music from spoken word artist Ashley-Rose Salomon, rapper and visual artist Anson Frazier (aka Anson Raps), hip-hop artists Oompa & Makeda, and Zimbabwean-American poet U-Meleni Mhlaba-Adebo.
There will be live painting in the Calderwood Courtyard and drawing with Boston artist Frandy Suero Garcia in Gallery 268. The museum is also featuring two talks as part of tonight's festivities. The first, at 5, 5:30, and 6 p.m., is a Spotlight Talk titled "I must tell you what I saw." It's based on a current installation of objects that bear witness to efforts to eradicate and displace peoples,"I must tell you what I saw": Objects of Witness and Resistance. A public forum, The City Talks: Revolution, starts at 7 p.m., and will explore what the term "revolution" means to people of color.
The Museum of Fine Arts Juneteenth celebration is tonight, Wednesday, June 21, at the Museum of Fine Arts, 465 Huntington Ave., from 5 to 10 p.m. The event is free and open to the public. Find a complete list of events here and directions here.
Liz Vanderau can be reached at vanderau@bu.edu.