New Women's Rowing Director Readying Teams for Head of the Charles
Madeline Davis comes from three-time NCAA champion Ohio State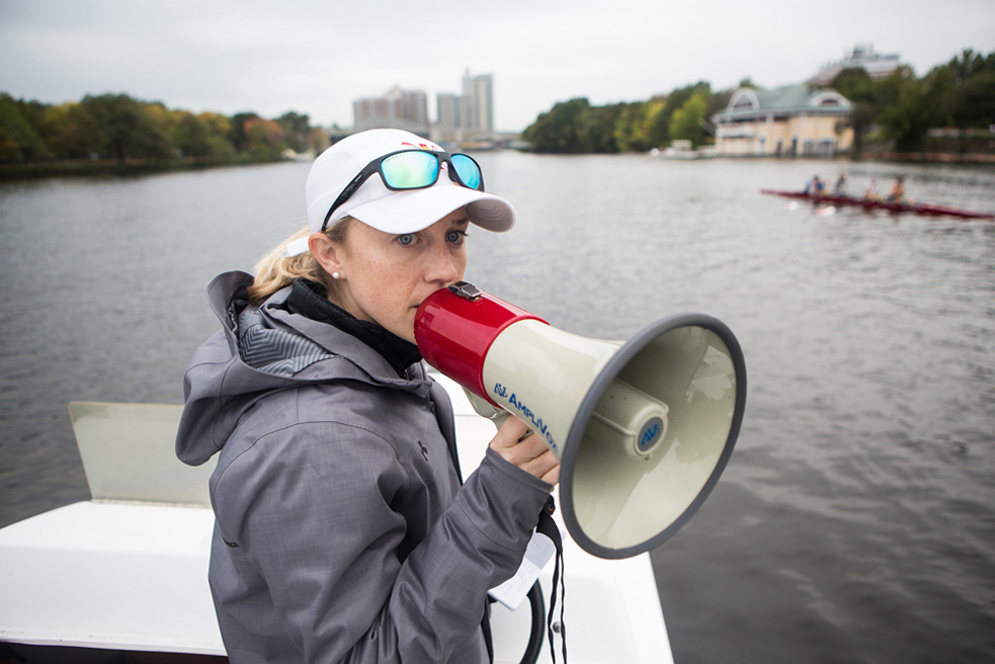 When the BU women's lightweight and openweight rowing teams launch their boats into the Charles for the start of tomorrow's 53rd annual Head of the Charles regatta, it will be with a new director.
Considered a rising star in the world of coaching collegiate rowing, Madeline Davis has been chosen to direct the University's women's rowing program. Davis comes to BU from Ohio State, where she helped guide the openweight team to a pair of national titles and four consecutive Big Ten championships. In her new role, she oversees the women's lightweight squad, helmed by Malcolm Doldron, as well as being head coach of the openweight team. (Two-time Olympic medal winner Thomas Bohrer is the men's rowing head coach).
Davis "has tremendous experience at academically elite institutions while having championship-level success at three different Division I programs as a student athlete and coach," says Drew Marrochello, vice president and director of athletics.
A native of West Chester, Pa., Davis grew up with rowing. Her father rowed at the collegiate and masters level, and she was familiar from early on with Philadelphia's rowing community. She decided to give the sport a shot when she started high school.
"I loved it immediately," she says. "It was so different than other sports I had tried, and I'd tried pretty much every other sport out there."
As an undergrad at Princeton, Davis became an All-American lightweight rower and was captain senior year. After graduation, she competed for the US National team at the U23 World Rowing Championships. She never expected to make coaching her career, she says, but after college, she took the head coach job at the Hun School of Princeton (she was a resident life office manager and substitute teacher at the school as well). There she guided the girls' varsity 4+ team to an undefeated dual season and its first berth in the US Rowing Youth National Championships in nearly a decade. She also discovered a passion for coaching.
When Stanford offered her the women's lightweight program assistant coach position, Davis took it. She began to earn a reputation as a winning coach. In her three seasons at Stanford, she helped lead the lightweight varsity eight to three consecutive Intercollegiate Rowing Association national championships before leaving for Ohio State in 2014. She was instrumental in guiding the Buckeyes women's varsity eight to an NCAA national championship in her first season, and the following year, she contributed to making rowing history when Ohio State became the first NCAA program ever to win three consecutive national championships. By her fourth season in Columbus, she had been named the program's associate head coach.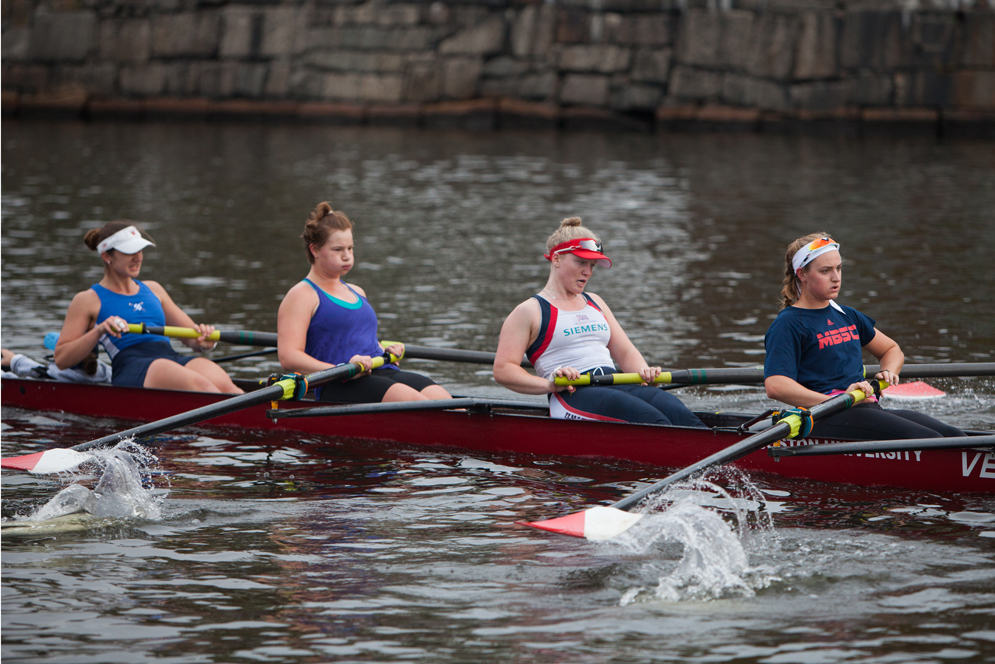 A place we can do something special
Davis says she didn't want to rush into taking a head coaching job. "It had to be a really great opportunity," she says. "It had to be something special, where I thought I could really be for a while and do something great there." When the offer to head BU's women's rowing program came up, the 30-year-old says, it was "an opportunity that fit all of those categories for me. This is the place where I think we can really do something special. It's not a position that I would take if I didn't wholeheartedly believe we can do great things here."
After living in four states over the last eight years, Davis is glad to be setting down in one place for a while. "It can be challenging to move around a lot and find yourself in a new city every couple of years," she says. "I've enjoyed that experience, but I'm also looking forward to being here for a while, getting settled in, and really developing the program as well as becoming a part of the BU community and Boston as a whole."
Former colleagues say Davis has both the skill set and the résumé to make a significant contribution to the women's rowing program.
"She learned a lot of rowing at Princeton and being an assistant coach at Stanford, as well as being an assistant and associate head coach at Ohio State," says Davis' former boss Andy Teitelbaum, Ohio State's women's rowing team head coach. "That's a lot of championship experience that she's been part of and that she's been able to help cultivate."
Some Terriers acknowledge that they were unsure about what to expect before Davis arrived. "You hear a lot about coaches, and you can look people up pretty easily," says women's rowing captain Erin Gannon (CAS'18). "Seeing her record in the schools she had coached at previously, I was a little bit intimidated."
Davis projects a no-nonsense personality and she isn't shy about making clear her high expectations, for rowers, staff, and herself. But she's quickly earned a reputation for fairness and for determination to help her athletes develop to the fullest.
"Meeting her in person, she was superfriendly and really wanted to get to know us, more so than us getting to know her. It was really nice to have a coach that was interested in individual differences," Gannon says. "With a team that's currently a little bit smaller than normal, you need every single member of the team to thrive. She knows exactly how to get each person on the team to reach their full potential, and I think she does that by treating everyone equally, but also by helping each individual person get to be the best teammate they can be."
Although Davis' work at BU has just begun, the program is already feeling her impact. "It's fun to see the gains the team has been making," says women's rowing assistant coach Matt Hanig. "That's been the most fun, to see the system that she has brought in and see the team really improve in just the last month and a half since they got on campus."
This weekend's Head of the Charles is Davis' first significant outing since she came on board, but she is clear about what she hopes to create. "How I want to be thought of by my athletes and by my peers is that I've always been a coach who helped her athletes achieve the most they can, and that I have been able to maximize these student-athletes' time here," she says. "It's really important to me that the athletes on this team are good people and that we have a strong team culture of support and love. If that's the legacy that I leave—that we've won a lot of races, won a lot of championships, but also developed as people, that my athletes leave here feeling that they're not only better rowers but better people for having been at BU—that'll be success for me."
The 53rd annual Head of the Charles regatta begins at BU's DeWolfe Boathouse, 619 Memorial Dr., Cambridge, on Saturday, October 21, at 8 a.m. and continues on Sunday, October 22. Find race days and times here. The awards ceremonies will be held Saturday at 3 and 5 p.m. and Sunday at 3 and 5 p.m. at the Attager Row tent at the Finishing Area Launch Site.
Note: Memorial Drive in Cambridge will be closed from the Cambridge Boat Club to Western Avenue from 8 a.m. to 7 p.m. both Saturday and Sunday.
View of a live webcast of the regatta here.
Jonathan Chang can be reached at jchang19@bu.edu.