Helping Creativity Flow
Alt-comics legend Lynda Barry gives CGS Stone Lecture tomorrow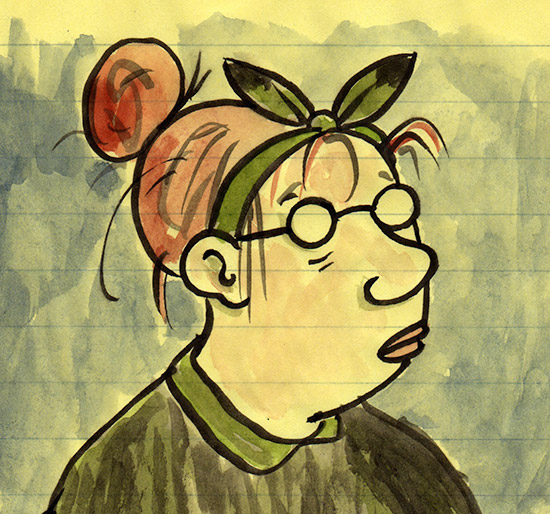 Ladies and gentleman, giving this year's Stanley P. Stone Distinguished Lecture…it's Professor Skeletor! 
OK, not really. It's actually alternative comics great Lynda Barry, creator of the late, lamented weekly strip Ernie Pook's Comeek. Also the author of several graphic novels, Barry has reinvented herself as a creativity guru—although she'd hate the g-word—helping would-be artists break through self-imposed barriers to find creative fulfillment. In the Making Comics class she teaches at the University of Wisconsin–Madison, she starts the process by having her students adopt classroom aliases.
"We have Cactus and Goodfella and Hoops, Sister Mary Ignatius—who's a dude—and I'm Professor Skeletor," Barry says.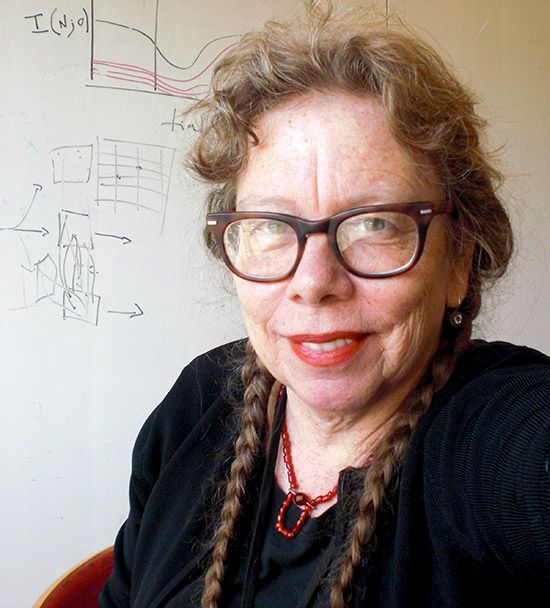 It's a little trick to take away students' self-consciousness, one of several ways she tries to free up their hands for drawing. She also encourages physically stretching their hands, timed no-stopping drawing exercises, and assignments like "draw yourself as Batman."
Barry comes to BU to deliver the annual Stone Lecture tomorrow, November 9, at Sleeper Auditorium, in an event also supported by Kilachand Honors College. The lecture series brings notable speakers to the College of General Studies. While on campus, she will also visit the Serious Comics course taught by Davida Pines, a CGS associate professor and chair of the division of rhetoric, who suggested her for the lecture.
The beloved Ernie Pook comic strip chronicled the adventures of the emotional, smart-mouthed, and somewhat autobiographical eight-year-old Marlys as she sought her bliss and licked her wounds in a confusing and contradictory world. After nearly three decades of strips, Barry ended the comic in 2008, as the alternative-newspaper industry expired (collections are available). Now she focuses on another passion: examining the creative impulse and how to set it free.
"In college, I had a teacher who asked me this question: what is an image?" Barry says. "I have a lot of different answers to what it is, and its function, and it started me thinking about what the biological function of this thing we call the arts might be."
She followed her curiosity to academia, becoming a UW associate professor of interdisciplinary creativity and offering weeklong creativity workshops around the country. "I'd say only about a quarter of the students feel really comfortable drawing, and maybe a third of them don't feel terrified," she says. "Two thirds feel terrified and want to start crying, and those are my favorite people to work with."
That's because their drawing style is unchanged from the time they quit, she says—usually at the age of 8 or 10, when they realized they couldn't draw a nose or hands and gave up. "'That's it, it's all over for me, I'm washed up.' But that charming style that little kids have, that's still intact," Barry says. "And for those people, their trajectory to being able to make comics is so much faster than the trajectory of somebody who has a lot of experience doing beautifully drawn work.
"Think about it. You'd never want to see Charlie Brown with a hyper-realistically drawn nose—it would be horrifying. That little sideways parentheses is enough."
The makeup of Barry's classes at Wisconsin ranges from freshmen to PhD students, and she also works with a group of four-year-olds in a university preschool every week.
"When I came to the university," she says, "one thing that struck me was how miserable the grad students were. I thought, I wonder if I could pair them up with four-year-olds?" She started a program called Draw Bridge that did just that. "What I hoped would happen was my students would learn to borrow the kids' state of mind and learn to approach problems in a way that was less tight and focused, a way that was happier and set the conditions for discovery."
Having written several acclaimed graphic novels, Barry in 2008 turned her hand to books on the creative process. She has written three: Syllabus: Notes from an Accidental Professor, What It Is, (about writing) and Picture This (about art).
Pines took one of Barry's workshops this past summer, and she now inserts favorite quotes from Syllabus in her own syllabi: Any story we write or picture we make cannot demonstrate its worth until we write or draw it. The physical act of writing or drawing is what brings the inspiration about. Worrying about its worth and value to others before it exists can keep us immobilized forever.
"I am someone who stops myself incessantly and edits avidly, and it's very difficult to get stuff on the page before I've already decided that it's not going to be good enough," Pines says. "As a composition teacher, I try to help my students not become me."
Pines says some students groan when she calls for a two-minute self-portrait, but "you don't have time to think, what's the right shape for my head? It's a playful way of letting go and getting your hand moving," she says. When the exercise is over, "my students are looser, they're happier, and they're not so sure that they can't do it."
Lynda Barry will speak on Creativity: What It Is at the Stanley P. Stone Distinguished Lecture on Thursday, November 9, at 5 p.m., in CGS Jacob Sleeper Auditorium, 871 Commonwealth Ave. The event is free and open to the public. Seating is first come, first served.