Improv comedy. The Octopus. And Bon Iver (Not Really).
Liquid Fun players on polishing their skills before Friday's show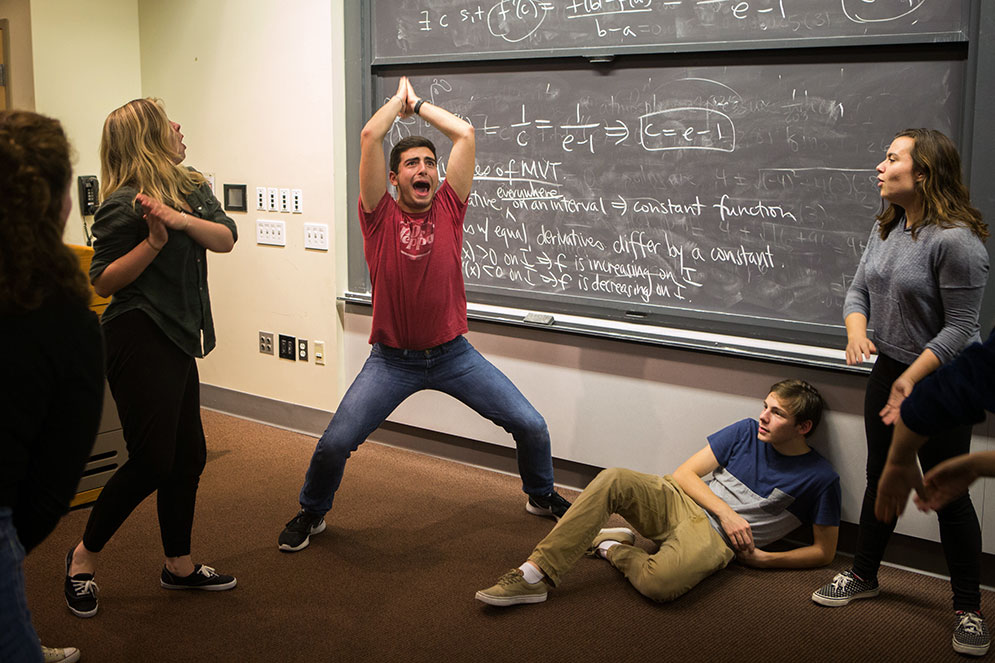 In a College of Arts & Sciences basement classroom on a Monday night, the Octopus is loose.
Half a dozen members of the Liquid Fun improv troupe stand at the blackboard, tackling the long-form improvisational comedy exercise known as the Octopus, while the evening's designated host calls out directions from the front row: It's a courtroom.
Prosecutor/victim: "She ruined my life. She killed my husband."
Defendant: "To be clear, I didn't kill your husband, and also to be clear, I'm a man."
Judge, bored: "Would it be cool with everyone if I just put in one headphone?"
Each new direction—Now you're a man. Now you're back at your law school graduation. Now you two are dogs—sends the players into another storyline or another time. Each one is a piece of the backstory, each one a new tentacle for the octopus. Sometimes the entire group roars with laughter. And sometimes the comedy goes splat.
Every Monday and Thursday, the dozen members comprising the Liquid Fun ensemble practice for their monthly shows—this month's, set for tomorrow at BU Central, is called Prescription Pillgrims. But this is improv, created entirely in the moment, so a true rehearsal is impossible—they can only practice their skills. And anyone can get in on the fun at the group's weekly open practice on Sundays, from 7 to 9 p.m., in CAS B50.
Improv has its own rules and ethics, its own vocabulary and skills, its own tribes and cults. At its heart, improv is about saying yes, about going along with whatever crazy setup is handed to you, and then taking it further.
"Just follow the laughter, see where it's going, and then get there two steps ahead," says member Jimmy Bie (COM'18).

The rehearsal's games, exercises, and scenes have names that offer few clues to how they play out, names like Whiz and Czechoslovakia, Antifreeze and Potatoes. The exception: Sex with Me (Is Like…), which is not a round of lurid true-life confessions but a rapid-fire barrage of off-the-cuff puns and gags that are unquotable in BU Today.
Interviewing Liquid Fun's executive board—president Zach Schiffman (COM'18), vice president Laura Robinson (Sargent'18), secretary Sarah Sosland (COM'18), and treasurer Bie—doesn't require a lot of prompting. These people are fast on their feet.
BU Today: What's the difference between a practice and a show?
Schiffman: We're crazy in shows, but we're a lot wackier, a lot looser here. We don't break as much in shows. We all are laughing the entire practice. But we try not to break in shows.
Robinson: I think the biggest thing for us, the reason we practice so much, is called group mind. It's basically us being able to predict and go with the rest of the group, their next steps in the scene, so we can foresee what's going to happen, or at least be able to predict where a certain person might take a scene.
Schiffman: Laura stopped the scene when I started to do this really low, gross voice, because whenever I do that voice it means the scene is just going to go south.
Robinson: Somewhere terrible.
How does it work and how do you bring in newbies?
Sosland: We're 12 people now in the Liquid Fun ensemble, and 9 of us perform in the big campus shows that get hundreds of people. We have ensemble practice twice a week, which is similar to the practice you'd have for a sport—we're working on conditioning, we're working on making our characters better, making our scene work better. And we also have the Sunday practices, which is where we get our new people. They're open to the whole BU community, and that's where we find new improvisers that really fit with us.
Schiffman: There's no pressure, no experience necessary for Sundays. There're plenty of people who want to come and have a lot of laughs and have no ambition of performing. But when someone joins the ensemble, they spend anywhere from one to two semesters working with us before they're in the shows.
Robinson: You don't have to come in with an improv background. We have people who find out they've been being silly with their friends their whole lives and it translates really well. We try hard not to be like, We're teaching you improv. It's more like, Come and play with us.
Sosland: We are so notorious for performing and for teaching at Sunday practices that we were invited to teach at a bat mitzvah recently. We taught a bunch of 10- to 13-year-olds who were honestly some of the best improvisers we've ever seen.
Robinson: And some that weren't that good, and were really terrible to work with. (Laughter)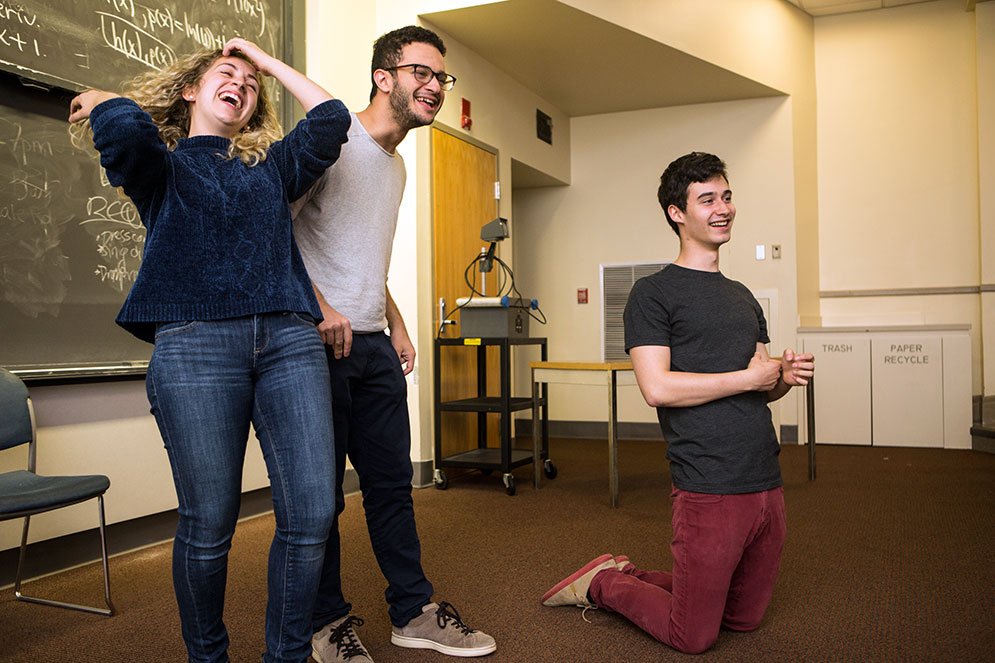 You're not all planning to go into the business, though.
Robinson: I'm in Sargent, I'm premed applying to med schools right now. I'm not going directly into a future in entertainment, which a lot of other people in this group want to do. But I have so much fun doing this, and it's made me way more confident, made me a better public speaker.
Also, you must desperately need an outlet.
Robinson: For all the stress, yes. That's why I ended up doing it. Because otherwise, how was I going to make any friends, doing work all the time? But it's a nice thing, and even if I don't go into comedy, I can use it.
So, the monthly show titles have nothing to do with anything—they're just something funny to put on the poster?
Schiffman: We've done things like Malalaland and Liquid Fun Presents All Your Stolen Canada Goose Jackets. Our first show of this year, we were thinking: how can we get the word boner on the poster on Warren Towers? So the show name was Bon Iver, like the folksinger. But on the poster we had the "Iv" faded out so it looked just like it said Bon er.
Robinson: And the poster had a Photoshopped picture of Bon Iver on it, wearing one of the Liquid Fun baseball shirts we wear for shows.
Schiffman: And a girl showed up three hours early for the show expecting Bon Iver to be there. And we were like, uh, noooo.
Robinson: And she was very mad.
Sosland: But it turned out she was also a fan of improv comedy.
Schiffman: And she gave us notes after the show.
Liquid Fun performs Prescription Pillgrims tomorrow, Friday, November 10, at 8 p.m., at BU Central in the GSU basement, 775 Commonwealth Ave. Admission is free. The group's open practices are Sundays at 7 p.m. in CAS B50. Find more info or sign up here.