A Global Taste of Honey for Questrom Grad Student
Company mixes sweet flavors with social mission
During the summer months, we are revisiting some of our favorite BU Today stories from the past year. This week, we feature a few inspiring students.
Brian Woerner has been chased out of Guinea by the Ebola virus. He has dug a beehive from under a termite mound in Tanzania. But the experience that really changed the BU graduate student's life was locking himself out of his Harvard Square apartment.
That typical college mishap in 2015 led to his role as chief operating officer of Follow the Honey, Inc., a Cambridge-based global business with prosocial buzz. The store, opened in 2011, sells honey from Colombia, Tanzania, India, and other locations—and sends revenue back to local beekeepers who would otherwise be limited to local buyers and prices.
The woman who sublet a bedroom to Woerner (Questrom'17, GRS'18) in Cambridge also gave him a jar of Zambezi honey from southern Africa with the Follow the Honey logo on it. "She said I should go check this shop out, because she knew that I had been involved in beekeeping in Guinea," he says. "I ate all the honey and kept telling myself I would go down to the store and check it out, but I just didn't."
Then, taking out the trash one cold October day, he accidentally locked himself outside in the rain wearing shorts and flip-flops. Having spent much of the previous three years with the Peace Corps in Africa, he wasn't used to the cold, so he looked for a place to warm up. "The honey shop popped into my head," he says.
There he met Follow the Honey founder Mary Canning. He told her what he had been doing in Africa, and she told him about her business-with-a-mission and her plan to help indigenous producers escape poverty by selling their honey as a gourmet product here. "I think I had a job before we even went out for coffee," he says.
Woerner is now part of that mission. On another recent cool day, he offers samples of several different honeys in Follow the Honey headquarters, a crowded below-grade storefront at 1132 Mass Ave, on the eastern edge of Harvard Square. The tastes of each depends on several factors, mainly the type of flowers the bees have grazed on for nectar. Licked from the end of a wooden sandwich stick, the honey from Barre, Mass., tastes of butterscotch and berries thanks to the wildflowers that feed the bees there.
"I'm not much of a honey sommelier," Woerner says, going light on jargon as he serves up Tupelo honey from the Louisiana bayou and Red Bamboo honey from Carlisle, Mass., as well as others from Colombia and Chile.
Then he taps one of the white plastic buckets of Tanzania Asali (Swahili for "honey") that just arrived. "It's a product four years in the making," he says proudly, offering a dollop. "It's very dark, smoky, almost like molasses, chocolatey."
The shop is crammed with honey products and bee paraphernalia, from copies of The Practical Beekeeper and honey hand creams and lotions to honey-infused chocolates, beeswax candles, and bee-inspired earrings and greeting cards. Here and there are large honey-filled chrome cans with a spigot at the bottom, like the kind you refill your olive oil bottle from at Whole Foods. There's even a working beehive on the back deck.
Woerner spent more than two months in Tanzania in 2016, working with Follow the Honey Tanzania's local cofounder, David Camara, to set up operations and learning about the local bees, including a stingless variety that builds its hives under termite mounds.
Human rights honey
Davis, Calif., native Woerner graduated from California State University, Sacramento, in 2010 with a degree in entrepreneurship, then traveled in Europe, where he did a stint working at an organic orchard in France.
"Actually—fun fact—I'm allergic to bees," he says. "Not like anaphylactic shock allergic, just a severe localized reaction. I won't go down with one sting. But I try to use caution when I'm beekeeping."
Still searching for meaning after Europe, he joined the Peace Corps, working on agricultural projects with locals in Guinea. Beekeeping initially was a side project, but one that took more and more of his time.
"We were building beehives out of frigging African mahogany, because that's what there was. It's crazy," he says, shaking his head. "We made some very nice hives and got bees into them. But the community was very hesitant to get involved in beekeeping. The way it's traditionally been done, the men go out and do the slash-and-burn, smoke 'em out, fire 'em out, and take everything. So we were trying to introduce a more sustainable way to get honey. We were having some success—and then I was evacuated due to the Ebola outbreak."
Regrouping, he enrolled in a dual degree at BU in fall 2015, aiming for an MBA from the Questrom School of Business and a master's in international relations from the Pardee School of Global Studies. Woerner wasn't quite sure where he wanted that study to take him until he found his way to Follow the Honey.
Canning, a former WGBH-TV producer on Frontline and Nova, got into beekeeping on her 18 acres in Warwick, Mass., then met a group of women beekeepers while on a trip to India. That gave her an idea. She started out selling honey from Massachusetts producers at farmers markets before opening the Cambridge store, and she now has a handful of employees. Although the store still carries other producers' products, she is trying to sell the honey largely from the supply chains she has created to "incentivize conservation."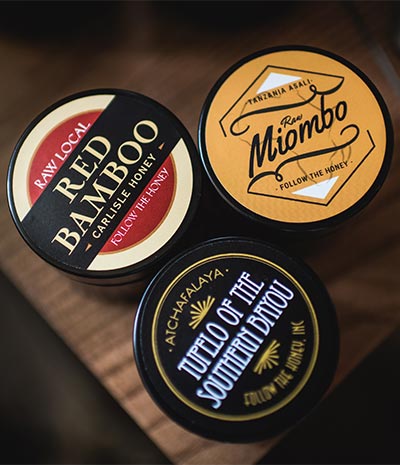 She calls her product "human rights honey," because harvesting and marketing it helps indigenous people escape poverty. This is natural honey that respects the environment, honey that can be sold as a single-source, gourmet product back in the First World. The company works, where possible, directly with producers, without the usual middlemen siphoning off the profits, which gives more money to the farmers themselves.
In addition to Tanzania, she has deals in various stages in Colombia, Chile, Ethiopia, India, Malawi, Nepal, and Peru. She likes to call her projects in each country "sweet acts of subversion."
"Most honey is traded as a commodity product—imported to the United States from Vietnam in bulk, for example, for less than 75 cents a pound," says Follow the Honey chief financial officer Ingo Winzer (Questrom'77), Canning's husband. "The actual producer may get no more than 10 cents a pound. By creating demand for a premium product that can command a premium price—up to $20 per pound—Follow the Honey was able to provide a farmers' cooperative in Oaxaca, Mexico, a price near $2 per pound for 2.5 tons of honey, even after the distributor took a cut."
With Canning offering him equity, a title, and a key role in the fledgling company, Woerner went to Tanzania, the company's biggest overseas operation, during spring break 2016, and with funding from Questrom, again for eight weeks in the summer.
"He of his own volition decided rather than go on spring break he was going over to Tanzania," Canning says. "I was so touched that he saw the mostly unlikely partnership between me and David, this African man and this American woman, and he was like, yes. He got the power of it. And I just knew, with no hesitation at all, that he was our chief operating officer."
Woerner used some of his Questrom business savvy to work on getting government buy-in for the project, met with stakeholders from beekeepers to government ministers, set up or inspected processing facilities, registered with the US Department of Agriculture, and helped assemble articles of incorporation. He gave a 90-year-old beekeeper his first bee suit. He also gained confidence in the idea that business and prosocial mission could work together.
"It gave me a huge perspective on unleashing the potential value there, which I already knew from the Peace Corps," he says. "It's the idea of what can happen if you can connect some of these organic, highest quality products to markets that can afford them. And it's not limited to honey by any means."
The first Tanzanian honey, a metric ton in 35 plastic 5-gallon food-grade buckets—by far the company's largest direct shipment yet—arrived in Cambridge just before Christmas.
Woerner graduated from Questrom in May, and he has received a Foreign Language Areas Studies Fellowship to study Swahili while finishing the international relations portion of his degree at Pardee. "Better knowledge of Swahili is of course critical to effective research and my Tanzanian role with the company," he says, "especially as postgraduation I plan to increase my time in East Africa following the honey."