Expanding Howard Thurman Center to Move to 808 Comm Ave
Dedicated to seeking common ground, staff, programs have already grown
Thurman Center to relocate from GSU to 808 Gallery over next two years
Multicultural center's space expanding by factor of five
Staff, programs boosted to bridge racial, cultural divides on campus
---
It began as an introspective conversation at BU following well-publicized incidents of racism, and protests against them, at the University of Missouri in 2015. It has culminated in a massive expansion, with enhanced visibility, of the University's center for bridging race and culture divides on campus.
Over the next two years or so, the Howard Thurman Center for Common Ground (HTC) will move from the basement of the George Sherman Union to the 808 Gallery at 808 Commonwealth Avenue. It will occupy about 19,000 square feet, spread evenly on the first and second floors, a fivefold expansion of its current space. The new center will occupy two-thirds of what has been the 808 Gallery, which will continue to operate in the remaining third.
"We're very excited," says Katherine Kennedy, HTC director. "We're going to be able to focus even more on our students' racial, ethnic, and cultural identities."
In fact, even before getting the future elbow room, she says, the HTC has received an infusion of resources, more than doubling its full-time staff to seven and tripling its part-time staff of graduate students to three in the last year. The center's corps of part-time undergraduate workers, now 8, will expand to up to 20 in the new space.
The number of programs has already jumped 20 percent. "We're working with a lot of departments around the University that we didn't work with before," says Kenneth Elmore (SED'87), associate provost and dean of students, who cochaired the task force that recommended the expansion.
Elmore cites the example of HTC's cosponsoring a College of Communication event on sports and race last spring. And with assistance from Virginia Sapiro, a College of Arts & Sciences professor of political science and former dean of Arts & Sciences, the center has launched faculty and student forums, "pretty much a monthly program where we look at contemporary issues," Elmore says. Recent discussions have spanned last summer's racist rally in Charlottesville, Va., tensions with North Korea, and the human genome.
The expansion distinguishes BU from other colleges and universities, which have separate, multiple centers based on race or culture, Kennedy says.
"With one center working to build common ground amongst all people…we are encouraging everyone to share these valued heritages," she says. "That's what sets us apart in the United States and that's what we're excited about.…The University is making a statement" with the expansion.
Gary Nicksa, senior vice president for operations, estimates that it will take about a year to design and get public approvals for the new center, and renovation of the 808 Gallery will take another 12 to 18 months. The current center will remain open until the new space is ready.
The new digs are both historically significant and more visible than the center's current address. Designed by the renowned architect Albert Kahn as a Cadillac-Oldsmobile dealership when Comm Ave was an auto retailing mecca, the 1927 Classical Revival building is on the National Register of Historic Places.
Elmore says the building, with its floor-to-ceiling windows dominating the corner of Comm Ave and Essex Street, is less cramped and more welcoming than the Thurman Center's current basement location, which draws about 500 people weekly. "I hope even more people say, 'What is this?'" he says. "It's open and it invites you in."
The HTC was created more than three decades ago and named for Howard Thurman (Hon.'67), dean of Marsh Chapel from 1953 to 1965, the first black dean at a mostly white American university. A mentor to, and influence on, many civil rights leaders, among them Martin Luther King, Jr. (GRS'55, Hon.'59), Thurman preached a philosophy of common ground, which taught that humans need to seek an inner spiritual happiness that would lead them to share their experience in community with others. The center's expansion follows meetings in fall 2015 with students, Robert A. Brown, BU president, Jean Morrison, University provost, and Elmore in the wake of the Missouri unrest.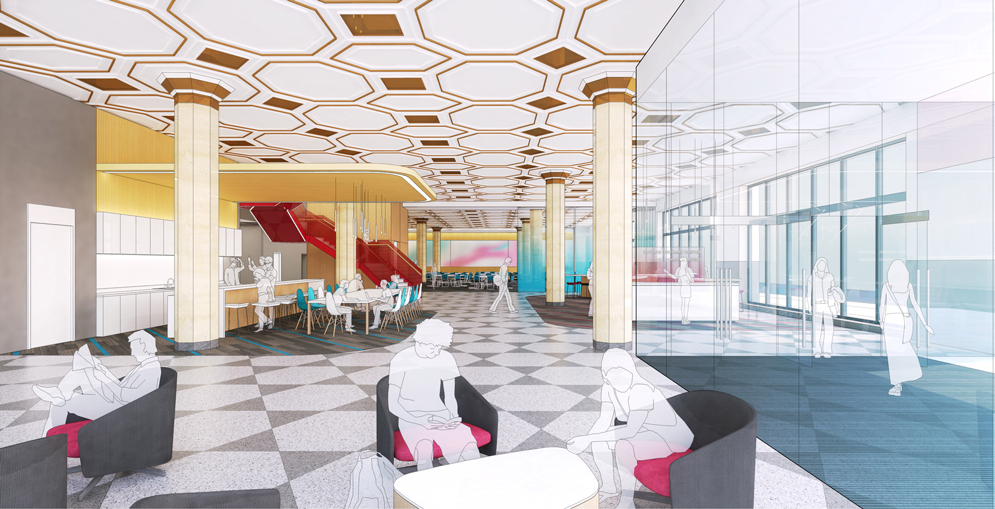 The meetings included students of color and from the LGBTIQ community and prompted Brown to appoint the task force "to propose an expanded and more visible" Howard Thurman Center "that can be a place to establish the inclusive community we all desire."
The task force held what the University called listening sessions, where students and staff testified to the center's role in helping them exchange ideas and build relationships.
"These conversations," Brown wrote, "have helped us to understand the climate on campus, as well as areas in which we need to focus our attention and expand existing efforts to promote inclusion. We will provide the space and financial resources to enact the [task force's] recommendations."
"This is an exciting moment for our community," Morrison says. "We are realizing the vision for an expanded, state-of-the-art presence for the Howard Thurman Center in the heart of campus—one that provides the prominence and visibility essential for fulfilling its mission of engaging students in conversation around common ground."
The new center will serve the University "well into the future," she says, "and further our goals to create a more diverse and inclusive BU."