CReM Stem Cell Researcher Is Innovator of the Year
Gustavo Mostoslavsky invented tool facilitating cell production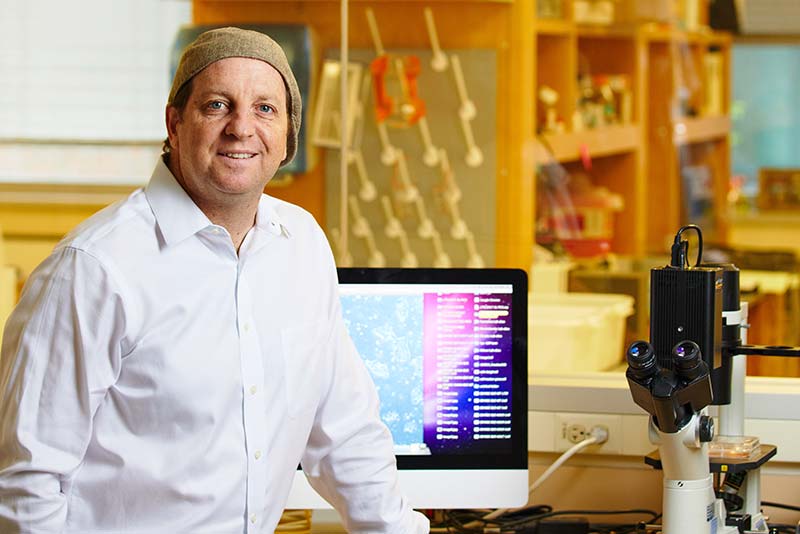 Those who know ancient history—the first decade of the 21st century—recall that embryonic stem cell research was a combustible issue, with supporters cheering the potential to create new tissues from stem cells and opponents decrying the destruction of human embryos that it required. A breakthrough arrived in 2006, when a Japanese researcher developed induced pluripotent stem cells (iPS), adult cells that behaved like embryonic stem cells and had an amazing ability to develop into muscles, skin, nerves, and almost any other cell type. Two years later, a second breakthrough, this one by Gustavo Mostoslavsky, a Boston University School of Medicine associate professor of gastroenterology, produced a tool that made it simpler and more efficient to generate iPS. BU patented his tool, called STEMCCA, and he says that it's been adopted by more than 700 laboratories worldwide for making iPS.
That contribution to the field has earned Mostoslavsky the 2017 University Innovator of the Year award. The BU Technology Development office presents the award to a faculty member whose research yields inventions or innovations benefiting society. Mostoslavsky received the award at BU's annual Tech, Drugs, and Rock 'n' Roll networking event connecting BU researchers and Boston entrepreneurs.
"I was humbly surprised and happy," he says, when Gloria Waters, vice president and associate provost for research, emailed him the news. "Sometimes it is easy to lose perspective when we get busy on the many tasks of running a lab—grant writing, mentoring, budget, and so forth—so I guess it is nice, once in a while, to just stop and enjoy the moment, enjoy what we have done so far, and even better, if on the way we have helped many others succeed."
One way Mostoslavsky has helped others succeed—the way that makes him most proud, he says—is to have cofounded, in 2010, BU's Center for Regenerative Medicine (CReM), which he codirects. The center, which pursues stem cell research with an emphasis on lung, blood, and gastrointestinal tract diseases, practices open-source biology—sharing its discoveries with scientists around the world for free rather than patenting them. In 2013, CReM moved into its own physical quarters on Albany Street on BU's Medical Campus.
"I am delighted to see Dr. Mostoslavsky's colleagues choose him for this award," says Waters. "STEMCCA has dramatically improved the efficiency with which new stem cells can be generated to treat disease. His success in patenting a tool that has become industry-standard, at the same time as he and the codirectors of the CReM have become renowned for their open-source biology, serves as a model to students and other researchers of how to advance science through sharing, at the same time protecting important intellectual property."