Inflatable Art Fills 808 Gallery Top to Bottom
Claire Ashley's sculptures offer whimsy with a political undertone
If you've passed the 808 Gallery during the past few weeks, chances are you've noticed passersby craning their necks for a better view inside. The massive interior has been filled with bold, exuberant inflatables, some so large they touch the 17-plus-foot ceilings, others nestled together in piles, one atop the other. Some suggest animal shapes, with an eye, limb, or hand visible, while others look like a bouncy house that's seen a bit too much wear and tear.
The exhibition, with the seemingly indecipherable title (((CRZ.F.4NRS.AAK))), which when deciphered is Crazy Female Foreigners Alive and Kicking, is the work of Oak Park, Ill.–based artist Claire Ashley, who somewhat self-deprecatingly describes her art as "a Macy's Day Parade–scaled SpongeBob meets a My Little Pony toy meets a bounce house or blimp meets an alien life form from another dimension." (She's an avowed Star Trek fan.)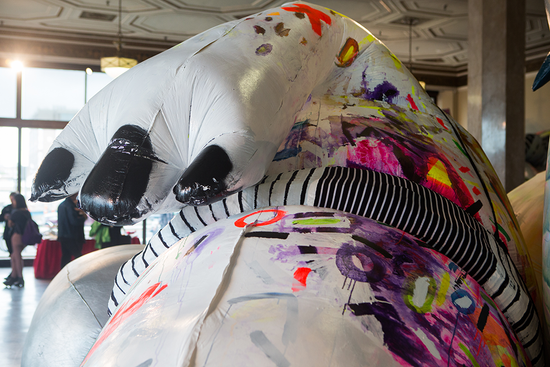 The sculptures are on view through early December. Many bear graffiti-like abstract designs painted in phosphorescent pink, orange, and yellow-green, giving the whole space a kind of psychedelic energy. Ashley admits to having "a terrible obsession with neon pink and yellow." Originally from Scotland, she says her palette was inspired not by the Haight Ashbury of the 1960s, but by the New Wave youth culture that gripped the United Kingdom during the 1980s. "The street art and neon fashion palettes of the 1980s are ingrained in my history, and today I very much understand that urgent need for counterculture at this moment in space and time," she says.
Ashley says that her inflatables explore the intersection of painting, sculpture, installation, and performance art, and through them she's trying to push the preconceived boundaries of those art forms. At the show's opening reception last week, four College of Fine Arts students recruited from a movement class taught by Yo-EL Cassell, a CFA assistant professor of movement, rolled around inside some of the inflatables. "It is more about upsetting the applecart somehow in terms of how people understand painting or sculpture as potentially existing," she told one interviewer.
Trained as a painter, she's always sought out a "more physical, sculptural, irreverent challenge to the traditions of the medium," she says. Dissatisfied with the flat surface or straight edge of painting, she turned to inflatables a decade ago while raising three small children who gravitated toward plush toys, balloons, cartoons, and bouncy houses. "I was interested in harnessing that kinetic energy in my work," she says, adding that she was trying to embed a sense of humor as well.
And there's no debating that there's something whimsical, even goofy, about some of the work. But behind that whimsy, Ashley is making a serious statement, both artistically and politically. "I work within a deeply feminist critique of the contemporary art world," she writes. "I use humor, acidic color, obnoxious scale, and absurd pop-culture references to challenge art's historical precedence and current art world power dynamics." Her goals are ambitious: she says that she's trying to explode "the structural possibilities of abstract painting, expanding the kinetic possibilities of monumental sculpture, and enlivening the dialogue around contemporary art across class, gender, age, and education."
The materials she works with—from PVC-coated canvas tarpaulins, Rust-Oleum spray paint, and duct tape to blower fans and children's backpacks—also make both a political and artistic statement. Choosing to work with what she describes as "low-brow, mundane, unconventional materials," she's seeking to provide "democratic access to contemporary art," and create "a deliberately egalitarian and generous collection of humorous and formal entry points for multiple communities to engage with my work."
Even the translation of the coded title of the 808 show, Crazy Female Foreigners Alive and Kicking, is political, and in a way, defiant.
"As a female foreigner myself, I, like many, am simply dumbfounded and frankly terrified by the current political situation, so it felt like a coded response was necessary, something that could be interpreted by the next generation as a call to arms," Ashley says. "My feminist response is always to be as loud and brash as possible through my work. My monumentally obnoxious sculptural painted inflatables are foreign female bodies in space, self-portraits as it were, living and breathing, alive and kicking, making their presence felt."
Joshua Buckno (GRS'05, Questrom'14), managing director of the BU Art Galleries (BUAG), says he and colleague Lynne Cooney (GRS'10,'16), BUAG artistic director, had been thinking about the growing presence of inflatable art for a while. Ashley's inflatables have been exhibited internationally, and her name kept surfacing as they researched contemporary artists working in the medium. Buckno says they were drawn to the painterly aspect of her work and the fact that like many of the visual arts students at CFA, her work combines elements of both painting and sculpture. "It seemed really fascinating and a great way to show students what you can do with your creativity," he says.
Cooney hopes visitors think about their own physical scale as it relates to Ashley's sculptures, especially the more monumental ones. "It's nice to walk in and out of different scales. There's a nice sort of resonance with your own body," she says. "Claire's work conveys the body in an abstract and playful way."
And it's that sense of playfulness that Ashley hopes visitors engage with. "Humor is vital in my work. It keeps the work real and alive," she says. "It keeps me grounded and makes the work immediately available to those looking at it, which I believe is urgently needed in the art world right now."
Claire Ashley: (((CRZ.F.4NRS.AAK))) is on view at the 808 Gallery, 808 Commonwealth Ave., through Sunday, December 3. Gallery hours are Tuesday to Sunday, noon to 5 p.m., Thursday noon to 8 p.m., closed Monday and major holidays. The exhibition is free and open to the public.