BU Today's Roadmap for a Fun-Filled Thanksgiving Weekend
Where to eat and shop, what to watch, and much more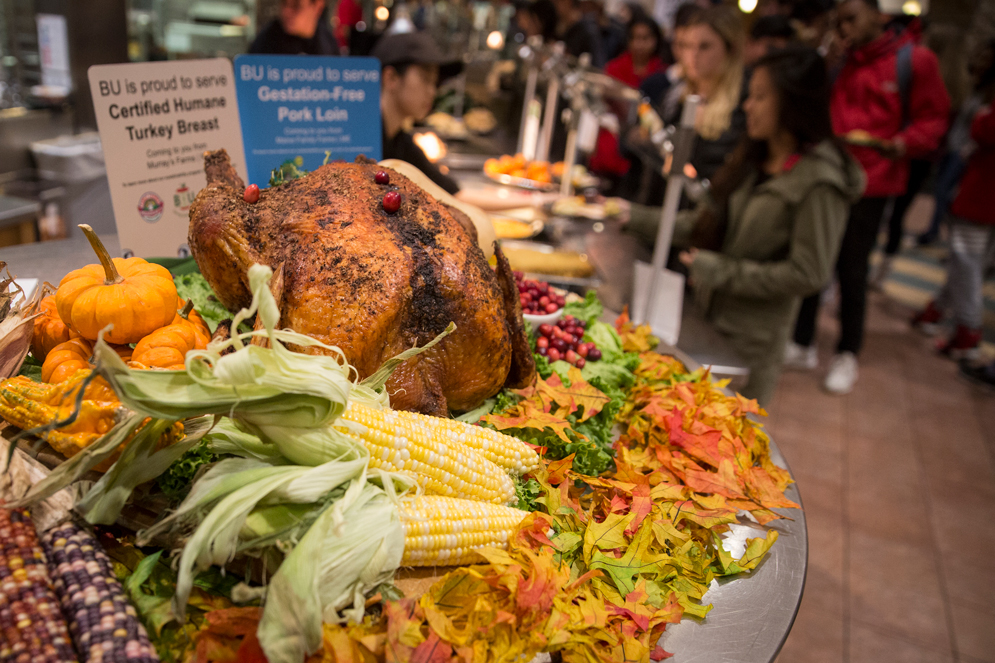 Terriers staying in Boston can feast on a Thanksgiving dinner on campus 
Performances, museum exhibitions, and sports games on tap
Black Friday sales at many Boston-area shopping spots
---
The week of Thanksgiving Day is one of the year's busiest for travel. An estimated 50.9 million Americans are expected to go more than 50 miles from home for the holiday this year, according to the Automobile Club of America, a 3 percent increase from 2016.
But if you're staying in Boston this weekend, there are plenty of events and activities to keep you entertained. We've put together a list that should help you get in the holiday spirit.
Where to eat
BU students who can't make it home for the holidays can enjoy a traditional Thanksgiving feast at the Fresh Food Company at Marciano Commons. On offer are classic dishes such as herb-roasted turkey breast, roasted Brussels sprouts, New England butternut squash bisque, cheddar mashed potatoes, pumpkin pie, and more.
The BU traditional Thanksgiving Dinner is Thursday, November 23, at Marciano Commons, 100 Bay State Road, from 1 to 3 p.m. Students can use their meal plan, dining points, guest meals, or convenience points ($12.55) or pay with cash or credit card ($15.65).
What to watch
For many Americans, the holiday season officially arrives with the spectacular Macy's Thanksgiving Day Parade, which makes its way through Manhattan, winding up at the flagship Macy's store. Each year, over 3.5 million people turn out to watch the parade and at least 50 million enjoy the entertainment at home. This year's lineup: Leslie Odom, Jr., Andy Grammer, the Goo Goo Dolls, the Muppets, the Radio City Rockettes, a dozen marching bands from across the nation, thousands of cheerleaders and dancers, 30 floats, and popular parade balloons like Charlie Brown, SpongeBob SquarePants, the Grinch, and the Pillsbury Doughboy, topped off with an appearance by the man in the red suit.
The Macy's Thanksgiving Day Parade airs on NBC from 9 a.m. to noon on Thursday, November 23.
Would Thanksgiving Day be complete without watching football from the couch in a food-induced stupor? The Turkey Day face-offs begin with the Minnesota Vikings in Detroit playing the Lions, then the Los Angeles Chargers (who haven't played on Thanksgiving Day since 1970) in Dallas against the Cowboys. Last, the Washington Redskins play at home vs the New York Giants, one of the league's oldest rivalries.
The Vikings vs. Lions football game airs on Fox at 12:30 p.m., the Chargers vs. Cowboys on CBS at 4:30 p.m., the Giants vs. Redskins on NBC at 8:30 p.m.
What to do
Indulge in your Thanksgiving feast guilt-free by participating in the fifth annual Franklin Park Turkey Trot. Not only will you burn off calories, but raising funds to support Franklin Park's seasonal programs, from concerts to woodland restoration and fitness activities. The park is part of the Emerald Necklace, Boston's interlocking series of green parks created by landscape designer Frederick Law Olmsted. Prizes are awarded to top finishers and best costumes. All ages and paces are eligible for this popular 5K run and walk—even strollers and race-ready dogs on leashes—so take the whole family.
The Franklin Park Turkey Trot 5K is Thursday, November 23, at 9 a.m. at the Franklin Park Golf Clubhouse, One Circuit Drive, Boston. Registration is $30 for adults 18+, $12 for children 6 to 17, and can be completed online. For more information, call 617-442-4141.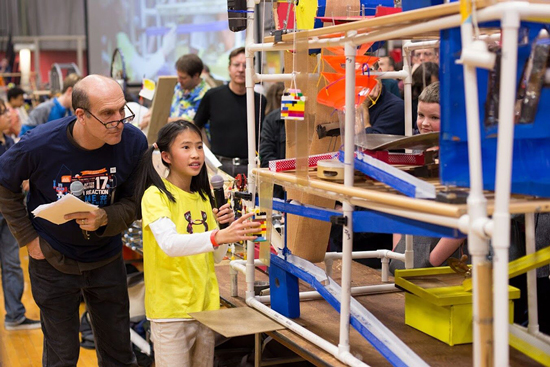 Stop by the MIT Museum for a spectacular local engineering happening. The annual event attracts teams comprising more than 1,500 inventors, engineers, and the general public, who put together contraptions, then link them together to create one sensational reaction. This year's theme, Twice (2x) as Nice, celebrates the event's 20th anniversary and promises "2x the fun." Activities begin at 1 p.m. and the chain reaction kicks off at 3:30. It's a feat you have to see to believe.
The MIT Museum's Annual Friday After Thanksgiving Chain Reaction is from 1 to 4 p.m. on Friday, November 24, at MIT's Rockwell Cage Gymnasium, 106 Vassar Street, Cambridge. Buy tickets online before November 22 to receive a discount: tickets are $12.50 for adults ($15 at the door) and $5 for students, youth 5 to 18, seniors, and active-duty military, and include admission to the MIT Museum on Friday. 
Macy's Boston, in the heart of Downtown Crossing, kicks off the Christmas season with a day of family-friendly holiday festivities. It starts at noon with Family Fun Day in the store's kids department with activities like face-painting and balloon art. At 5 p.m, store unveils its holiday windows and lights the store's annual Christmas tree. Watch performances by local celebrities and Santa Claus will be on hand for pictures.
Macy's Annual Family Fun Day is from noon to 4 p.m. in Macy's kids department, 450 Washington St., Downtown Crossing. The tree lighting and window unveiling is at 5 p.m. outside the store on Summer Street, free and open to the public. 
Conductor Andris Nelsons and the BSO perform a concert of music by Beethoven and Bruckner, with renowned Austrian pianist Rudolf Buchbinder on Friday afternoon and Saturday evening at Symphony Hall. They will performBeethoven's Piano Concerto No. 1, a grand work that helped propel Beethoven into the spotlight, and Anton Bruckner's Symphony No. 4, one of the Austrian composer's most popular. BU students should register their BSO College Card for a chance to get free rush tickets.
Andris Nelsons conducts Beethoven and Bruckner at Symphony Hall, 301 Massachusetts Ave., at 1:30 p.m. on Friday, November 24, and at 8 p.m. Saturday, November 25. Find directions here and ticket prices, which vary by performance, here.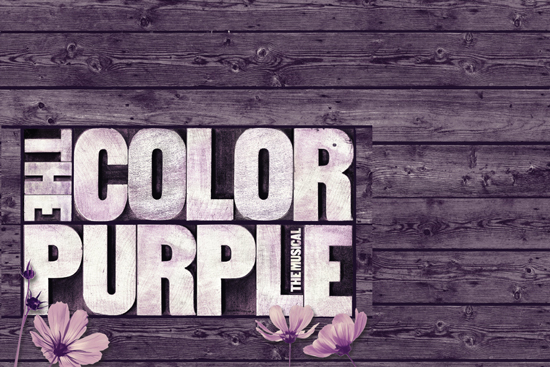 Based on the Pulitzer Prize–winning novel by Alice Walker, this musical—first staged on Broadway in 2005 and revived in 2015, winning the 2016 Tony Award for Best Musical Revival—is in Boston for a limited run through December 3. With a rousing score of jazz, gospel, ragtime, and blues, it's the story of a young African American woman and her journey through adversity to love and triumph.
The Color Purple runs through December 3 at the Boch Center Shubert Theatre, 265 Tremont St., Boston. Find directions here. Tickets start at $48. Find special offers for tickets here. Purchase tickets here. A limited number of $24 student rush tickets are available two hours prior to curtain at the Boch Center box office. Valid student ID required; two tickets per ID; cash only.
One of Boston's most beloved holiday traditions returns : Boston Ballet's The Nutcracker, choreographed by artistic director Mikko Nissinen. The lavish production has lush costumes and sets and unforgettable dancing and choreography. Who could resist the magical story of Clara and her Christmas Eve journey into an enchanting world of toy soldiers, dancing snowflakes, and sugar plum fairies, set to the masterful score by Tchaikovsky?
Boston Ballet's The Nutcracker is at the Boston Opera House, 539 Washington St., Boston, from November 24 through December 31. Purchase tickets here or call the box office at 617-695-6955. Tickets range from $35 to $275; senior and student rush tickets are available for $25 for shows that are not sold out, cash only, one ticket per ID, starting two hours before curtain (not available for weekend matinees).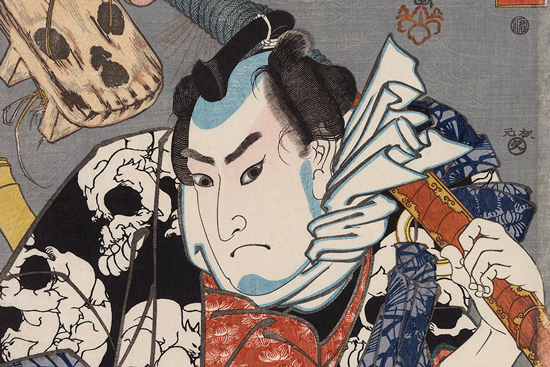 This spellbinding exhibition is an homage to Utagawa Kuniyoshi and Utagawa Kunisada, the two best-selling designers of ukio-e woodblock prints in 19th-century Japan, with more than 100 outstanding works from the MFA's extensive Japanese collection. Kunisada, the popular favorite during his lifetime, was known for portraits of Kabuki theater actors, depictions of women, and historical scenes. Kuniyoshi's work focused on tattooed warriors and supernatural monsters and is credited with influencing today's manga and anime. Decide for yourself which was the greater, but hurry—the show ends December 10.
Showdown! Kuniyoshi vs. Kunisada is at the Museum of Fine Arts, 465 Huntington Ave., through December 10. Find hours and ticket information here. Find directions here. Admission is free to BU students with a valid college ID. Closed Thanksgiving.
Dana Schutz at the Institute of Contemporary Art
This is the last chance to see the ICA's exhibition of recent work by Dana Schutz, considered one of the most influential artists working today. The New York–based Schutz is known for large, vibrant paintings combining figuration and abstraction and depicting imaginary scenarios and impossible physical feats. Her art explores fragmented bodies, commonplace objects, and everyday scenes in imaginative ways to create evocative narratives on canvas. Her work has been exhibited around the world.
Dana Schutz is at the Institute of Contemporary Art, 25 Harbor Shore Drive, Boston, through November 26. Find directions here. Hours and ticket prices, including information about discounts and free admission, are available here. Admission is free for BU students with a valid college ID. Closed Thanksgiving.
Football fans will want to see the museum's latest exhibition, Gridiron Glory, billed as the "most extensive and comprehensive exhibition ever created on America's most popular sport." It traces the sport's evolution from its infancy in the late 19th century to today's cultural phenomenon and includes more than 200 artifacts from the Pro Football Hall of Fame archives as well as footage of highlights courtesy of NFL Films. The interactive exhibition also has a section dedicated to the history of the New England Patriots.
Gridiron Glory is at the Museum of Science, One Science Park, Boston, through January 7. Find directions here and hours and ticket information here. Closed Thanksgiving.
As temperatures dip and the leaves fall, head over to the Boston Common Frog Pond for seasonal ice-skating. It's in the nation's oldest park,  festively strung with lights for the holiday season, and attracts skaters of all ages and abilities. Admission is $6 for those taller than 58 inches (free for anyone below that ). Bring your own skates or rent them on site ($12 for adults or $6 for children). Stop by the Frog Pond Café for hot chocolate, burgers, and sandwiches. Check the Frog Pond's Facebook page for updates.
Ice-skating on the Boston Common Frog Pond is Monday, 10 a.m. to 3:45 p.m., Tuesday through Thursday and Sunday, 10 a.m. to 9 p.m., and Friday and Saturday, 10 a.m. to 10 p.m. Closed Thanksgiving. 
Last year's holiday market that transformed Boston City Hall Plaza into a winter wonderland, with an ice-skating path, a selling one-of-a-kind crafts, and more returns November 24. Titled Boston Winter Presented by Berkshire Bank, it will again feature an outdoor ice-skating path, a holiday market with over 85 chalets (open through December 31), a Christmas tree maze, Santa's House, a Bavarian village, and "Vinopolis," an interactive wine and beer experience for visitors 21+. It will be open seven days a week.
Boston Winter, at Boston City Hall Plaza, One City Hall Square, is open November 24 through February 1. Check the website for hours. 
Brass music is synonymous with the Christmas season. Celebrate the start of the holidays with a festive concert that's become a popular tradition on the Saturday after Thanksgiving when Boston Tuba Christmas returns to Faneuil Hall. Tuba and euphonium players of all skill levels will perform seasonal classics. The concert is sponsored by the Harvey Phillips Foundation, which is dedicated to developing and expanding the music arts.
The 32nd annual Boston Tuba Christmas is Saturday, November 25, at 2 p.m. at the west end of Faneuil Hall Marketplace, 4 S. Market St. Find directions here. The event is free and open to the public.
Bruins and Celtics Games at TD Garden
In the mood for something other than football ? Catch a game at the TD Garden and cheer on two other Boston sports teams. The Boston Bruins take on the Pittsburgh Penguins on Friday, November 24, then the Celtics—currently holding one of the hottest winning streaks in recent history—host the Orlando Magic. On Sunday night, the Bruins are back to play the Edmonton Oilers. Find information here about the Celtics Buzzer Beater Pass, which alerts college students about last-minute discounted tickets.
The Boston Bruins–Pittsburgh Pirates game is at the TD Garden, 100 Legends Way, on Friday, November 24, at 1 p.m. The Boston Celtics–Orlando Magic game is on Friday at 7:30 p.m. The Bruins–Edmonton Oilers game is Sunday, November 26, at 5 p.m. Find directions here. Purchase tickets online or at the box office. Note: tickets to Friday's Bruins-Pirates game are in limited supply.
If you're in New York City for the holiday, you may want to head over to Madison Square Garden on Saturday for the sixth installment of Red Hot Hockey, one of the NCAA's premier hockey events, pitting BU against longtime rival Cornell. First launched in 2007, the game typically draws standing room–only crowds. The Terriers will be fighting to retain the Kelley-Harkness Cup, which they've never relinquished in Red Hot Hockey history.
Red Hot Hockey is Saturday, November 25, at Madison Square Garden, 4 Pennsylvania Plaza, New York City, at 8 p.m. Purchase tickets online. Discounted student tickets are available at the Agganis Arena box office.
Local Terrier fans can cheer on the women's and men's basketball teams this weekend. The women Terriers host rival Boston College on Sunday, November 26, at 1 p.m. at Case Gym. Later that day, men's basketball face Wheaton College at 4 p.m., also at Case Gym.
Visit Go Terriers for more information.
Where to shop
With nearly 50 stores, the Prudential Center is a one-stop-shopping mecca. With its mix of high-end retailers like Gucci and Kate Spade, more affordable options like Lord & Taylor, Barnes & Noble, Express, and Aldo, workout gear from Lululemon and Under Armour, jewelry shops, beauty specialists, and more, there's something for everyone. Numerous dining options are available, like Sweetgreen, Wagamama, Eataly, and the tourist mecca Top of the Hub, with panoramic views of the city skyline. Santa will be on hand to greet children and pose for pictures at the Belvidere Arcade through December. Check the website for sales and student discounts.
The Shops at the Prudential Center, 800 Boylston St., are open Monday through Saturday, 10 a.m. to 9 p.m., and Sunday, 10 a.m. to 7 p.m. Restaurant and Santa's hours vary. Closed Thanksgiving. Call 617-236-3100 for more information.
Connected to the Prudential Center by a skywalk, Copley Place has dozens of high-end retailers: luxury brands like Burberry, Dior, Louis Vuitton, and Versace, department stores Neiman Marcus and Barneys New York, and mid-price retailers like J.Crew and Banana Republic. Check out special deals here before heading out.
Copley Place, 100 Huntington Ave., Boston, is open Friday, November 24, 8 a.m. to 9 p.m., Saturday, November 25, 10 a.m. to 9 p.m., Sunday, November 26, noon to 6 p.m., and has special holiday hours through December. Closed Thanksgiving.
If malls aren't your thing, on Newbury Street you'll find some of the city's best shopping. The historic eight-block shopping district has an eclectic variety of apparel and accessories retailers, eateries, specialty shops, and salons. Stores range from the affordable, like H&M, Zara, TJ Maxx, and Brandy Melville, to luxury, like Dolce & Gabbana, Marc Jacobs, Chanel, and Valentino. Check here for hours and special Black Friday deals.
Looking for one-of-a-kind handmade jewelry, art, and clothing? You'll find that and more on Saturday when the galleries and boutiques that comprise Boston's SoWa (South of Washington Street) district celebrate Small Business Saturday. Here's your chance to support more than 200 independently owned businesses and local artists. Check out its website for special Small Business Saturday promotions. Participate in the scavenger hunt and you could win a $50 gift certificate for brunch at Gaslight Bistro or a $100 gift certificate for dinner at Cinquecento.
SoWa Boston is at 460 Harrison Avenue. Small Business Saturday is November 25 from noon to 4 p.m. Check businesses' websites for hours.
Formerly known as the CambridgeSide Galleria, this popular mall has been rechristened the "new CambridgeSide" and undergone a face-lift, with new railings, tiles, paint, and more. One thing that hasn't changed: it's still a prime draw for shoppers looking for Black Friday deals. With over 120 stores and restaurants, CambridgeSide is popular with shoppers on both sides of the Charles River. Expect big crowds and long lines. Check here for special deals and be sure to bring your student ID to take advantage of college discounts.
CambridgeSide is at 100 CambridgeSide Place, Cambridge. Store hours vary. 
Serious bargain hunters will want to venture to Assembly Row in Somerville, which includes an outlet mall, an entertainment complex, and more. It's home to three dozen fashion-forward, wallet-friendly, name-brand factory outlets, including J.Crew, Express, Nike, Reebok, Puma, and Columbia, as well as big retailers like Bed, Bath & Beyond and Kmart, as well as nearly two dozen eateries and an AMC movie theater. Assembly Row also boasts New England's only Legoland Discovery Center, great for families with young children.
Assembly Row, 340 Canal St., Somerville, is open Friday, November 24, 8 a.m. to 10 p.m., Saturday, November 25, 9 a.m. to 10 p.m., and Sunday, November 26, 9 a.m. to 7 p.m. Closed Thanksgiving. Phone: 617-440-5565. Find directions here. Find special Black Friday deals here.
Madeleine O'Keefe can be reached at mokeefe@bu.edu.