Trustee's Gift Ignites Student Entrepreneurship
BU Spark! connects technology ideas with expertise, funding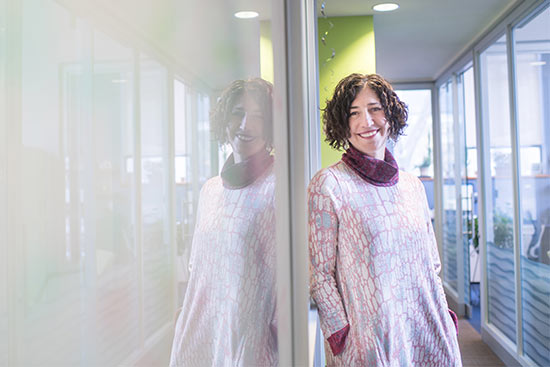 BU students have a new way to get their great ideas off their hard drives and into the world.
Created with a $1 million gift from the Mullen Family Foundation and based at the Rafik B. Hariri Institute for Computing and Computational Science & Engineering, BU Spark! is a new incubator for technology-driven student entrepreneurship. The initiative will offer programs and resources to help students pursue next-stage development of projects.
"It's really about supporting students to take their ideas to the next level, and that can be a commercial venture or developing some tool that could benefit society," says Spark! director Ziba Cranmer. "A lot of students have said to me already, 'We've got this thing, what do we do with it? What now?' I can really help them leverage expertise across colleges and centers at the University to bring the skills and the tools they will need."
BU Spark! will support ventures driven by computer science, engineering, and related disciplines. Help and advice is available from several sources, including Hariri Institute programming experts, the Questrom School of Business BUzz Lab, and graphic designers from the College of Fine Arts, Cranmer says, as well as alumni with expertise to share or money to invest.
"There's no end to who can get involved and what can be created," says BU trustee Alicia Mullen (CAS'83), founder and principal of the early-stage investment fund Washing Pond Ventures, who studied computer science at BU. The donation from the Mullen Family Foundation, started by her and her husband, Tim Mullen, will fund the first five years of BU Spark!
"There's so much already happening at the Hariri Institute, but I'd love to see the full package come together, where students have their ideas, but maybe they need other resources," Mullen says. "They're a computer scientist and they need a business resource. They need a little bit of funding. And they need somebody to mentor them. We can help."
Mullen, whose daughter, Brooke Mullen (CAS'19), is following in her footsteps by studying computer science, wanted "to create that sense of entrepreneurship and empowerment for students, so they feel that nothing can stop their ideas," says institute director Azer Bestavros, a College of Arts & Sciences professor of computer science. "Whether this results in start-ups or activism they want to do, it's up to the students to define that."
Cranmer's tasks include creating a supportive community for student innovators and developing programs and activities to serve their needs and raise the visibility of student entrepreneurship at BU.
A website, an internship program, and advisory mechanisms for vetting and support of student projects are all on the agenda. Health 123 cofounder and CEO Rebecca Norlander (CAS'91), a former longtime Microsoft executive and a BU overseer, is already ensconced as the BU Spark! Entrepreneur in Residence this semester.
Cranmer was most recently executive director of the Cambridge-based Demand Abolition program, which fights sex trafficking. Before that she was vice president for corporate social responsibility at Cone Communications and held multiple executive positions at Nike, Inc., in innovation and social responsibility.
She says that in each of these positions she found herself working with innovators in a sort of in-house start-up team, much like what she envisions BU Spark! to be. "When I was at Nike, we called it the Skunkworks, a place where you can take risks and experiment and incubate without disrupting the larger institution," she says.
Bestavros says that by the end of his first meeting with Cranmer, he knew she was the ideal candidate. "She herself is not a computer scientist, but she understands technology," he says. "Look at how she creatively connected technology with the challenges she had to face in her career. She has a unique ability to translate."