BU and Red Hat Forge $5 Million Partnership
Five-year research arrangement promises mutual benefits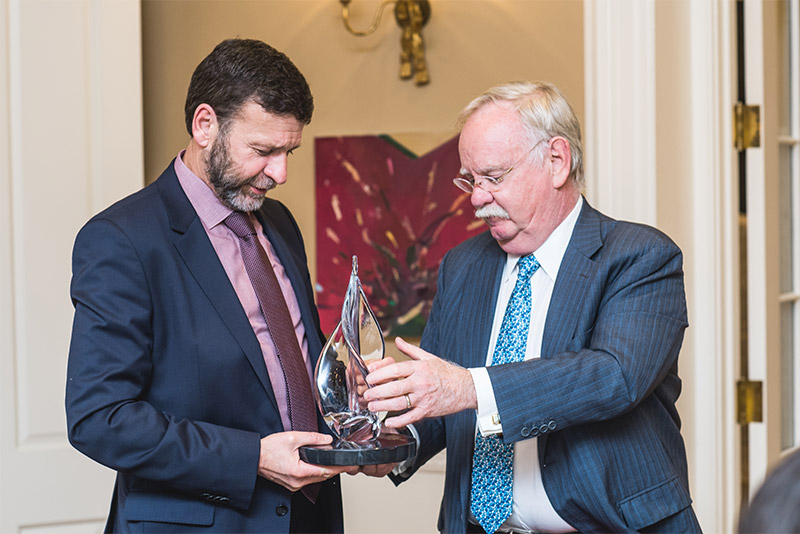 Red Hat, the world's leading provider of open-source enterprise software, is joining in a five-year-long partnership with Boston University, an arrangement aimed at advancing research into emerging and translational technologies, such as cloud computing and big data platforms. The collaboration, celebrated on January 23, 2017, at a dinner at the home of Robert A. Brown, BU president, will involve researchers from both Red Hat and BU, and will provide opportunities for students, staff, and faculty to drive new ideas and new technologies.
Orran Krieger, director of BU's Cloud Computing Initiative and the University's lead on the partnership, says Red Hat appreciated the potential of such a research collaboration after working with BU to develop software on the Massachusetts Open Cloud (MOC), at the Massachusetts Green High Performance Computing Center in Holyoke, Mass.
Krieger, who is also a BU College of Engineering (ENG) professor of the practice of electrical and computer engineering and a Rafik B. Hariri Institute for Computing and Computational Science & Engineering resident fellow, says project plans include support for two research labs, one at Red Hat's new corporate space in Boston's Seaport district and one on the Charles River Campus. The collaboration, to be managed by an oversight committee made up of key technical personnel at BU and Red Hat, calls for the creation of a Red Hat Incubator that will pursue exploratory research and development based on proposals solicited from across the BU and Red Hat communities. It will provide fellowships to selected PhD students in the BU College of Arts & Sciences (CAS) computer science and ENG electrical and computer engineering departments, as well as support for full-time and part-time postdocs and visiting scientists, among them those from universities involved in MOC projects.
Hariri Institute director Azer Bestavros, a CAS computer science professor and a key architect of the Red Hat partnership, says such cooperative arrangements between industry and academia are increasingly common as corporations come to appreciate the benefits of access to the wide range of research conducted at universities.
"This provides opportunities for Red Hat employees to be part of various kinds of research," Bestavros says. "They have access to talent, and they can connect with faculty and students. It gives them the ability to find new uses for their platform. For example, if there is neurology research, they could use it as a test bed for Red Hat software."
He says that Red Hat chose to partner with BU based on its prior collaboration with the University. "They know that we are not starting out cold," he says. "Red Hat is very interested in novel platforms that combine different technologies into a single offering. This is a way for them to get a foot in the door of a great university with very fitting research."
Jan Mark Holzer, a Red Hat senior consulting engineer in emerging technologies, says the company sees two main drivers of the partnership. "One is the ability to tap into an amazing talent pool at Boston University as potential hires as engineers and technology leaders," he says. "And the other is we also look forward to tapping into the talent pool as part of our research agenda."
Holzer says the collaboration could help academia embrace open source as a model of innovation. "The combination of Red Hat, the leader in delivering enterprise consumable open-source solutions, and Boston University, with its world-renowned research capabilities," he says, "will enable research in academia to become even more applicable to the broader industry."
"We already have an excellent relationship with Boston University through the Mass Open Cloud and that has worked really well. There is a lot of alignment already."
He says possible projects include research into better use of cloud technologies, orchestration and deployment of large-scale computer infrastructure, machine learning and automation, and containerization and microservices architectures.
Ayse Coskun, an ENG associate professor of electrical and computer engineering, has been involved in talks about the partnership. She says research in the Red Hat labs could lead to improved efficiency and security of cloud computer systems. "One key feature of systems research is that you need to have a critical mass of people doing innovative research and building systems, and Red Hat will enable that."
Coskun says one likely area of inquiry could be the development of an intelligent analytics mechanism that could synthesize data and select the most relevant to establish a model for improving the efficiency and security of a cloud computing system. "There are hundreds and thousands of metrics we can track in these systems," she says. "Research could help us make sense of those metrics and identify proactively when there is a problem with performance, efficiency, or security."
Jonathan Appavoo, a CAS associate professor of computer science, says the partnership with Red Hat gives real legitimacy to the work being done at BU. "Without deals like this, academic cloud computing research could drift slowly into inapplicability and academia could be left in the dust," says Appavoo. "Partnerships like this can give us insight and keep our work relevant with respect to what is actually happening in the commercial data centers that power the cloud. The value of a partner like Red Hat is that it is in the unique position of providing and supporting corporations with the underlying software to set up and run their own clouds. Our exposure to the details of the real-world problems Red Hat faces, on a day-to-day basis, can help inform, guide, and validate our short-term work. At the same time, we can help them look to the future and show their partners where things could evolve to."