Grammy-Winner Bramwell Tovey Joins CFA Faculty
Conductor leads BU Symphony Orchestra tonight at Symphony Hall
Bramwell Tovey was rehearsing Prokofiev's Romeo and Juliet with the BU Symphony Orchestra recently when he stopped the musicians at the movement where Romeo's best friend, Mercutio, engages in a sword fight with Tybalt, Juliet's cousin.
"The music is wonderful, because Mercutio is so funny as we know from Shakespeare's play, but Tybalt is irascible and pompous," says Tovey, the newly appointed College of Fine Arts director of orchestral activities.
He told the students that it was like the moment when a boxer sizes up his competition. "I said, 'These three bars are that: Mercutio's prowling the ring, looking at the opponent.' When I said that, a light went on, and the music just came alive."
It was the kind of teachable moment that Tovey loves to happen upon. "What I'm wanting to do to students is to turn those lights on, turn those possibilities on, and make them realize that what might have seemed an ordinary and mundane phrase actually has a deep meaning, a deep profundity," says the CFA associate professor of music.
An acclaimed Grammy Award-winning conductor, Tovey arrived at BU after 18 years as music director of the Vancouver Symphony Orchestra (VSO) (he finishes his tenure there at the end of this season). He is a frequent guest conductor of orchestras around the world, appearing often with the Los Angeles Philharmonic and the New York Philharmonic, where he was host and conductor of its popular Summertime Classic series at Lincoln Center. He has conducted for opera, the ballet, and choral groups.
Tovey is also an award-winning composer of astonishing versatility, having written operas, trumpet and cello concertos, pieces for choirs and brass bands, even film scores. His song series Ancestral Voices addresses the often-fraught relationship between the First Nations peoples of Canada and the settlers who came after them, one of the most contentious issues in Canadian history. He has also recorded two jazz albums and has appeared as a soloist (classical piano) on concert stages across the globe.
"I'm just this whole cocktail," he once told a Los Angeles Times reporter. That may be an understatement. He's also an inveterate cricket player (his beak-like visage attests to at least one broken nose), a raconteur who has been compared on more than one occasion to Noel Coward, and an exacting maestro. Oh, and he dated Annie Lennox while a conservatory student.
Tonight, Tovey will conduct the BU Symphony Orchestra in its annual Boston Symphony Hall fall concert. On the program is Stravinsky's Le sacre du printemps and Pulcinella Suite and Lili Boulanger's D'un matin de printemps.
Born into music
Tovey grew up in the middle-class East London neighborhood of Ilford, in a family that was deeply involved with the Salvation Army. "My grandparents on my mother's side were very active Salvation Army officers," he says. "On my father's side, they were soldiers, which meant they were just members of the Salvation Army band, choir, and songster brigade. So consequently, everybody in the family was involved in some aspect of the Salvation Army's music-making."
His first instrument was not the brass favored by Salvation Army bands, but the piano. He then gravitated to the tuba and was soon writing music. "I just thought that everybody did that, so it was quite a shock when I got to my mid-teens and found that it was quite unusual," he says. Composing soon took a back seat to conducting. He was 15 when he conducted for the first time. A local youth orchestra asked him to conduct a rehearsal just a week after he lost his father.
"He'd been a terrific force in my life growing up," he says. "He never saw me conduct, but my mother did—she lived to be 91 and was quite a force in her own way."
Tovey was drawn to conducting because of the chance to be "the rhythmic source of the music, the person who would drive the music. I've long gotten over that notion," he says, "because I think a lot of conducting is about powering the musicians who play for you, so you become the rhythmic source only when it's necessary. The rest of the time you're shaping, you're molding, like you're a sculptor, like you're a painter."
After studying at the Royal Academy of Music (it was there he briefly dated Lennox, who was second flute in the repertoire orchestra) and the University of London, Tovey was appointed a staff conductor with the London Festival Ballet. There he played piano at rehearsals for Rudolf Nureyev's production of Romeo and Juliet before becoming conductor of Sadler's Wells Royal Ballet.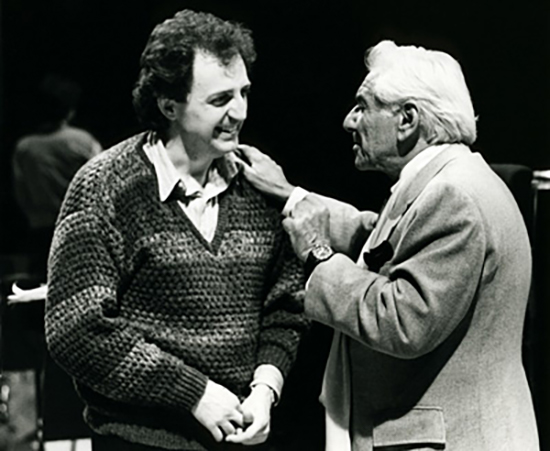 His big break came in 1986, when he was asked to fill in for an ailing conductor who was scheduled to lead the London Symphony Orchestra in a Leonard Bernstein Festival. Sir Clive Gillinson, then managing director of the London Symphony Orchestra, called at 2 a.m. offering Tovey the job. "Oh, and by the way," Gillenson added, "Bernstein is coming to your dress rehearsal." Tovey had one day to rehearse the orchestra before the world-renowned maestro showed up. Bernstein was so impressed that he invited Tovey to Tanglewood as a visiting artist to watch him teach and rehearse with the Boston Symphony Orchestra.
"He was extraordinary, kind, and generous," Tovey recalls. "Watching him in action was very interesting because he was quite unlike any other conductor. Whereas most people would move like a stately ship in the ocean, he was up there giving his all, throwing himself at every second of the music."
"A servant to the music"
For nearly three decades, Tovey has made Canada home, first as music director of the Winnipeg Symphony Orchestra, where he launched an influential new music festival, and since 2000, as VSO music director. Along with violinist James Ehnes and the VSO, he won a Grammy in 2007 for a recording of concertos by Samuel Barber, Erich Wolfgang Korngold, and William Walton. He cites the founding of the VSO School of Music, which opened in 2011, as one of his proudest accomplishments. The state-of-the-art music school abuts the orchestra's home, the Orpheum Theatre, and provides music education for all ages. It has a recital hall as well as recording facilities and distance learning facilities that allow VSO musicians to connect with classrooms throughout Canada and internationally. "The school has been phenomenally successful," Tovey says. "I've been very lucky."
He succeeds David Hoose, who left BU last year, as director of orchestral activities. In addition to winding down with the VSO, Tovey remains artistic director of the National Youth Brass Band of Great Britain and continues to guest conduct with the New York and Los Angeles Philharmonics and other orchestras, as well as to compose.
"Bramwell Tovey's extensive career, both as a conductor and a teacher, brings renewed energy and experience to the School of Music," says Lynne Allen, CFA dean ad interim. "His fresh ideas and incredible knowledge of repertoire in performing and engaging audiences offer our students exceptional experiences and viewpoints about classical music today."
In his new position, Tovey hopes to give students "a sense of what you can achieve as a professional musician and a sense of readiness for what comes next, especially for the young conductors who want to go on and become assistant conductors of orchestras or opera companies. What I really want to show them is who I am as a musician, which is really a servant to the music." He also wants to instill in them how to comport themselves as professional musicians.
"No cell phones, no crossed legs, no baseball caps," he says.
The Boston University Symphony Orchestra concert, presented by the College of Fine Arts School of Music, is tonight, Monday, November 13, at 8 p.m., at Boston Symphony Hall, 301 Massachusetts Ave., Boston. Seating is general admission. Tickets are $25 for general admission, $12.50 for CFA members, and $10 for students. Members of the BU community receive one free ticket at the door on the day of the performance and can receive up to two free tickets in advance by filling out this form. Purchase tickets here or call 888-266-1200.