Music for a Summer Evening
Boston Landmarks Orchestra opens annual free concert series tonight at Hatch Shell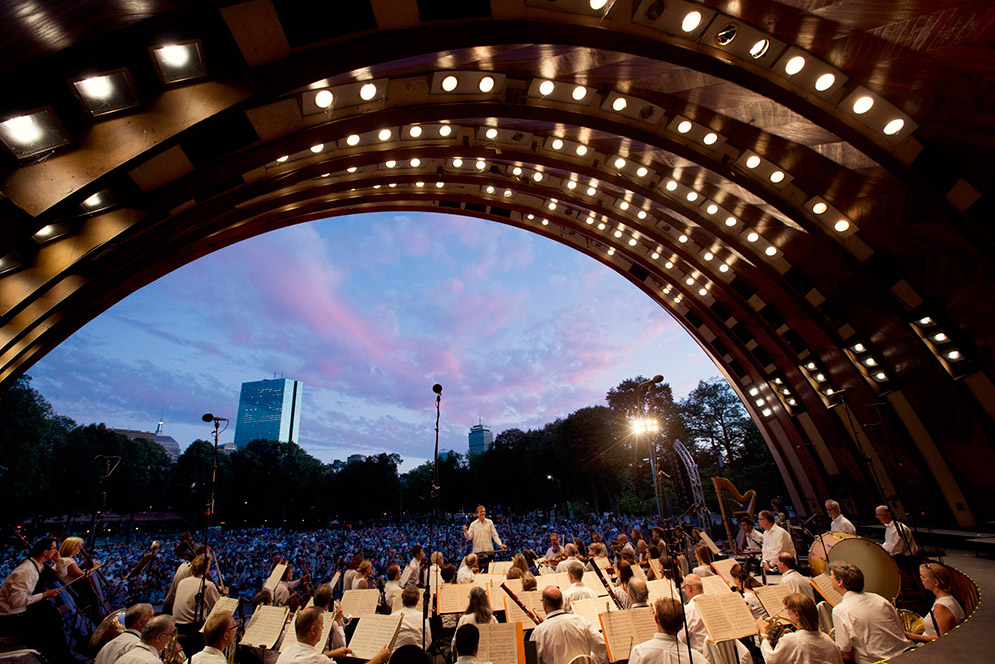 There may be no finer place to be this evening than the Hatch Shell on Boston's Charles River Esplanade. Oh, you'll have to share space with a couple of thousand fellow citizens. But it will be worth it. For tonight marks the start of the Boston Landmarks Orchestra's 2017 season of free summer concerts.
Comprising some of the Boston area's finest professional musicians, the BLO has earned a reputation for presenting eclectic classical music concerts on the Hatch Shell, as well as for performing in city neighborhoods, youth centers, and public parks. Since its founding in 2001, the orchestra has played classical music from a range of composers in a fun, approachable way.
Tonight's opening concert, titled Music for a Summer Evening, includes, appropriately, Samuel Barber's Knoxville: Summer of 1915, a work for voice and orchestra that nostalgically recalls a child's memories of summer. The lush piece is based on a largely autobiographical prose poem by Pulitzer-winner James Agee. First performed by the Boston Symphony Orchestra in 1948, Barber's composition has become a staple of 20th-century classical music.
Led by musical director Christopher Wilkins, the orchestra will also perform Ralph Vaughan Williams' English Folk Song Suite, one of the British composer's most famous pieces, originally written for a military band; Frederick Delius' Summer Evening, one of three tone poems created between 1888 and 1890; The Blue Planet, a 10-minute orchestral work by Peggy Stuart Coolidge that later became the official theme song for the World Wildlife Fund (Coolidge was the first female American composer to have a recording made of her symphonic works); excerpts from Giuseppe Verdi's five-act opera I vespri siciliani; and Edward Elgar's moving Enigma Variations, composed in 1899. The composition features 14 variations on a single theme—each said to be a musical sketch of various friends of the composer's. Elgar's most famous composition, the Enigma Variations has been recorded more than 60 times since he first recorded it in 1924.
Concertgoers will want to arrive early for tonight's free concert, as student brass and wind quintets from the Boston University Tanglewood Institute will be performing a prelude between 6:15 and 6:45, as the crowd assembles.
The other concerts at the Hatch Shell this summer: a special appearance by Cambridge-based Mercury Orchestra, presenting selections from Richard Wagner's Die Meistersinger and Richard Strauss' Der Rosenkavalier, on July 26; a BLO performance of Beethoven's Ninth Symphony on August 2; Anthems of the World, a concert of classical pieces by the BLO that will include a Landmarks-commissioned work by composer Gonzalo Grau on August 9; a performance by the Longwood Symphony Orchestra titled A Night in Vienna, on August 17; and to close out the season, a BLO concert titled Landmarks Dance Carnival on August 23. Find more information about these concerts and the BLO's summer neighborhood concerts and educational programs here.
The Boston Landmarks Orchestra concerts are tonight, Wednesday, July 19, and every Wednesday through August 23, at the Hatch Shell, at 7 p.m. (save for the concert on Thursday, August 17). All concerts are free. In the event of rain, tonight's concert will be tomorrow, Thursday, July 20, at the Hatch Shell, or if again raining, at Emmanuel Church, 15 Newbury St., also at 7 p.m. Take any MBTA Green Line trolley to Park Street, transfer to an outbound Red Line train to Charles/MGH. Find information about weather conditions and postponements here.