Spending the Holidays in Boston? Here's What to Do
Shopping, plays, gingerbread houses, and more
Today's end of finals means that we can all now turn our attention to the holidays. Residence halls close at noon on Friday, December 22, and reopen at 10 a.m. Friday, January 12. Dining facilities close after dinner today, December 21, and reopen for dinner on Saturday, January 13.
While most students are headed home for intersession, many will be staying in town. Ditto for faculty and staff. We've compiled a list of activities and events—ice skating, shopping, theater, music, and dance—to put you in a holiday frame of mind.
Got any more events we should add to the list? Let us know in the Comment section below.
Shopping
The CambridgeSide mall offers free photos with Santa through December 24. Each participating family will receive two 4-by-6-inch prints and a digital download single image. Afterwards, you can stick around to do some last-minute shopping. Among CambridgeSide stores are Abercrombie & Fitch, Apple, Best Buy, Gap, H&M, J. Crew, and Macy's.
Free photos with Santa are available on CambridgeSide level one, 100 CambridgeSide Place, Cambridge. Santa's hours are Monday to Saturday, 10 am to 8 pm, and Christmas Eve, 8 am to 5 pm. The mall's holiday hours are here.
You can also have your photo taken with the man in the red suit at the Prudential Center's Belvidere Arcade. Photo packages begin at $19.99. If you've bought gifts at any of the mall's dozens of stores—like Lord & Taylor, Vineyard Vines, Barnes & Noble, and Saks Fifth Avenue—you can bring them to the Prudential Center concierge desk to have them gift wrapped for free. Your donations help to support the worthy local nonprofits manning the wrapping station.
Santa in the City! is in the Prudential Center Belvidere Arcade, 800 Boylston St. through December 24. Santa's hours are here. The Charity Gift Wrap, sponsored by Barnes & Noble, runs through December 24. Hours are here. 
One of the oldest and most popular holiday markets around, the Harvard Square Holiday fair features hundreds of one-of-a-kind gifts—jewelry, art, pottery, clothing, bath products, home décor, and more—made by New England craftspeople and world-traveling importers. 
The Harvard Square Holiday Fair is on the upper floor of 50 Church St., Harvard Square, Cambridge. Vendors will also be outside on the corner of Church Street and Mass Ave. The fair is open through Saturday, December 23, from 11:30 am to 7 pm weekdays and 10 am to 7 pm Saturday. Admission is free.
Newbury Street
There's no tonier address for Boston retailers than Newbury Street, an eight-block stretch with high-end boutiques like Chanel, Burberry, and Dolce & Gabbana and chains like Forever 21 and H&M. You'll find loads of restaurants, art galleries and salons, and special holiday pop-ups like Misha & Puff, which specializes in heirloom clothing and children's gifts. A list of Newbury Street stores is here.
From Newbury Street, it's an easy walk to Copley Place, with such stores as JCrew, Gap, Banana Republic, Boss, Coach, Barneys New York, and Neiman Marcus. A full list of stores is here. 
Copley Place, 100 Huntington Ave., is open during the holidays Monday through Friday, 10 am to 9 pm, Christmas Eve to 6 pm.
Worship
Christmas Eve Services at Marsh Chapel
In the spirit of "joyful celebration and quiet meditation," Marsh Chapel is offering its regular Sunday interdenominational service at 11 am, followed by a special Christmas Eve candlelight service at 7:30 pm, with music by the Marsh Chapel Thurman Choir.
The services, free and open to the public, are on December 24 at 11 am and 7:30 pm at Marsh Chapel, 735 Commonwealth Ave.
Performances
The world-renowned, Grammy-winning Boston Pops Orchestra returns to Symphony Hall for the 44th annual Holiday Pops concerts. Keith Lockhart (Hon.'04) leads the orchestra through a mix of holiday favorites, the traditional Pops sing-along, and a visit from Santa. Programs and artists vary by performance. Families with young children should check out the matinee performances, which are shorter and include a sing-along and postconcert photos with Santa. These concerts run through Christmas Eve but sell out fast.
The 2017 Holiday Pops Orchestra runs through December 24 at Symphony Hall, 301 Massachusetts Ave., Boston. Limited tickets are available here. Children under four are not permitted at Holiday Pops concerts, but all ages are welcome at Holiday Pops Kids Matinees. Order tickets for the kids matinee shows here. 
The Nutcracker is one of Boston's most beloved holiday traditions. This critically celebrated production is choreographed by artistic director Mikko Nissinen.
Boston Ballet's The Nutcracker is at the Boston Opera House, 539 Washington St., Boston, through December 31. Purchase tickets here or call the box office at 617-695-6955. Tickets range from $55 to $300.
This year, the José Mateo Ballet Theatre celebrates the 30th anniversary of its original version of The Nutcracker. This production offers an innovative interpretation of the ballet, focusing more on the dancing than on the caricatured mime, pomp, and special effects usually associated with the work. Even the cast of more than 100 children who play the mice, soldiers, cherubs, polichinelles, and Clara have substantial dancing roles.
Jose Mateo Ballet Theatre's The Nutcracker is at the Strand Theatre, 543 Columbia Rd., Dorchester, through December 24. Tickets range from $20 to $75 and can be purchased online or by calling the box office at 617-354-7467.
This modern, urban version of the 19th-century classic, produced by the Tony Williams Dance Center, fuses classical ballet, hip-hop, swing, step, jazz, and more with Tchaikovsky's original score and music by Duke Ellington.
Tony Williams Dance Center's Urban Nutcracker is at the Back Bay Events Center (John Hancock Hall), 180 Berkeley St., Boston, through Thursday, December 28. Purchase tickets here or by visiting the box office. Tickets range from $25 to $85.
Boston's Lyric Stage Company's Hold These Truths is the true story of Quaker and college student Gordon Hirabayashi, the son of Japanese immigrants who resisted internment during World War II. Michael Hisamoto plays Hirabayashi, whose fight for freedom will have audiences cheering. The production's aesthetics will reflect both Hirabayashi's Japanese ancestry and Quaker upbringing. Three kurogos, "invisible" on-stage attendants who come from Japan's Kabuki theatrical tradition, are used.
Hold These Truths runs through December 31 at Lyric Stage Company, 140 Clarendon St., Boston. Tickets range from $29 to $77. Find a list of showtimes and purchase tickets here. Student rush tickets are available, first-come, first-served, for $10 (cash only) 30 minutes before the show with a valid BU ID.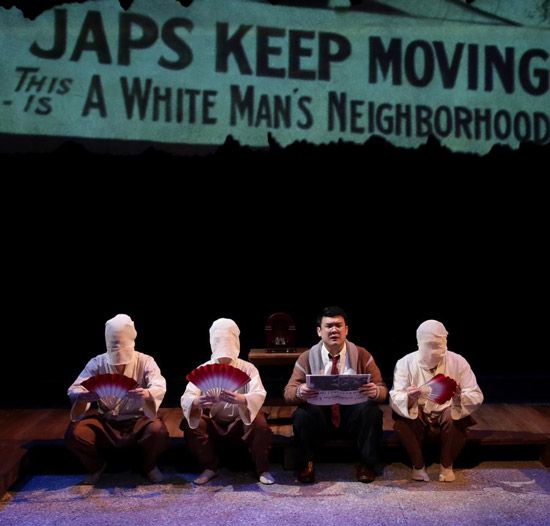 Based on Jane Austen's 1811 novel, this rollicking theatrical adaptation by playwright Kate Hamill follows the adventures (and misadventures) of Dashwood sisters Elinor and Marianne after they lose their fortune. First staged by New York city–based Bedlam Theater Company in 2014, this production offers humor, drama, and bold theatrics. At its core, the show asks: when reputation is everything, how do you follow your heart? The part of Colonel Brandon is played by James Patrick Nelson (CFA'08). 
Bedlam's Sense and Sensibility is at the American Repertory Theater's Loeb Drama Center, 64 Brattle St., Cambridge, through January 14. Find more information and tickets ($25-$125) here or by calling the box office Tuesday to Sunday, noon to 5 pm, at 617-547-8300. Find information about possible discounts here.
Festivals and Light Shows
Modeled after European-style holiday markets, Boston Winter features 85 wooden chalets selling food, hand-crafted gifts, and other items, as well as Vinopolis, an interactive wine and beer experience. But the star attraction is the custom-designed, 11,000-square-foot outdoor skating path that loops around the marquee BOSTON sign.
Boston Winter is at City Hall Plaza, One City Hall Square, Boston, through December 31. The skating path is open through February 25. Find hours, admission, and more information is here. Find holiday hours and closures for the market, skating, and attractions here. 
Faneuil Hall Marketplace's annual holiday light and sound extravaganza returns for the sixth year, with more lights, music, color, and sound. The show, featuring more than 350,000 LED lights that dance to holiday music recorded by the Boston Pops, with shows every half hour starting at dusk, attracts more than 225,000 visitors each year. The marketplace's Christmas tree, at 85 feet, is a full 10 feet taller than the more famous Rockefeller Center Christmas tree.
Blink! is at Faneuil Hall Marketplace, One Faneuil Hall Square, Boston, through January 1 (the marketplace is closed Christmas Day). The seven-minute show runs every half hour from 4:30 to 9:30 pm in the South Market. Admission is free and open to the public.
Movies and Art Exhibitions
Tired of all those treacly sentimental holiday movies that have been airing nonstop on the Hallmark Channel? The antidote: Lewis Jackson's classic black comedy horror film Christmas Evil. Cult film director John Waters proclaimed it "the best seasonal film of all time." It's tells the story of Harry Stadling, desperate to be the authentic Santa Claus, with a real suit, sleigh, and reindeer. He'll stop at nothing—even murder—to make sure people get the presents they deserve.
The Coolidge Corner Theatre, 290 Harvard St., Brookline, will show Christmas Evil on Friday, December 22, and Saturday, December 23, at 11:59 pm. Tickets are $12.25 and can be purchased online here or at the door.  
This is one art exhibition you'll want to eat, but can't. The Boston Society of Architects holds an annual gingerbread design competition, a fun way of highlighting the innovative work by Boston-area landscape and architect firms. This year's theme celebrates 150 years of Boston as a hub of innovation. View this year's submissions and vote for your favorite creation online or in person before December 31. Admission to the exhibition is free, but donations to your favorite design benefit the BSA's community design programs. The structure with the most donations is crowned the winner.
The Boston Society of Architects' sixth annual gingerbread competiton is on view at BSA Space, 290 Congress St., Suite 200, Boston through December 31. The exhibition is open Monday through Friday, 10 am to 6 pm, and weekends 10 am to 5 pm. Note: closed on Christmas Day and New Year's Day.  
Japanese artist Takashi Murakami's work has been influenced by an ongoing conversation with the historical past. For this exhibition, Murakami, considered one of today's most important artists, worked with Japanese art historian Nobuo Tsuji to choose the objects on view, among them paintings and sculpture made in response to Japanese masterpieces from the MFA's permanent collection, which appear alongside his work. The Boston Globe describes the show as "fun, fun, fun."
Takashi Murakami: Lineage of Eccentrics is on view at the Museum of Fine Arts, 465 Huntington Ave., Boston, through April 1, 2018. Find hours and admission prices here (free to BU students, faculty, and staff with ID). Find directions here. Note: The museum is open Christmas Eve and New Year's Eve, but will close early at 5 pm; it is closed Christmas Day and New Year's Day.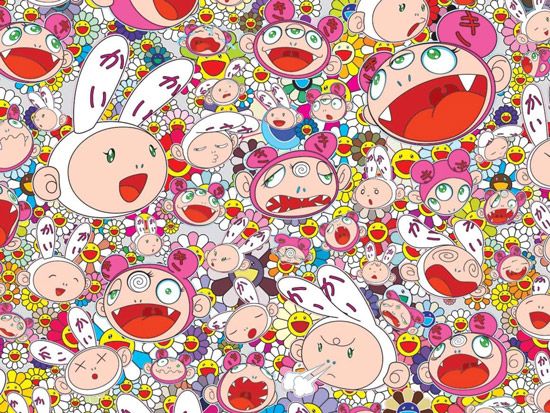 Looking for ideas on how to celebrate New Year's Eve and New Year's Day in Boston? Check back with BU Today on December 26 for a list of events.
Alex Pena can be reached at alexgp97@bu.edu.