Avengers, Assemble!
Boston Comic Con returns to Seaport World Trade Center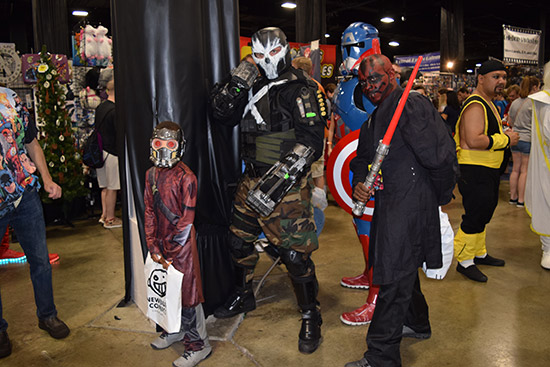 Just like the return of your favorite superhero franchise, Boston Comic Con is back again, promising a weekend of fun for fans of all ages. The three-day convention, at the Seaport World Trade Center, starts today, with a stellar lineup of attractions, chief among them a chance to meet former Doctor Who stars Matt Smith and Karen Gillian. Fans can collect celebrity autograph signings, listen in on Q&A panels, and shop for merchandise among the more than 500 vendors on hand.
Now celebrating its 10th year, Boston Comic Con is the largest comic book convention in New England. This year's featured guest is legendary creator Stan Lee, the mastermind behind Marvel Comics. Now 94, he is the cocreator of Spider-Man, the Hulk, Doctor Strange, the Fantastic Four, Thor, the X-Men, and Ironman. Also appearing: actor Tim Curry (The Rocky Horror Picture Show), director Kevin Smith (Clerks, Comic Book Men), and actor Anthony Daniels (best known as C3PO in the Star Wars movies). Find a full list of celebrity guests here.
There are events for fans of all stripes at this year's convention. Would-be comic book illustrators have an opportunity to have their portfolio reviewed by executives from both DC and Marvel Comics. The annual Q&A panels and exhibitor booths allow fans access to their favorite stars and companies to ask burning questions and get a peek at the latest projects (and products) in the pipeline.
One of the weekend's biggest events is a voice actor live script reading, where acclaimed voice actors like Jim Cummings, Veronica Taylor, and Billy West give voice to Winnie the Pooh playing Darth Vader, Christopher Walken playing Harry Potter, and Pinky and the Brain as Frodo and Sam. The popular experiment lets fans experience their favorite parts of pop culture in a completely new way.
What would Boston Comic Con be without costumes? The annual costume contest has a grand prize of $1,000, awarded to the "Best in Show" attendee, along with other prizes. There's even a costume contest for children 12 and under.
With over 500 vendors on hand selling collectibles, limited edition apparel, comic books, DVD's, toys, graphic novels, anime, and comic books, you'll want to bring your wallet.
New this year is a free Cosplay photo park offering various themed backgrounds so you and friends can gather for a photo shoot, and an Ink-Fusion Empire Tattoo Pavilion, where you can book a session with your favorite tattoo artist in advance. Find a full list of events and attractions here.
Boston Comic Con runs Friday, August 11, through Sunday, August 13, at the Seaport World Trade Center, 200 Seaport Blvd., Boston. Find hours here. Find ticket prices and purchase tickets here. Take an MBTA Red Line train to South Station and transfer to the Silver Line outbound to the Seaport World Trade Center stop.
Connor Lenahan can be reached at lenahan@bu.edu.