Nine Tips for Avoiding the Freshman 15
Healthy choices to help avoid weight gain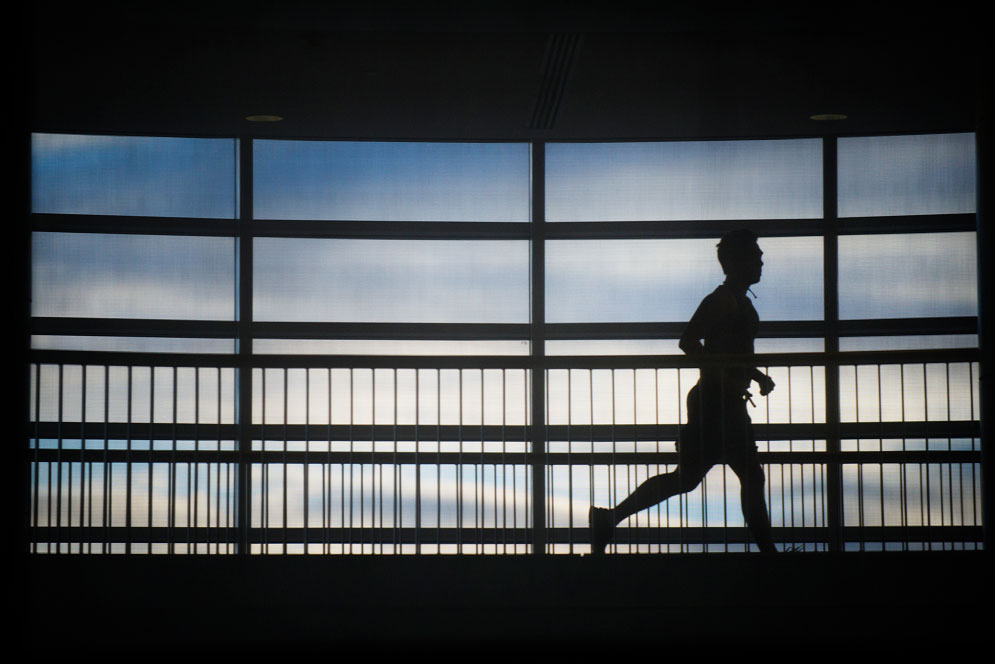 The fabled Freshman 15—the number of pounds a typical first-year student allegedly gains—may be a myth, some research suggests. But getting heavier over the course of your four years at college is a probability. A 2011 study found the average woman student gained about 9 pounds during that time, and the average man 13 pounds. "While this amount of weight isn't earth-shattering, obese adolescents are unfortunately more likely to become obese adults," says Joan Salge Blake (Sargent'84, Wheelock'16), a Sargent College clinical associate professor of nutrition and health sciences. She offers nine dos and don'ts for making sure weight gain isn't "part of your college curriculum."
Do get enough sleep.
"It's not surprising that studies show that college students often fall short in the sleep department. Insufficient sleep can cause an increase in the hunger-promoting hormone ghrelin and a decrease in the hunger-suppressing hormone leptin. Naps are an excellent way to catch up on lost sleep."
Don't skip breakfast.
"Research suggests that adolescents who don't eat breakfast have an increased risk of becoming overweight or obese. If you skip this important meal, odds are you will be hungry later on in the morning and more likely to find yourself impulsively snacking on high-calorie food from a vending machine or college convenience store. Rise and dine on a bowl of high-fiber, whole-grain cereal with skim milk. Add some protein, such as string cheese or a handful of nuts, to help you through the morning."
Do walk off your stress.
"A major lifestyle change, such as going off to college, can be stressful initially. When you feel wound up, lace up your sneakers and release some of the emotional stresses of college life on the walking path around campus or on the treadmill rather than in the dining hall. Even better, join one of BU's intramural sports programs. You'll not only be physically moving, but will also be connecting with your peers who are in the same boat as you. Take comfort in knowing that you are not the only one feeling stressed."
Don't study with the microfridge.
"If studying at night causes you to munch, don't study in your room surrounded by your roommate's chips and other snacks piled high in the dorm refrigerator. Study at the campus library, where eating is prohibited."

Do include fruits and veggies in all meals.
"Eating a salad or vegetable soup before your lunch or dinner has been shown to help cut back on the calories consumed at the meal. How? Fruits and vegetables will fill you up before they fill you out, so they are kind to your waist."
Don't drink your calories.
"A 20-ounce bottle of soda, sports drink, energy drink, or sweetened coffee and teas can pack over 250 calories. Drink low-fat or skim milk with your meals and water (zero calories) in between."
Do keep healthy snacks and beverages in your dorm room.
Rather than going out for late-night fast food, "stockpile pouches of 100-calorie microwave popcorn on top of your microfridge, which is a perfect whole grain snack. Keep yogurt and string cheese inside the fridge for a healthy, protein-pack, calcium-rich snack. However, if you are stress-eating while studying, see the above tip."
Don't look to the internet for nutritional guidance.
"Rather, set up an appointment with one of our registered dietitian nutritionists at the Sargent College Nutrition Center to help you manage your diet and dining plan at BU."
"These food choices are ridiculously delicious, and healthy to boot."