Men's Soccer's Andrew Hoang Turns Minor Role into Major Success
A leader on the field and off, despite lack of playing time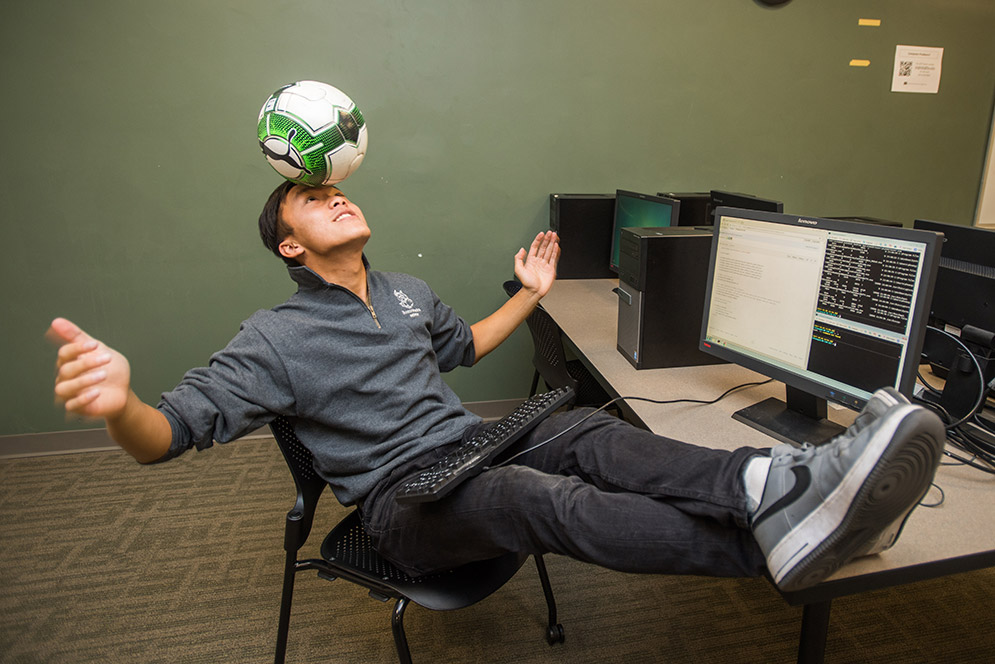 When Andrew Hoang came to BU, he thought his goal of playing Division I soccer was firmly within reach.
"Freshman year, in the fall, I was super-focused on soccer," Hoang (ENG'18) says. "I thought I was going to break out and be a star."
At Acton-Boxborough Regional High School, he had been team captain senior year and was named a Dual County League All-Star. He also won three state titles with his club team, Mass Premier Soccer.
However, he soon faced the reality of his place on the Terrier squad. With Nick Thomson (CGS'13, Sargent'15) in net when he joined the team and star Matt Gilbert (Questrom'17) waiting in the wings to take the mantle, Hoang realized there'd be little opportunity for him to see the field.
"In high school, you're playing every game and everybody leans on you and you're the point person," he says. "Going from that to literally, out of 35 people on the team, 34th or 35th most important definitely changed me a lot."
But where many players would have just hung up their cleats, resigned to finding some other extracurricular activity, Hoang resolved to stay on the team. He says the decision, born out of his love for the game, has paid off in unexpected ways.
"Athletics is one of the only areas where you can go to practice, do your thing, and coaches will tell you directly, straight to your face, whether you're doing a good job or not doing a good job," he says. "I think in a lot of our professional and academic lives, sometimes that criticism is not as clear. Being able to take that direct criticism and apply that to my academic career has been really helpful."
"He wasn't getting much playing time, but it didn't affect his outlook on the team," says teammate and roommate Esen Harris (ENG'18). "He's a great teammate. He made sure that he worked hard at every practice."
Originally a goalkeeper, Hoang switched to midfield last year to better serve the team. During practices, he effectively runs the "scout team," players who help the starting Terriers prepare by mimicking opponents' playstyles, while also providing a guiding hand for younger players.
"The best thing about him is that you don't have to ask him to do things. He just volunteers to do it. No job's too small for him," BU head coach Neil Roberts says. "Whatever he needs to do—if he sees something that needs to be done—he just does it."
His teammates say that Hoang leads by example.
"As you grow up, your role on the team transitions into something a bit different. You go from being a younger guy listening to other people to being more of a role model, and he definitely became a role model for everyone, including myself," Harris says. "I'm in the same year as him, but I would say I definitely look up to him and look to him for help in a lot of areas."
Commitment off the field, as well as on
Hoang's dedication and work ethic on the field translates off the field as well. As a freshman computer engineering major, he attended a Hackathon at BU sponsored by MakeBU, a student-run group that builds projects. For a Hackathon, hundreds of students converge on a campus for a weekend of programming, workshops, and a competition to complete a project in just 24 hours.
Hoang was hooked.
"Up until then, I had been like, school is school, you program to get assignments done, whatever. It was very dry. That Hackathon was the first time I'd actually ever built anything useful. It was a small, tiny website that told you how many cups of water you'd been drinking a day," Hoang says. "For the first time, I realized what I was studying had a purpose."
He wanted to help create an even more ambitious program that would attract more students, so he helped form an organizational board of members from MakeBU and BUILDS, another student-run group that works on projects, to begin planning for a large-scale event.
The result: BU's first annual BostonHacks in fall 2015. The event was far more successful than they'd ever expected. "It was actually very scary," Hoang says. "It was like, well, we did all this work—we reached out on campus, we reached out to other schools, but is anybody actually going to show up?
"We smashed through our attendance goals. We had like 450 people, and we had people that took the bus in from Canada and New York and all over the East Coast." (Last weekend's BostonHacks drew a record crowd of 470).
"I'm really going to miss seeing that moment where kids come full circle and understand, oh, I can actually make stuff. It can be real, and it's really cool." he says. "That's why I started doing this, anyway. I had that moment, and I felt like it was very important to share that moment with other people."
Hoang spent last summer working for Coinbase, a start-up that allows people to buy and sell digital currency (bitcoin, ethereum, litecoin). He says the experience has given him some ideas about what he'd like to do next.
"People would be using our platform in countries where they previously didn't have access to money, and they would take that platform and use it as their storefront," he says. "I think that's a very powerful thing. I think one of the most important things for people is access to capital so you can start a business, fund your education, and so forth. There's a lot of work that needs to be done in that space."
That kind of outlook doesn't surprise those close to Hoang.
"He's always trying to figure out a way to make an impact on people," Harris says. "Andrew doesn't work to make money. He works so that he can make an impact on society and touch as many people in a positive way as possible. That's one thing he really, really focuses on, and that's why he works so hard."
Taylor Raglin can be reached at traglin@bu.edu.