WTBU Supporters Unite to Help Rebuild Fire-Damaged Studio
Fundraiser tonight at Pop Allston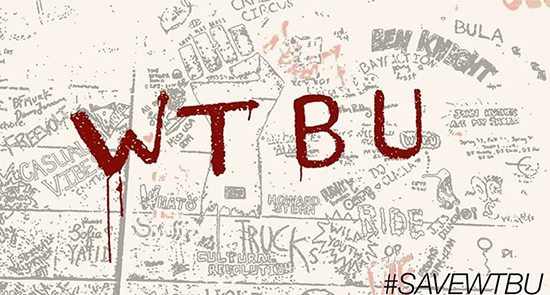 Just days after the WTBU studio was destroyed by a devastating three-alarm fire last month, Anne Donohue, the student-run radio station's faculty advisor, sent out a mass email asking for support from alumni, faculty, and friends. In it, she passed along messages received from former WTBU DJs and staffers about what the station had meant to them. Among the comments:
"I spent more time at WTBU than my dorm room."
"[It's] the place where the weirdos, the artists, and the jocks can all come together."
"I wouldn't be where I am today without the experience I got at WTBU."
What followed were over 260 donations totaling more than $33,500 pouring in to help rebuild the station. During BU's third annual Giving Day earlier this month, WTBU received more donations than any individual University school or college.
And tonight, Wednesday, April 20, a benefit, featuring live music, is being held for the station at Pop Allston.
"The response has been unbelievable," says Donohue (COM'88), a COM associate professor of journalism. "We have had calls from alums offering to paint, clean, do anything they can to help rebuild. One guy made a $1,600 donation, and then apologized, saying it was too small, but he had been out of work for 10 months. It's been very gratifying."
The 59-year-old station typically broadcasts 20 hours a day from the third floor of the College of Communication, where the student staff provides news, sports, and music programming. The station is famous for helping to launch the career of "shock jock" Howard Stern (CGS'74, COM'76) (although it was also the first station to fire him, after he ran a segment called "Making the Bishop Blush").
The March 25 fire that ripped through the third-floor studio left behind an estimated $500,000 worth of water and smoke damage. The fire is believed to have been caused by an equipment malfunction. Three students, two BU Police Department officers, and a firefighter were transported to the hospital with non-life-threatening injuries. The station remains uninhabitable, Donohue says, but they are aiming to reopen the space by next fall.
Thomas Fiedler (COM'71), dean of COM, says he is determined not only to rebuild the station, but to create a new and improved studio, reflecting WTBU's status: it has been named the top college radio station in the country for the past three years. "Not only will WTBU's programming be the best anywhere," he says, "but I will do whatever it takes to build new facilities that also will be regarded as the best anywhere."
Fiedler says the plans include converting a current storage space on COM's main floor into glass-walled broadcast booths, where passersby can watch student DJs play music, interview guests, or take calls. "That will take strong support from donors who share this dream," he says. "But we've seen an extraordinary outpouring of support for WTBU since the fire and I am confident that long-term good can emerge from this crisis."
Since the fire, the station has suspended broadcasting, but many of its producers have moved their shows online and produced podcasts, according to station general manager Christie Leist (COM'17). "We aren't losing steam because we aren't on air," she says. "Our station has a reputation as being one of the best college music stations around. We're happy with whatever support people can give."
The #SaveWTBU fundraising show is tonight, Wednesday, April 20, from 7 to 10 p.m. at Pop Allston, 89 Brighton Ave., Boston. Tickets are $8 for BU students and $10 for the general public. Find more information and buy tickets here. Make a general donation here; select "WTBU Fund" from the drop-down menu.