Women's Basketball vs Harvard in Today's Home Opener
Terriers hoping for a shot at Patriot League title
After beginning the season with three losses, the BU women's basketball team takes on Harvard in tonight's home opener at Case Gym. And despite those consecutive blows the Terriers are pumped for a successful season.
"It's going to be really fun to get back in Case Gym and get the win, for sure," says tri-captain Sarah Hope (COM'17).
After two seasons of winning a total of just eight games, third-year head coach Katy Steding says her team has shown significant improvement in the early stages of this year's campaign.
"I feel like we're making a lot of progress," she says. "I feel like we're getting closer and closer to the team we want to be"—and that ideal team is one that includes solid fundamentals, smart play, and a commitment to working together at all times.
After implementing new offensive and defensive systems tailored to this season's roster, Steding says success has become all about each player buying into her role. "We have some great role players surrounding a couple of more versatile players. I keep telling the girls that we have all the tools we need. We just have to make sure all those tools are in the toolbox when we leave for the gym."
Tasked with leading the way are tri-captains Hope, Corrine Williams (CGS'16, COM'18), and Courtney Latham (Questrom'17). "They are all doing a really good job for us in leadership," Steding says, adding that she's empowered the three women "to deliver messages and be the coach away from the sidelines. They're doing a great job of making sure that we're all on the same page at all times."
In Hope's view, enduring the struggles of the last two seasons has provided the Terriers with much-needed experience that could allow them to rebound in a big way this year. "We have a pretty hardworking team, so it's not a hard job at all to reiterate coach's message. When things get down, I'm just positive," she says. "I know we have struggled in the past, but we're taking that experience and growing from it together. We know we're so close."
After shooting a team-high 37.2 percent from three-point range last season, Hope is leaning into a new role, running the Terrier offense. "I'm playing more of a point guard role this year," she says. "Even if I don't take the shot, I'm just trying to get my teammates open. Transitioning into that role has really helped me with other aspects of my game and helped me not be just a three-point shooter."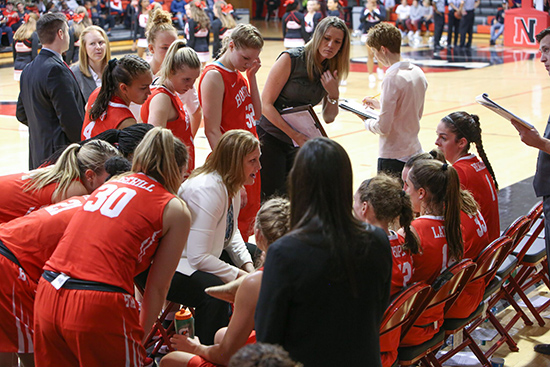 The coach says that Williams, who averaged 6.8 points per game last season and paced the Terriers in rebounds, with 4.9 per game, leads with a sure hand. She "has a very steady mentality out there," she says. "She doesn't rise and fall with the ups and downs of the game. She's a real calm presence for us."
In addition to a returning group of 8 upperclassmen and 3 sophomores (6 of the 11 started 10 or more games), Steding says she's excited about the potential she's seen in the team's younger players, especially Vanessa Edgehill (CGS'18) and Nia Irving (CAS'20).
"We have a lot of athleticism in our younger classes," she says. Edgehill "has a great focus and vision for the game. I think teams will probably start by overlooking her because she's a freshman, but she's a deadly three-point shooter. Irving adds another element of toughness and experience inside that we really need."
After the Terriers' matchup with Harvard tonight, they will host UMass Lowell on Saturday, November 26, and New Hampshire on Monday, November 28, then head to Arizona to participate in the Arizona State University Classic. From there, matchups with Dartmouth, Marist, and UMass will lead BU into a December 30 meeting with Holy Cross to open Patriot League play.
Steding anticipates that experiencing the differences in playing style of the teams the Terriers face in this year's preseason slate will help her team to a successful conference season. "We use our nonconference schedule to help prepare us, so we play a variety of teams. That's by design," she says. Assistant coach Cindy Blodgett "does a lot of work with the schedule to make sure we have opponents that not only challenge us, but challenge us in different ways and help us grow as a program."
While the last two seasons have been disappointing and may have lowered expectations for the program, Hope believes that this year's Terriers have what it takes to achieve their goals.
"I think we're going to surprise a lot of people," she says. "The Patriot League championship could definitely be ours, without a doubt."
The BU women's basketball team takes on Harvard in its home opener tonight, Tuesday, November 22, at 7 p.m., at Case Gym, 285 Babcock St. Tickets are $7 for the general public, $6 for faculty, staff, and students without a sports pass, and free for students with a sports pass. Tickets can be purchased here or by visiting the Agganis Arena ticket office, 925 Comm Ave.
Taylor Raglin can be reached at traglin@bu.edu.